Stopping By: A long romance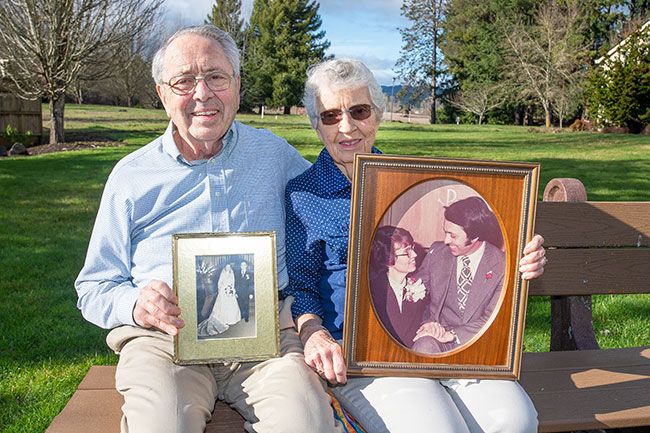 And Roz, in turn, caught the eye of that guy's roommate, Bernie Turner. He asked her for a date, then asked again, and in a few days his persistence paid off. She forgot about his roommate and became his girlfriend, then his fiancée.
They married Jan. 27, 1952, several months before graduating from the private Christian university.
"We've had a wonderful life together," said Bernie, who was minister of McMinnville's First Baptist Church for three decades and the first executive director of McMinnville Area Habitat for Humanity.
Both he and his wife said they've shared compassion and supported and encouraged each other.
"He's a good guy," said Roz, a community volunteer and longtime children's librarian at the McMinnville Public Library.
The Turners celebrated their 69th anniversary in their Hillside Retirement Center apartment with takeout from Nick's Italian Café. Dining at home because of the pandemic turned out to be a good thing, Bernie joked, because they were almost unable to move after eating "until we were overstuffed."
They may be ready for takeout again on Feb. 14. Or they may just celebrate the holiday by exchanging cards and sending valentines to their offspring: son Stan, who lives in Salem, daughters Diane Rice of Sheridan and Linda Baker of Bothell, Washington; six grandchildren and, so far, six great-grands.
And, Bernie said, they will tell each other "I love you."
"We'll say it about a million times on Valentine's Day, instead of just 100,000 on other days," he said.

When they met, Bernie was on the path to become a Baptist minister. Roz, an education major, was familar with living in a ministerial family: Her dad was a pastor; her mother a teacher.
After they finished school in their native state of Kansas, the newlyweds moved to Berkeley, California, so he could study for the ministry.
Roz taught fourth and fifth grade in nearby Richmond.
"It was a long ride in the morning and afternoon, but I liked the students very much," she recalled. "It was a good experience."
Their first child, Stan, was born during finals week of Bernie's last year at Berkeley. The young minister passed, giving the family two reasons to celebrate.
He joined a church in Seattle, where the family would live for the next 15 years. During that time, he was the organizing minister for two new churches, Gregory Heights Baptist and another Baptist church in Lynnwood.
Roz stayed home with their growing family, which soon included daughters Diane and Linda, too. When they were all in school, she returned to teaching, as well, working as a substitute.
She also did some subbing after they moved to McMinnville in 1970. But Roz is better remembered for her many years as children's librarian. "I loved it, I loved it," she said. "It was a thrill to see children growing up."
She worked with Rose Marie Caughran, library director, for many years before retiring in 1994; Caughran retired a year earlier. In the late 1970s and early 80s, they were a significant part of the effort to expand the library from its original Carnegie Building to the space it occupies today.
And she, Caughran and other librarians from that period kept in touch after retiring, gathering regularly for coffee and conversation at Community Plate. An old friend nicknamed them the "Paleontology Librarians" for their long service and institutional memory.

Bernie had been aware of, and interested, in McMinnville for many years. He knew the First Baptist Church was well-established with "quite a diverse group" of people in the congregation, he said.
"I said I'd love to go to McMinnville if I had the chance, and I did," he recalled.
After being the only minister in the Seattle-area churches, he also was pleased to become co-minister, sharing duries with Richard Orr initially in McMinnville.
The Turners lived close enough to the downtown church for Bernie to walk home and meet the children when they came home from school.
"Bernie became our child care when I was substituting in schools," Roz recalled. "I didn't teach every day, so when I wasn't subbing, I was the child care."
Although she was both a preacher's wife and preacher's daughter, Roz didn't stick to the traditional role, Bernie said.
He recalled telling the interview committee, when he was considering the McMinnville job, that Roz was an independent person. She would support him, but pursue her own career and interests, as well.
"She will determine her own role," he said.
Roz explained, "I knew I'd be in the choir and there for a lot of meetings, but I'd do other things, too. And that's what happened: I was happy and the church was happy."
In addition to the library and reading programs, over the years she has delivered Meals on Wheels, helped children through the Court Appointed Special Advocates (CASA) program and been a major force in running City Outreach Ministries, which provides households goods and clothing to people in need.
"Roz has made a major contribution, organizing the Christmas gift distribution and so many other things," her husband said. "She invested herself in the community in very significant ways."
She said working at the library gave her an advantage. She met people who were able to answer others' needs, and were willing to do what she asked, she said.

Before Bernie retired in January 1993, he had become involved with Habitat, a program that helps low-income people build homes.
In 1991, he was part of an ecumenical committee that laid groundwork for Habitat. Vern and Rosemary Cooperider "moved the project along," Bernie said, then he and Mark Trumbo became co-leaders.
He served as president after retiring from the church. And when he reached the term limits for that office, the committee created the executive director position for him.
"It's been a great experience. I loved every minute of it," said Bernie, who learned carpentry skills he'd never needed at the pulpit.
He noted that Habitat gives new homeowners "a sense of stability, worth and hope." By requiring them to put in sweat equity and help with construction, they also gain confidence and are invested deeply invested beyond financially.
He remembers the first house Habitat built on Tamarack Street in McMinnville, and the second, and the third .... He remembers the families, too, and he's stayed in touch with them, celebrating when they've paid off the no-interest loans and watching their children benefit from having a stable home over the years.
Some of the families have been Spanish speakers. Turner, who doesn't speak much of that language, learned early on "I could communicate with the family by communicating with the kids."
The joy both he and the families have felt has transcended language, of course.
"The joy when they're chosen, the joy when a house is started and when it's finished ... that keeps us all fired up," he said.
Bernie continues as an advocate for Habitat in particular and better housing in general. Last fall, he and his wife attended the groundbreaking for a common wall duplex that is "The Turner Build"; the other half is a "Women Build" project. He said he's looking forward to attending the dedication this spring.
He usually offers the prayer at Habitat ceremonies. "I haven't quite forgotten how to do that," he joked.
Starla Pointer, who believes everyone has an interesting story to tell, has been writing the weekly "Stopping By" column since 1996. She's always looking for suggestions. Contact her at 503-687-1263 or spointer@newsregister.com.
CUTLINE