St. James students win honors at state, national levels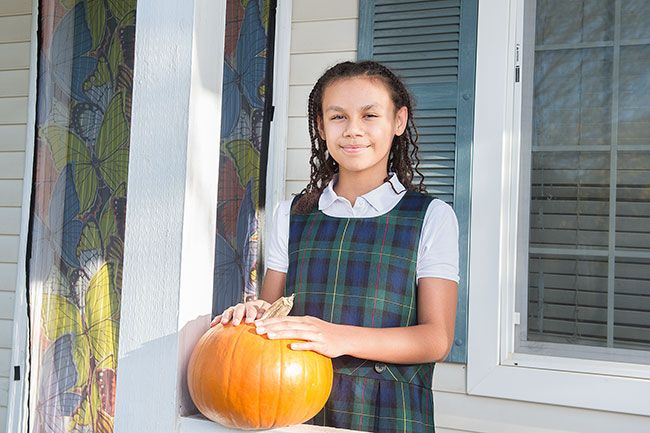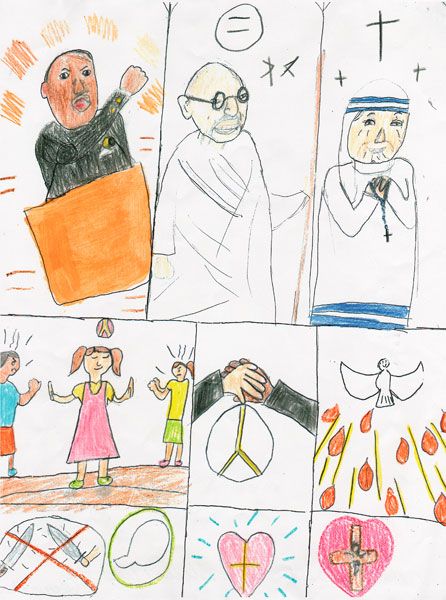 St. James School students won first place at the national level for their art and first in the state for art and poetry in the Catholic Daughters annual competition.
The McMinnville Chapter of Catholic Daughters usually presents certificates in a ceremony at the school. The group hopes to deliver the awards at a Mass next week, since students are in school only two hours a day and using distance learning the rest of the time.
Jericka Hoke, who was a fourth-grader last spring when she entered the art contest, placed first in Oregon and at the national level.
She is the daughter of Lynn and Firmin Hoke of McMinnville.
For the theme "Blessed are the Peacemakers," Jericka drew pictures of Martin Luther King Jr., Gandhi and Mother Teresa.
"All those people made peace," Jericka said, adding that she had learned about MLK and the others in school.
Symbols of peace — a dove, a child mediating a dispute and black and white hands clasped — were included in the art piece. She also drew the Sacred Heart and a picture of two swords with lines crossing them, like a sign saying "no weapons."
Jericka said art and math are her favorite subjects in school. She draws a lot, choosing a variety of subjects, such as animals. Sometimes she draws pictures of her pets, guinea pigs Willie and Felix.
Her favorite type of art, though, is sculpting. She is very talented, her mother said, at making miniature clay figures of animals and other subjects.
Jericka is the middle child, with an older sister, Jordanna, and younger sister, Jenessa. Last year was the first time she'd entered an art competition.
She said she was encouraged by her St. James teachers, Kristen Tollefson, Maura Oakley and Gus Pappelis.
Another St. James student, Sophie Mondragon, placed third in the state for a drawing with the theme "Harmony with Others."
In the poetry division, Eric Candela placed first in Oregon for his poem with the theme, Blessed are the Peacemakers. Called "Bless the Peacemaker," his poem is as follows:
Bless the Peacemaker, He has given me so much.
I have always wondered why He chose me.
His love for me, so hard to understand.
Who am I? That my King send his only Son to save me?
Why do I deserve His grace?
He will love and lift me up when I can't do it myself.
His arms around me, never letting me go, forever safe.
I wish everyone could feel the peace of the Peacemaker.
Eric, who was a fifth-grader at St. James last year, also won first place nationally and in Oregon for his 2019 poem on the theme "Doing My Best to Do Good."