Stopping By: Ministers on prayer: It's a conversation, a 'critical connection'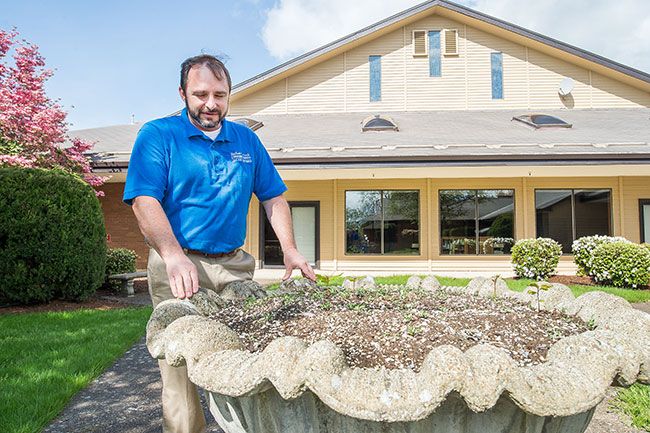 Speaking directly to God — praying — is a key component of the Christian faith. Local pastors say the practice builds and strengthens the relationship.
No wonder they are encouraging everyone to join in Thursday's National Day of Prayer.
"Prayer is our critical connection to the Lord," said the Rev. Dax Garlinghouse, pastor of McMinnville's Baker Creek Community Church.
"Prayer represents our needs, our emotions, our faith," he said. "His word and prayer are the basis of our faith."
Prayer "changes things," said Dennis Nice, in his 26th year at True Vine Christian Church in McMinnville. "If God's people come together, they can make things happen," Nice said.
The Rev. Gary Widrig described prayer as "a conversation with God."
"It's not complicated," the retired Willamina Free Methodist pastor said. "It's just start talking to him and believing he's there, listening."
Widrig urges Christians to have faith, whether they realize it at the time or not, God will answer their prayers "with 'yes,' 'no,' or 'not yet.'"
The Rev. John David Hicks, prayer chairman for the McMinnville Ministerial Association, said people for whom he has prayed, or those for whom groups have prayed, have told him "their life changes."
Praying can be formal or casual, as if you're talking to a friend, the pastors said.
Some start with a list, praying by turns for their country, for missionaries, for national and local issues, Widrig said, while others use a list of people they know or members of their congregation seeking intervention and healing in their lives.
Some people use an acronym to remember what to include, such as ACTS: Adoration, Confession, Thanksgiving and Supplication.
Garlinghouse often uses a more humorous method for reminding people the parts of prayer: TACOS. It stands for Thanksgiving, Adoration, Confession, Others and Self.
A native of Eastern Washington, he ministered in the Southwest before moving to Yamhill County, and was the pastor at Lafayette Community Church for five years before joining the Baker Creek church in McMinnville in 2014.
Garlinghouse said he prays throughout the day. In recent weeks, as health authorities have encouraged people to wash their hands thoroughly and frequently, he's been praying as he scrubs. "If you wash and pray 10 or 20 times a day, that's not a bad way to start," he said.
For those just starting to pray, Garlinghouse advised them to "talk to God as if he's sitting right there like a person." If they are worried about having done harmful things, they shouldn't hesitate, he said.
"We can communicate with him anything on our heart or mind," he said.
When developing the habit of praying, the Rev. Dennis Nice of True Vine Christian Fellowship said people would do well to start with repentance.
"Have a humble, repentant heart," Nice suggested. "Then, pray for others."
Hicks, who arrived to McMinnville in 1978 to be a pastor at the Nazarene Church, has been praying since he was a teenager. Soon after he became a Christian, he was leading prayers on the streets in Southern California. He continued delivering his message while serving as a military policeman in the Army, then as a minister.
Now 79, he begins each day with prayer and scripture reading.
He often uses "My Morning Prayer," which he wrote for himself and others in the ministry. He mentors about a dozen local pastors and counsels about 750 around the world through his website, faithencounter.com.
He's also part of a group of pastors who have been meeting weekly for 25 years. They hold each other accountable, he said. "We pray for each other. We can call each other to pray if we have problems," he said.
He regularly writes articles about the power of and need for prayers, counsels at the Rescue Gospel Mission, and serves as prayer chairman for the city and leader of the local National Day of Prayer effort.
During his decade leading the McMinnville Nazarene Church, the congregation raised money to build a new campus on Hill Road.
After he left the growing Nazarene Church on the Hill, Hicks became a partner with Luis Palau, an international evangelist based in Portland. He traveled all over the country with the crusade.
Later, he became the Oregon representative for the Billy Graham Crusade. He also trained pastors who worked throughout the world, including countries in South American and Africa.
Now officially retired, but still active, Hicks said his daily routine also includes praying "for anyone who's on my heart."
As he begins to pray, he asks himself, "whose life shall I change and what circumstances shall I influence today with my prayers?"
Praying can be personal or corporate, which means praying in a group or along with other people.
The more the better, in Hicks' opinion. It can be spontaneous, or, as often is the case with group prayers, written out.
Two books of the Bible include The Lord's Prayer, in which Jesus instructed his followers to "pray like this."
"Our Father in heaven, hallowed be your name. Your kingdom come, your will be done, on earth as it is in heaven. Give us this day our daily bread, and forgive us our debts, as we also have forgiven our debtors. And lead us not into temptation, but deliver us from evil."
Whether it's recited by an individual or a group, the prayer underscores the need to pray for others, as well as yourself.
Praying for other people is important, ministers said.
Praying should be filled with praise, pastors said.
"You shouldn't just be asking," Garlinghouse said.
Nice said prayers start with connecting with God and opening hearts to the relationship with him. "It's not just gimme, gimme, gimme, I want, I want, I want," he said.
In the Bible, Galatians 6:2 advises "Carry each other's burdens, and in this way you will fulfill the law of Christ." "I believe God created us weak to some of our burdens, so we can learn to depend on him," Nice said.
But we should pay more attention to praying for others than for ourselves, he said.
Nice's True Vine church holds a group prayer session at 7 p.m. Saturday evenings; with social distancing rules in place, sessions take place via teleconference. The congregation prays together and takes time to listen, as well, said Nice, a graduate of Western Mennonite School, now called Western Christian, south of Dayton.
Praying can be quiet, or even silent.
"Pause and listen," Garlinghouse advised. "Think of the miracles in your life."
Some people say they hear an answer when they pray, Widrig said.
He hasn't heard anything aloud himself. However, "my call to ministry was a definite communication; it was just as plain as if I was talking to you," he said. "It was a witness in my spirit."
That was in 1978, when he was a 36-year-old school teacher. It led him to quit his teaching job and move his family to Kentucky so he could pursue a master's of divinity degree.
After joining the Free Methodist denomination, he returned to Oregon and pastored in several different churches before settling in Willamina. He still attends the church, which holds prayer sessions at 6:30 p.m. Tuesdays through Facebook.
Praying with others online is not quite as satisfying as being together in person, but it works, he said.
When someone prays, online, in person or alone, there's no need to shout.
"I whisper a prayer for people who are having a problem," Hicks said.
At one time, he said, "I thought you had to beg and cry" in order to get God's attention. By closely reading numerous translations of the Bible, from the old King James to the New Living Translation and New American Standard versions, he said, he learned that's not true.
In other words, he said, God hears every prayer.
Starla Pointer, who believes everyone has an interesting story to tell, has been writing the weekly "Stopping By" column since 1996. She's always looking for suggestions. Contact her at 503-687-1263 or spointer@newsregister.com.