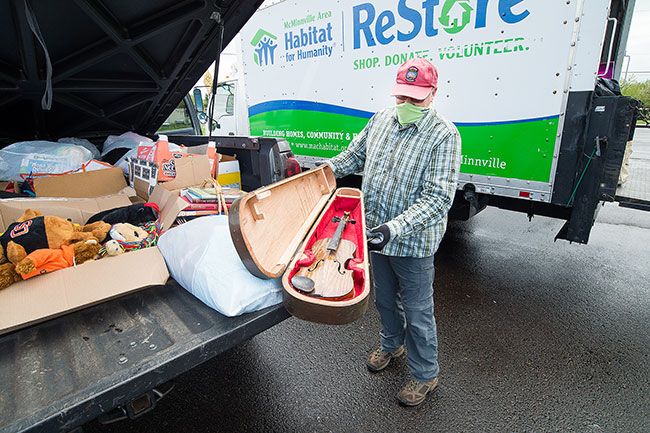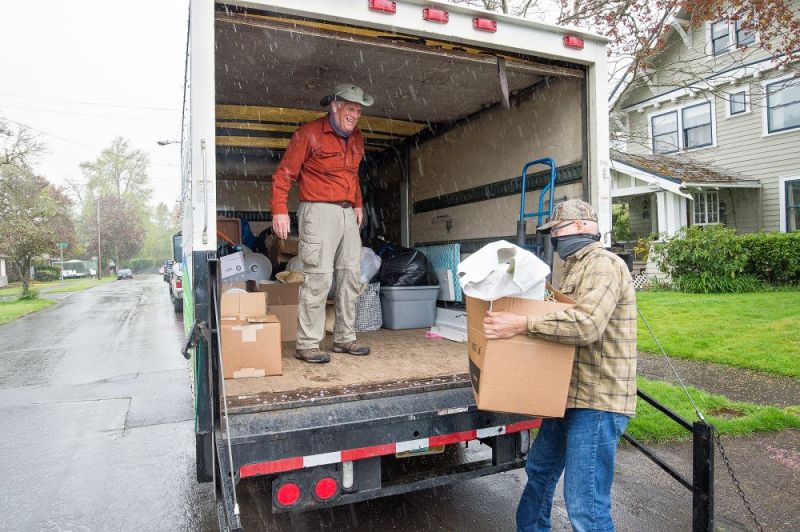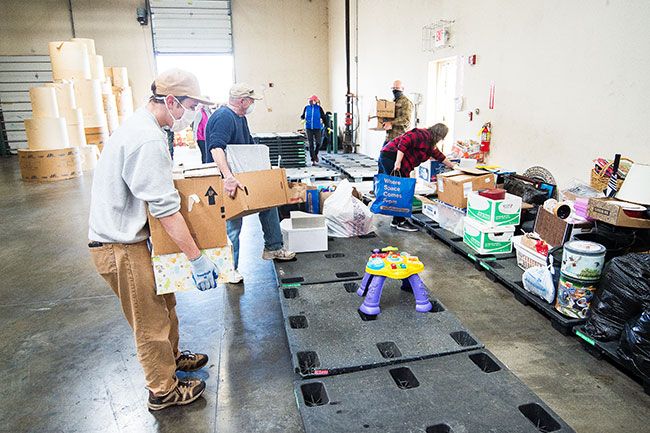 Downsize your stuff for a worthy cause
Saturday, all across Yamhill County, volunteers launched a six-week project to collect the "stuff" from local people's lives for the benefit of area charitable organizations and programs. The project — dubbed "Stuff Matters" by one volunteer — will continue with curbside pickup at homes on all five Saturdays in May.
The project was organized by MacHub Community Warehouse — a division of McMinnville-based Swedemom Center of Giving. Initial response has been overwhelming, according to Swedemom Executive Director Cami Nyquist.
"We literally had to create spreadsheets to manage the responses that came in on the first day," said Nyquist. "We are fully engaged with the logistics to pick-up the things cluttering up closets, drawers, shelves and dressers."
MacHub and McMinnville Habitat for Humanity mobilized volunteers for organization and fulfillment — project planners, marketers, drivers with personal trucks, and larger vans from Habitat and Bella Casa Real Estate Group. There were about 60 pickup appointments at area residences Saturday, and more than 100 scheduled for Saturdays in May.
Items collected Saturday were stored temporarily in the News-Register/Oregon Lithoprint warehouse on Riverside Drive. Next week, they will be moved to a building donated by Mike Flanigan of McMinnville for the next month or two. Afterward, project partners hope to find a long-term facility and continue the project as a permanent local service.
Many items collected from donors will be distributed to local charitable thrift shops; others will be held for a massive free community garage sale when possible; and finally, "stuff" that can't even be given away will end up in recycling or the landfill.
To request curbside pickup of "stuff," local people can email donations@machub.org. People interested in volunteering to help with the community project can email volunteers@machub.org.
Speaking for project partner Habitat for Humanity, Executive Director Mary Stern said:
"We are thrilled to expand our partnership with MacHub/Swedemom during this pandemic, allowing us to potentially have some revenue where there was none. We closed the ReStore on March 15 and laid off the ReStore staff.
"The loss of revenue has negatively impacted our ability to continue our work," said Stern, "We are about to finish a house for a low-income family, and we have other families waiting for homes. These families live in unsafe, unhealthy situations and are working hard to improve their lives."
MacHub is one of many charitable operations supported in multiple states by Swedemom's online sales system. Nyquist noted MacHub seeks higher-value items for program sustainability, due to processing costs for online sales and shipments. That was emphaized by Swedemom board member John Dolan.
"We need to increase the value of the listed inventory by three- to four-fold," said Dolan, "and/or have multiples of items that can use the same sales template."
Higher-value "family treasures" that people donate to this project will be placed on the Swedemom internet platform. Those sales can become documented appraisals for donors' charitable contribution reporting.
Nyquist recalled the five-year MacHub program "was planted here in my hometown by a number of visionaries," adding, "I am very grateful to still be part of a team that keeps it flourishing."
The 2020 project, she said, celebrates the 50th anniversary of Earth Day and "an amazing community."
"MacHub has transformed lives by moving stuff that really just clutters up our homes," said Nyquist. "MacHub is fortunate to be able to continue its mission and help other nonprofits in the midst of this COVID-19 virus crisis."
Sanitation and social distancing requirements are an important part of the project, said Nyquist.
"I think the coolest thing is that MacHub actually helps reduce the mass of things going to the landfills, and helps find a greater and more meaningful purpose for 'stuff.' I'm excited to see if this curbside and community warehouse service can become a model for sustaining people, the planet and assistance to charitable groups.
"It is the beauty of humanity and technology blending in a unique way to bring out generosity and compassion that ultimately serves the common good."