Donation to buy hundreds of gift cards at Mac businesses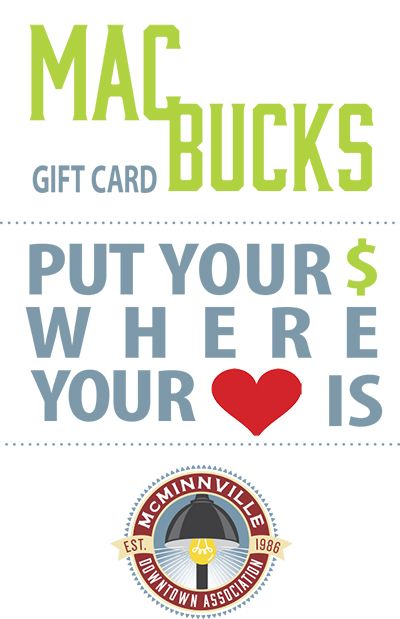 An anonymous $15,000 donation to the Downtown McMinnville Association will be used to buy hundreds of $20 gift cards at city businesses struggling with coronavirus-induced closures and layoffs.
The donors approached the association with the plan to inject money into the downtown economy by targeting businesses most affected by the COVID-19 stay-at-home order.
"The benefactors really wanted to infuse this capital into local businesses now, but with 95 percent of downtown businesses closed, we suggested the bulk of the money be put aside until the lights are turned back on," said Dave Rucklos, the downtown association's executive director.
More than 700 gift cards will be available for use at association member businesses once statewide restrictions are lifted, Rucklos said.
The association said its existing gift card program is primarily used by the food and beverage industry, retail stores and art galleries, which Rucklos said are concerned about their employees and staff.
That led the MDA to suggest distributing most of the cards to returning downtown employees who have been laid off during the pandemic in a "prime-the-pump" recovery effort as downtown employees are most likely to spend gift cards immediately upon returning to work.
"Our initial thought was to put dollars into the downtown for immediate use and directing the restaurant industry to provide meals for first responders," said City Council member Zack Geary, who helped facilitate the donation.
"When it became clear that most of the food and beverage industry had closed their doors for now and liquidated inventory, we realized trying to act on our initial thought was going to be challenging," he said.
Community Plate and Pizza Capo owner Scott Cunningham said the donation would help "jumpstart the many businesses on Third Street, not to mention help our number one asset, our employees, who have been absolutely devastated by this crisis."
First responders will also be included in the gift card program as a thank you for their service during this critical time, with Geary helping to identify them and create a distribution channel, Rucklos said.
Organizers hope others in the community will also support the program financially.
"The idea is to help affected employee groups and assist the downtown in getting back on its feet as quickly as possible," Rucklos said. "The minute we are given the green light to reopen for business, these cards will be immediately distributed."
Click here to access the online donation site to contribute to the fund.