Pedaling forward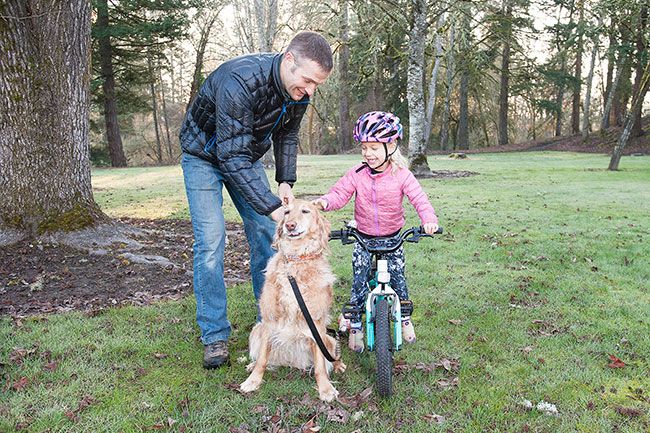 Growing up in McMinnville, Ron Baker rode his bicycle just about anywhere he could find a pile of dirt.
Adults rarely appreciated his need for speed and daredevil stunts, he said.
"I remember getting kicked out of places when I tried to find places to ride my bike, and nothing has changed in 20 years," said Baker, a firefighter with Tualatin Valley Fire & Rescue in Newberg.
Baker wants more opportunities for his two daughters and other kids growing up in McMinnville. He and his fellow board members at Willamette Valley Cyclists dream of a city pump track and bike trail.
A pump track would provide the banks, berms and mounds for bikers to generate enough momentum to defy gravity without having to pedal.
Meanwhile, those who prefer to ride their bikes without necessarily becoming airborne, could enjoy the more traditional bike trail.
Both ideas remain in the preliminary discussion phase, especially about location and funding.
Possible locations for the pump track include McMinnville City Park across the parking lot from the pickleball courts, as well as a plot of ground off Northwest Meadow Lake Road. Another option might be the county fairgrounds.
For the bike trail, Baker and his fellow cyclists are eyeballing a 60,000-acre piece of Bureau of Land Management property south of Sheridan.
"That's the hard part right now anyway," Baker said. "The BLM property is the resource management plan, so there's no trail right there. There are potential spots they think might be good for local trails."
McMinnville Parks and Recreation Director Susan Muir said a pump track is a possibility.
Baker and Muir have talked about potential partnerships "that might help move a project like this forward," she said. "At this point, we don't have anything concrete, but the city is supportive of taking this to the next step."
Baker said a pump track would cost between $250,000 to $500,000. If the money was available now, he said, the pump trail could be ready for bikers by next summer. However, the money is not available.
"We're starting from ground zero," Baker said.
Willamette Valley Cyclists, with its small band of members, are looking for supporters and possible donations.
Baker said a pump track is likely the first project. "That's something I could see sooner than the trail on BLM property," he said.
Muir said city officials might be able to lend a little help, including writing a letter of support for a feasibility study grant for which Baker could apply, she said.
Public support for bike paths already exists. They rank high among the factors that create great neighborhoods, according to a 2018 poll of residents.
As a result of the poll, city planners adopted the Great Neighborhood Principles as a guide for future development in McMinnville.
City councilors folded the principles into the city's comprehensive plan last April, but specific development codes have not been drafted.
A pump track presents a new wrinkle in discussing paths and cyclist amenities, Muir said.
"The 1999 Parks Master Plan was written before pump tracks were really a thing, so it doesn't speak to this specifically, but it certainly speaks to increasing these general types of recreational opportunities," she said.
"I'm looking forward to further discussions to see how the city can work collaboratively with this volunteer group," she said.
Pump tracks attract thrill-seeking kids, Baker said, but they're actually for all ages. "It's really good exercise," he said. "If you spend an hour at one of these, you'll be really tired afterwards."
Baker said the need for places to ride bikes remains as critical as it did when he jumped his bike around the remains of the old hospital at Baker and Adams streets.
"Right now, there's no designated bicycle paths in McMinnville," he said. "Out of the town, the roads are good, but people often tell me the shoulders are too narrow."
More than cyclists are losing out as a result, he said.
"Cycling in the state, I've heard, brings in something like $400 million per year," Baker said. "As a local community, we haven't done as well as we could bringing in some of that money."
Providing more space for cyclists could bring in more than money. "If we're going to attract young families to the community, we need this sort of thing," Baker said.