Rebuild or reroute? Carlton residents talk with ODOT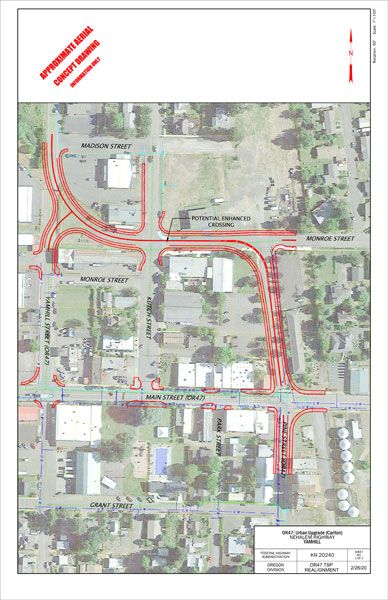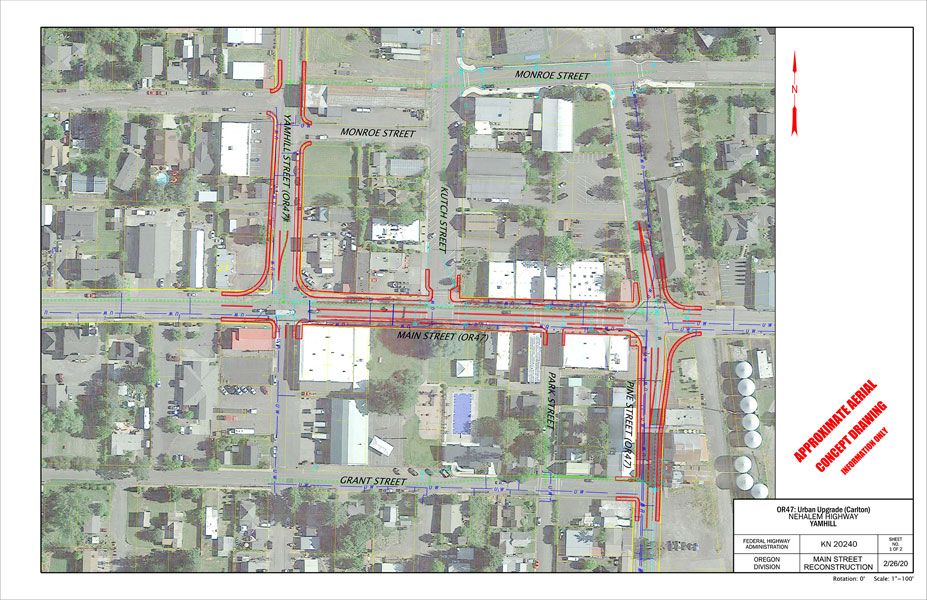 Most of the 175 people who attended a meeting with Oregon Department of Transportation officials in Carlton Wednesday agreed about one thing: They want trucks to stay out of Carlton.
However, ODOT officials said that building a bypass around the city is not in the plans.
Rather, they are committed to rebuilding the three-block stretch of Highway 47 through downtown Carlton by 2023 and improving two 90-degree curves, making it easier for trucks to wind their way through the city.
Or, if Carlton residents make their preferences known right away, the state agency is willing to consider rerouting the state highway so it runs north of Main Street. This would keep trucks out of the narrow downtown area, although they still would pass through Carlton.
The reroute also would require the state and city to trade ownership of the routes — Pine and Monroe would become part of the state highway system, while Main Street would return to city ownership. This would allow the city to shut down the street for events, if desired, ODOT officials pointed out.
They also noted that the rerouting project could be done without shutting down Main Street during the tourist season. The $7.6 million downtown rebuilding project is scheduled to run from about April to September in 2022 and 2023, and business owners worry it will kill commerce.
Twenty-seven residents spoke during the nearly two-hour meeting in the fire hall. Fire engines were moved outside in order to accommodate the standing-room-only crowd.
Some speakers favor the reroute, which would take northbound traffic straight up Pine Street and left on Monroe, then into a sweeping curve back to 47.
Others said such a realignment would encourage trucks to go too fast through Carlton, even though the speed limit would remain 20 mph, endangering children and other pedestrians.
Business owners along Pine and Monroe said they were worried that turning the streets into a state highway would hurt their business and their ability to load and unload materials.
Ken Wright, whose winery and tasting room are on either side of Pine, said rerouting Highway 47 would "cut Carlton in half" and make it difficult and dangerous to cross from one side of town to the other.
A woman asked the state to install a traffic signal at Pine and Main, the east end of downtown, which now is marked by a blinking light.
An ODOT traffic planner said the intersection probably doesn't meet criteria for that type of traffic control. She and her colleagues said other types of pedestrian crossing controls would be included in either project, although crosswalks would not necessarily be marked.
Some speakers said they would be happy to have Main Street improved, but fear losing downtown parking. Rebuilding plans call for replacing parking with bike lanes, which Barrel 47 owner Andy Rabung said would result in a loss of more than 50 spaces.
Several said they would rather keep Carlton's Main Street as it is and see the money spent on building a permanent bypass that would take trucks around, instead of through, the city. Again, John Huestis, leader of the ODOT project, said that is not an option.
Speaker Annette Madrid urged her fellow Carlton residents to support local businesses, no matter how the project is done.
Huestis said his agency will rebuild the decrepit state highway unless the city pushes for the Pine/Monroe reroute by early April.
The rebuilding project will fix the pavement and underlayment, bringing the two-lane street up to modern standards. It also will improve sidewalks and curb cuts for pedestrian access. At both ends of downtown, it will "soften" the intersections, giving more room for trucks to make the turns.
Rebuilding a state highway requires adding bike lanes, Huestis said, so they are included in the plan instead of on-street parking. However, after previously hearing from Carlton officials and business owners about the potential impact of losing parking, he said his team has applied for an exception.
Still, Huestis warned, he cannot say the request to keep parking over bike lanes will be approved. No similar exceptions have been OKed in other parts of the state.
City Manager Dennis Durham said Carlton officials have been talking about ways to increase parking near downtown. The city needs more parking, he said.
He urged Carlton residents to make their preferences known — rebuilding or rerouting Highway 47 — to city council members, Mayor Brian Rake or city hall. The council will discuss the issue at its next work session, to be held at 6 p.m. Tuesday, March 3, at the American Legion Hall across from city hall.
For more information, call the city at 503-852-7575.