Creature feature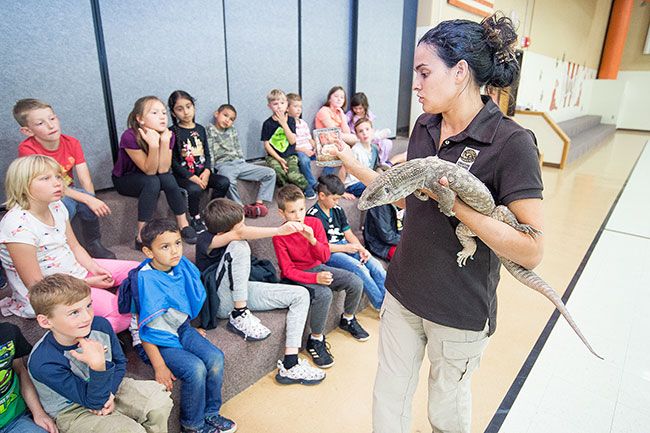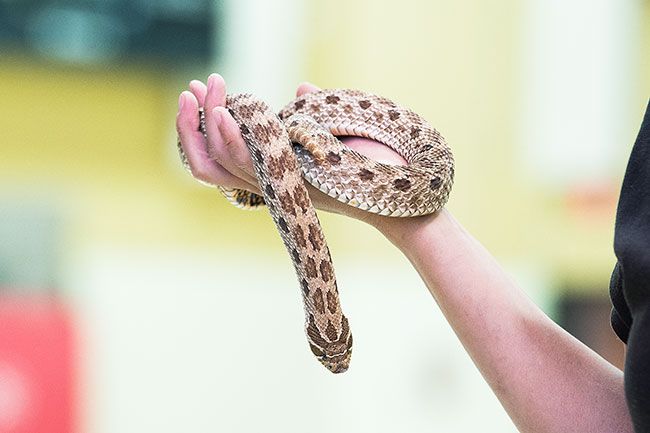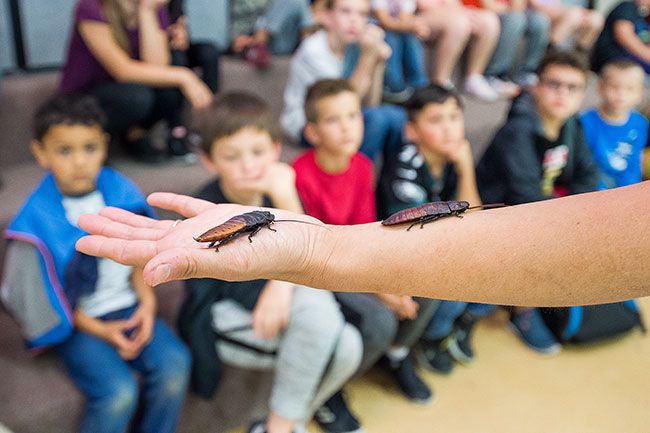 LAFAYETTE — Fear of spiders, snakes and other creatures is a learned response, according to Shanti Kriens. Dubbed the "creature teacher," she is visiting McMinnville School District after-school programs this month.
Usually, children who are scared of "creepy crawlies" aren't reacting because they've had a bad experience, she said. Rather, most picked up those fears from adults.
Apparently no one told youngsters in the Wascher School Kids on the Block program, though.
Every one of them peered eagerly at the animals Kriens brought to school Monday: a pixie frog, which can grow to the size of a basketball in its native Africa and have 3,000 babies a year; Madagascar hissing cockroaches, which clean up the forest floor; a Savannah monitor lizard, smaller cousin of the Komodo dragon; and snakes, including Miss Piggy, a hognose that scares away predators by pretending to be a rattler, and Princess Buttercup, an albino ball python.
All but a couple kids also lined up after Kriens' presentation to feel a discarded snake skin, an alligator skull, a snake backbone and many of the living animals.
Two girls gently stroked Reggie the South American tortoise, whose back is extra bumpy because he was malnourished as a youngster.
"I don't know what it feels like," one said. "It feels ... different."
In return, Reggie and Kriens' other animals eyed the children with interest and flicked their tongues to smell the Wascher gym.
Kriens fell in love with creatures while watching Steve Irwin, "the Crocodile Hunter," as a child. She studied natural resources conservation and wildlife management at Oregon State University, then started her own business in 2016 teaching young people about animals and their critical roles in the environment.
"If they leave here not wanting to kill snakes and spiders, that's good," she said. "And if they leave here understanding that the critters are important, that's better."
Kriens visits schools and libraries all year round. In addition to Wascher, she will be doing programs at Sue Buel, Columbus, Grandhaven, Memorial and Newby in October and early November.
Her educational programs feature "whatever other people find gross or creepy." Most of the insects, reptiles and amphibians were rescued -- some were purchased as pets, then discarded; others were injured in the wild.
Kriens calls them "animal ambassadors" since they teach children about their roles in the environment. They're not her pets, she said, although she loves most of them.
"They know me as the bringer of food," she said, describing how her tortoise, lizards and snakes get excited when they see her coming. In contrast, they don't pay attention to her husband — he's not their source of dinner.
Kriens keeps about 30 animals in her home, including birds and a dog, as well as the more exotic species. Her two sons, one 4 years old and the other 4 months, are growing up thinking of the creatures as normal — they are interested, respectful and not afraid, she said.
"I just found a big spider for my kid. He was excited," she said, recalling the arachnid with a body the size of a quarter that she found at one of her presentations.
Even if it was a tarantula, she wouldn't be worried. Most tarantulas have "very mild venom" similar to that of a bee sting, she said, showing her curly haired tarantula, Miss Frizzle, to the Wascher students.
And, more important, tarantulas and other venomous creatures aren't looking for humans to bite or sting. They hunt for food and hide from or ward off enemies, but they're not malevolent.
She explained the concept to the Wascher students this way: Look at how small the animals are in comparison to how big even children are. They would much rather run away then try to fight, she said.
"Reality check!" she said. "They're not going to chase you."