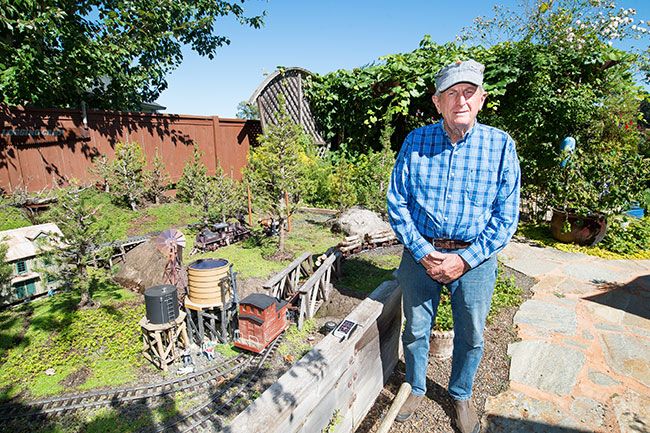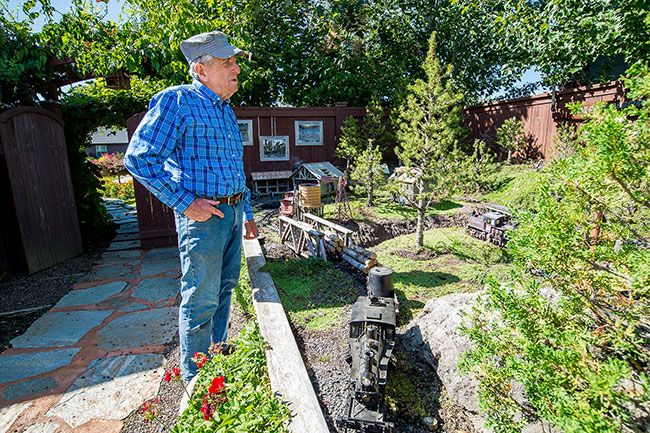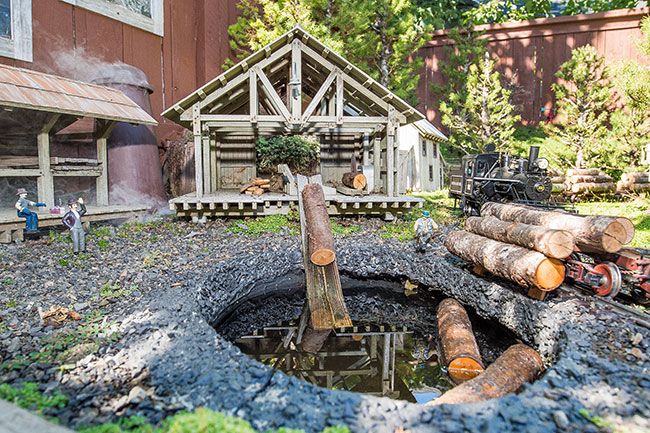 Stopping by: Garden Tracks
Michael Crain built a railroad, made it run, made it race against time ... and now his miniature locomotives and flatcars are still hauling logs out of the woods and to a sawmill, just as if they were real 19th Century trains.
The Crain Logging Camp fills a corner of his garden -- a focal point admidst displays of flowers and foliage tended by he and his wife, Doris.
Based on imagination, rather than any particular real logging site, the garden railroad draws attention with its sawmill, wigwam burner, loader powered by a donkey engine and hilly, tree-covered landscape.
But it's the engines that sparked its creation: Crain likes geared steam engines, which were commonly used in railroads that climbed into the wooded hills where logging was taking place.
So the engines led to the logging camp, with its mill from which emanates the sound of lumber being sawn. And that required a forest of dwarf Alberta spruce trees, a mill pond, and tracks that snake through small valleys and over a trestle that crosses a rushing river.
Sit on Crain's deck, and it's all at eye level -- just as he wanted it when he built the raised platform and began laying track in 2013.
Crain grew up in San Pedro, a southern California city on the Long Beach harbor. One of his favorite toys was his Lionel train set.
But at 6 or 7 years of age, he wasn't satisfied to simply send the train speeding along a smooth track. "I wanted it to go up steep hills," he said.
He mounted his tracks to a board that he could tilt up. When the engine couldn't make such a climb, he took a hacksaw to it, cutting off the cow catcher and other parts to reduce its weight to make climbing easier.
Years later, as an adult, he bought a live steam engine. He filled the tank with water and set it to puffing along a little track he set up in his yard.
It pleased him for the time being, but "I wanted a real garden train," he said.
At the time, though, he was more focused on work then his railroad hobby.
Before retiring, Crain worked in the dental industry making crowns and bridges. Dentists took impressions of their patients' teeth, then sent them to Crain's lab. He made the appliances, then sent them back to the dentists for installation.
Crain had worked in an oil refinery and spent two years in a technical school before finding his niche. "I wasn't sure what to do. My dad's dentist said making crowns was not a bad choice," he recalled.
He made teeth, crowns and bridges by hand. The industry relies more on technology these days.
The GI bill helped him learn his dental specialty, he said.
He had joined the Naval Reserve in the 1960s and was sent to Vietnam. He spent 11 months on a large supply base.
He met Doris after returning to the U.S. They will celebrate their 51st anniversary in December.
Crain finally had a chance to build a real garden train after he and Doris moved to Oregon -- not right away, though, since they arrived in December 2008 in the middle of a terrible snowstorm; it shut down travel, for vehicles small and large, for days.
The Crains came to live near their grandkids and son and daughter-in-law, Brian and Theresa Crain. Another son still lives in Southern California, and Michael's mother, Chris Crain, has since moved to McMinnville, as well.
"I like Oregon," he said. "Before we came up here, people said it would be gloomy. It's not."
The Crains found a one-third acre lot alongside a natural wildlife preserve with plenty of room for an extensive garden.
Both he and Doris love growing things, so they wanted the garden to be their major focus. "Just a corner" was plenty for his trains, he said.
"It's a garden with a train in it," he explained, rather than a railroad surrounded by a garden.
Landscaped with real dwarf Alberta spruce trees, his corner layout features a variety of logging activities.
A train picks up newly felled and limbed logs, carries them to a sawmill, and pulls onto a siding to dump logs into the millpond. After the logs have been sliced into boards, the lumber is loaded onto another car to be taken away for selling and shipping.
Loaded flatcars and box cars are pulled by Crain's geared engines, which use reduction gearing, rather than direct drive.
Real geared locomotives are "slow, 10 to 15 mph, but with a lot of power," and so are his miniature versions. He likes to show off Oregon Lumber Co. 102, about 18 inches long, with its pistons in a V shape, like those on a Harley motorcycle.
No. 102 is a Heisler engine, one of three types of geared locomotives. It has a cylinder on each side of its boiler.
He also has a Shay, or "donkey," engine with an offset boiler. It's sitting on an out-of-the-way section of track, as if broke down there. "You might see that for real," he said.
The third kind of geared locomotive is a Climax locomotive, with two inclined cylinders that drive a transverse crankshaft.
When they're not on the track, he keeps the cars and other train paraphernalia in his "train shed," a phone booth-sized build he made just for that purpose.
He keeps an eye out for memorabilia from the era of live steam to add to his garden decor. His collection already includes a jack made specifically for lifting rail cars; he made a wooden handle for it himself.
Crain enjoys puttering in his garden railroad just as much as running the trains.
"Weeds are killing me!" he complained. They wouldn't be so bad if they'd grow to scale, though.
He keeps the dwarf Alberta Spruce trees in his layout in pots, so he can remove them easily for trimming.
It's easy for him to reach the pots -- he just climbs onto the raised bed. That's how he repairs track or adds buildings and other details to the layout, as well.
The train crews and other people populating the layout are easy to move, too. He affixed small spikes to their feet so they will stay upright, wherever they are placed.
He enjoyed making the layout's scale-model buildings. He worked from blueprints to create the sawmill and living quarters for the workers. The outhouse, wigwam burner and other buildings came from his imagination, though -- just as real logging crews often built their own buildings in the woods, working without plans but making them the right size and shape to be moved atop a railroad car.
Imagination shaped the whole Crain Logging Company, really. While it's based on activities that really occured, it's not patterned after any particular railroad or logging area.
"I didn't consult anyone or tour other layouts before building this," he said. "I winged it."
However, he does enjoy admiring layouts made by other model rail aficionados, though.
And he especially enjoy watching the live steam engines that a Portland friend runs in a huge old warehouse."Replicas of steam engines are my favorite," he said. "I like to see the movement. With diesels, nothing is moving."
He also likes checking out other garden railroads with their buildings, landscaping and minute details, such as the one built by his friend Jim Dunk, another garden railroader who lives in west McMinnville.
When Dunk suggested that Crain show off his layout as part of the National Garden Railroad Convention, held in Portland this year, he thought twice. Was his Crain Logging Camp enough to please visitors from all over the U.S. and other countries?
He thought back to 2016, when he and his wife, a member of the McMinnville Garden Club, took part in the group's annual fundraising tour. Visitors enjoyed their garden then; surely they would enjoy his garden railroad now.
So he said yes. And in August, both he and Dunk hosted more than 300 garden railroad enthusiasts.
"I heard a lot of positives," Crain said.
He wasn't even scolded by the "rivet counters" who demand perfection in model layout.
"No visitor was critical," he said. Instead, they admired his miniature forest, the log loader he built just for the tour, the recirculating waterfall and other details, along with his geared engines.
It was an fun day, one of many delightful days he spends in his garden.
"Life is good," he said. "My family is healthy and we're close by. What else could you want?"
---
Crains share growing effort
Doris Crain is the main designer of their "informal and eclectic" garden, she and Michael Crain said.
He did the digging and created fan-shaped and round trellises from rebar, such as that used to strengthen poured concrete. He also built an arching tunnel, also from rebar, that leads to the back yard. It's covered with flowering vines -- when bees are active, the tunnel hums, he said.
Their garden, which was on the McMinnville Garden Club tour in 2016, features plenty of petunias and 19 hydrangea bushes of various types. Two kinds of honeysuckle climb another trellis shaped like the smokestack on a steam engine. Table grapes and concord grapes cover an arbor. Several pitcher plants thrive in pots, awaiting meals of juicy insects.
While the Crains love working in their garden, they also enjoy sitting back to admire it. "We sit on the patio, relax, watch the birds on the marshland," Doris said.
In addition to her home gardening, Doris coordinates the children's part of the McMinnville Community Garden. She leads fairy garden workshops, as well.
Michael makes rebar tomato cages for the community garden -- more than 240, thus far. Their own tomatoes climb cages made from rebar, as well.
She loves to cook with tomatoes and other garden produce, often fixing dishes that recall their Italian heritage. They have two potted olive trees, as well, just as if their garden were in Italy.
To accommodate their efforts, they built a he shed/she shed in their yard. Each one has an entrance, his on the side and hers at the front. It took some negotiating to determine where the dividing wall would go, they said.
He also has a workshop in the garage, where he can work year-round building with wood, shaping rebar, refinishing furniture and pursuing other hobbies.
"I like to build," he said. "Dad was handy with wood, and my son in San Diego got me into welding after I retired."
He said he doesn't pretend to be the great welder -- "my son would say 'sloppy'," he said. Still, his creations made from rebar and old bed frames are sturdy and usable. He's currently welding a custom rake for the community garden that will till the soil and, at the same time, make furrows for planting carrots.
"I like doing this. I like to make useful things," he said.
He keeps a list of his projects, crossing off each on as he finishes. That way, he said, "it looks like I'm making progress."
If he completes a project that's not on his list, he adds it -- then crosses it off, too.
"I like to stay busy," Crain said.