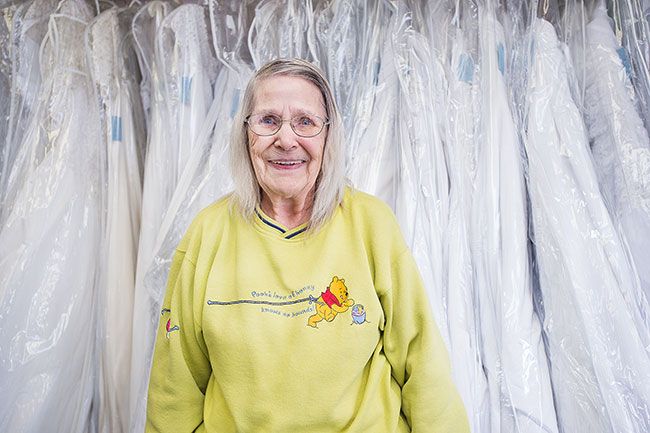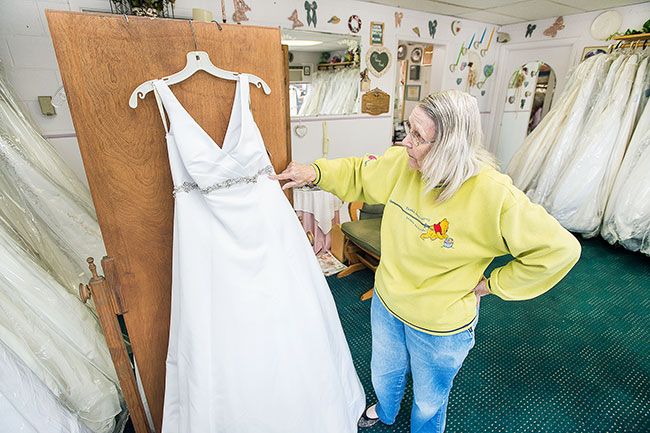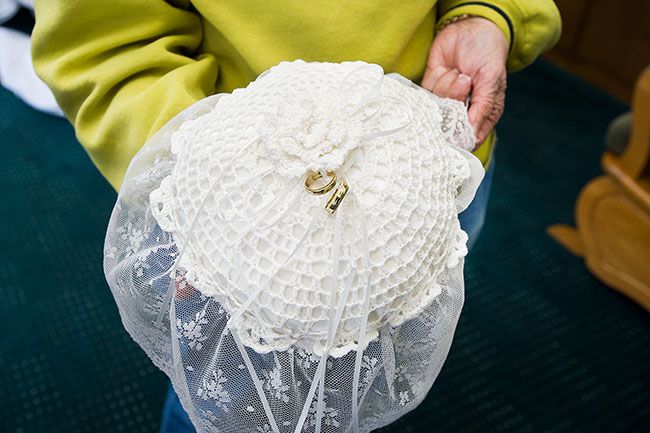 Stopping By: Grandma wants every bride to be her best
Perched in her rocking chair, Juanita Layton waited for customers to visit her shop, which is filled with clouds of tulle, silk and satin.
"Wedding dresses! I love 'em," said Layton, the owner of Grandma's Weddings in McMinnville.
Most people know her as "Grandma," a title she loves to hear.
A real great-grandmother, she rocked and surveyed the racks full of informal gowns — floor length, with only a small train, her biggest sellers — and formal ones with long trains. The dresses, all in white, ivory or champagne hues, shimmer with beads, drip with lace or shine with fancy fabrics.
Veils in various lengths and styles, most of tulle attached to combs so they'll be easy to secure in a bride's hair, are displayed alongside the gowns. Cases hold toasting glasses, cake toppers and ring bearer pillows Layton has made, along with unity candles and guest books.
The latter two items aren't big sellers anymore, she said; they're out of style. Couples nowadays often pour colored sand together instead of lighting a candle; or they ask guests to sign a frame or a platter instead of a book.
Styles change, but her love of weddings does not.
"I love this shop. I love being here," she said. "I have no intention of ever quitting.
"I can't imagine sitting at home all the time," she added. "This is my world."
Laughing, she said one of her longtime friends describes their age as "not brand new anymore."
That may be, she said, but "I can do anything I used to. It just may take longer."
Layton, the mother of five sons, will turn 84 next month. Her shop is turning 38, and she's now helping customers whose mothers bought their dresses at Grandma's Weddings.
She opened a craft business in Dundee back in 1981. She later moved the shop to Newberg, then to McMinnville, first in the Hotel Oregon building before it became McMenamins, then in the current location at 1030 N.E. Baker St.
Over the years, the shop morphed from crafts to bridal supplies. The demand was there, she said, and she enjoyed making veils and other accessories.
At one time, hers was a full-service wedding shop, renting tuxedos and selling bridesmaid's dresses and mother-of-the-bride gowns, as well. She eventually narrowed the focus to wedding gowns and accessories. She still carries some floral supplies, too, but she's planning to get rid of them; she's looking for a buyer.
When Layton's shop was at the Third and Evans location, the old hotel supposedly was haunted, Layton said. She maintains the myth: "Things happened when I was there," she said mysteriously.
Not long after she moved in, for instance, her doorbell rang several times in quick succession. But each time she answered, no one was there, she said.
She was annoyed — she was trying to finish an order of bows to decorate the ends of church pews for an upcoming wedding, and the doorbell kept interrupting.
"It was like a mischievous kid, being a brat," she said. So she told that kid, aloud, to cut it out.
Another time, she said, the bathroom door kept moving, squeaking each time. "I said, 'Knock it off!' and the kid did," she recalled.
The incidents weren't frightening, she added, just bothersome.
When she first started selling wedding dresses, Layton commissioned them from several local seamstresses. Then she started buying gowns wholesale. Now she sells a variety, including some she's purchased used and fixed up.
When a bride-to-be comes into the shop, Layton encourages her to try on several options. Rarely do any of the dresses fit perfectly at first. "They run super-duper small," Layton said, and every manufacturer measures sizes differently.
"I can look at a girl and see what size she'll need," she said. "As long as they like it and it fits, the (printed) size doesn't really matter, does it?"
Once the bride chooses a style, the gown can be altered to fit her perfectly. Most dresses have a seam allowance built in, to make alterations easier, she said.
Layton refers buyers to her alterations seamstress, who's a whiz at fitting dresses, she said. She encourages the bride to call right away to book an appointment — when it comes to wedding planning, she said, timing is important.
Once a young couple stopped at Grandma's Weddings on the way to the coast. They were getting married at 3 p.m., they told Layton, and needed a gown and a bow tie.
She sent them on their way with the appropriate clothing, but shook her head as she waved goodbye. Maybe you don't need 10 or 12 months to plan a wedding, as bridal magazines suggest, but you certainly should allow more than a few hours.
Layton, now a McMinnville resident, grew up in Salem. As an adult, she moved to Grand Island junction, where she and her family lived on two acres on which sat two houses, two pump houses, a chicken house and a barn. Later they moved to a 13-acre plot in Amity, where she had room for 11 horses.
For many years, she worked as a housekeeper. For years, she drove from home to Newberg, where she was a housekeeper at the local hospital, then headed down to Salem to do similar type of work at a Kmart store.
Finally, "I decided out of the clear blue sky that I wanted to do my own thing," she said.
That's when she opened her own shop and took craft classes, learning to make veils, cake toppers, ring bearer pillows (complete with dummy rings, so the real rings wouldn't get lost) and toasting glasses.
She took pride in crafting those items. Besides, she said, "why should I buy what I can make?"
She said she's never regretted going into business, although running such a specialized one can have its frustrations, Layton said.
For instance, some would-be customers put dresses on layaway, then never pick them up. Or they say they've decided on one of her dresses, then leave, never to be heard from again.
No one comes in just to browse. People enter the shop only if they are looking for wedding items. "It can go two or three weeks without a soul," she said, "then it's really busy" with brides of all ages, their friends and their mothers.
Between customers, she sits in her rocking chair, plays solitaire or reads bridal magazines.
There's no pattern to the bridal business, she said. "June weddings are a myth," she said, explaining that people marry, and plan weddings, all year long.
Styles change; trends move on. That's why she has that stack of guest books on the bottom shelf; using them is no longer in fashion.
And, although she likes making hats, it's why few hats are on display. "I haven't seen a bride wear a hat for 20 years," she said. "When I started, hats were really popular."
Another current trend requires a formal dinner to follow the wedding. Layton doesn't see the point — she's fine with following the ceremony with wedding cake and little cups of mints or nuts.
"I don't know why people go to such expense," she said. "Married is married."
And while she deals in wedding gowns, she also isn't a fan of another trend: buying two dresses, one of the ceremony and another, usually shorter, one for the reception. "Bustle your gown!" she advised, recommending tying up the train and skirt so it's easier to greet guests and dance.
"The two most important things are the dress and the location," she said. "Everything else falls in place."
Layton recalled her own formal wedding, which took place in Salem on Valentine's Day, 1965.
It was her second marriage and she already was a mother four times over.
Since she "is from the school where white means something," she chose an informal dress with red hearts printed on it, covered by a red jacket. Her maid of honor wore a tea-length dress with a heart print, and her bridesmaids wore red cocktail dresses.
It was a memorable day, and the following decades have been good ones.
"My four boys and I got married" to a good man, she said, "and we all had Mark," her youngest.
Her own experience with weddings comes to mind as she works with brides-to-be.
Choosing the right dress can be challenging, but enjoyable, Layton said.
"I love the shop and most of the people," she said. "I sure like helping the girls" — so much so, in fact, that, if possible, she gives each one a long-line bra, shoes and a veil along with her dress.
She advises customers to be flexible. They may think they know exactly what they want in a dress, but should try on several styles, anyway. They may find something even more flattering.
"Brides are usually their own worst critic," she added.
She also recommends they consider the overall look of a gown before rejecting it. "If they think they don't like a bow or a flower on it, they can take that off," she explained. "They can add or subtract sleeves" or make other changes to customize it.
Each bride is different, she said, but they have something in common: "Brides all want to be beautiful," Layton said.
Starla Pointer has been writing the weekly "Stopping By" column since 1996. She's always looking for suggestions. Contact her at 503-687-1263 or spointer@newsregister.com.