Christensen accepts state job; MEDP to seek new director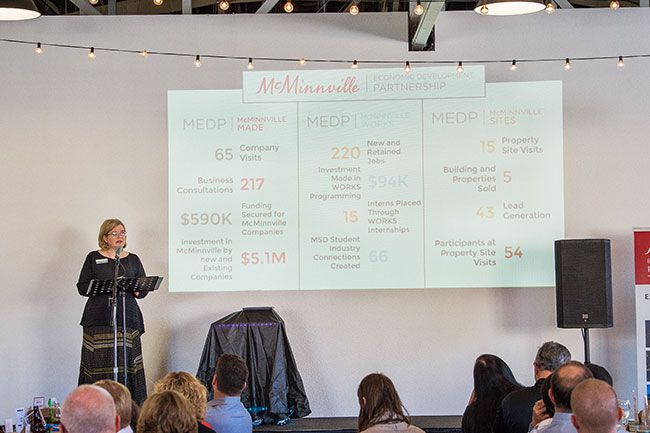 Jody Christensen, who has been the McMinnville Economic Development Partnership executive director since its founding, has accepting a state position as the Mid-Valley Regional Solutions Coordinator, covering Yamhill, Marion and Polk Counties.
Her last day will with MEDP will be December 28.
"I have been honored to work in a community that has inspired me in immeasurable ways. My time with MEDP has been rewarding – both professionally and personally," Christensen said in a statement released Friday morning. "I look forward to seeing what the future holds for the organization, the remarkable staff, and our community."
MEDP said it will be announcing its recruitment process soon.
"Jody and her staff have worked with the Board, our partners and our business community to develop a world-class organization," said MEDP Board Chair Kelly McDonald. "The foundation of the organization she has worked so hard to build is solid leaving us in a strong position to continue to provide the resources our business community needs.
"While many will see Jody's new position as a departure from McMinnville, we as a Board see it as a stronger connection for our community to the State of Oregon and specifically the Governor's office."
Christensen was hired in 2006 as MEDPs first director. According to the press release: "She has successfully developed responsive retention, expansion, and recruitment services and created industry-led programming such as McMinnville WORKS and Tech Terroir. Most recently, she guided MEDP in a transition from a chamber committee to independent c6."
Christensen was named Woman of the Year at the 2015 Distinguished Service Awards. In 2017, she was honored with the Economic Development Leader of the Year Award, presented by the nonprofit Oregon Economic Development Association.
She also serves as the board chair of the McMinnville Airport Commission.
The MEDP is a coalition of municipal officials, business leaders and representatives from McMinnville Water & Light. Its aims are creating conditions helping local employers retain employees, facilitating creation of new businesses and encouraging employers to locate here.