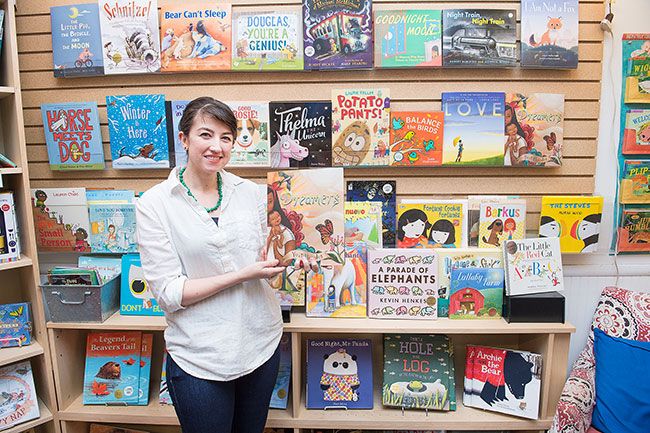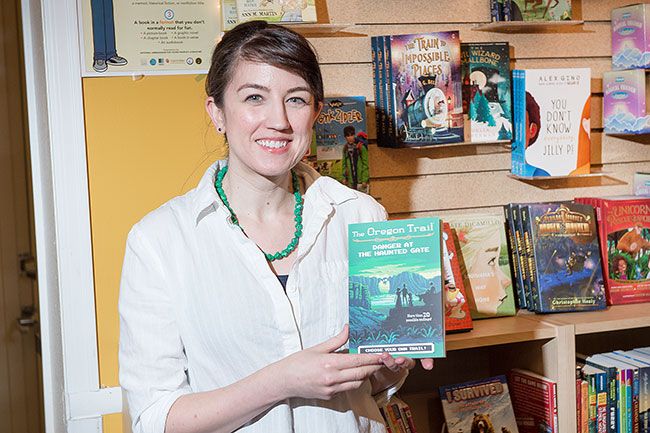 Pick of the literate
Professor Dumbledore's full name, in case the subject ever arises, is Albus Percival Wulfric Brian Dumbledore.
It came up for Hannah Newhouse.
She was standing in a movie line to see "Fantastic Beasts: The Crimes of Grindelwald" when some know-it-all adult geek assumed she knew more about the magical universe of Harry Potter than a tween girl.
Hannah promptly took her to school — wizarding school, that is.
"She decimated her," remembered Hannah's mother, Kathryn Newhouse. "I actually felt kind of bad for the woman."
Hannah was still reeling from her victory, secured by her knowledge of Dumbledore, when she and her mother and little brother visited Third Street Books in McMinnville earlier this week.
"I was in a full nerd-out with an adult ... and I won," Hannah said.
Billie Bloebaum, who works at the store, said she's not surprised when the young and the geeky best their older counterparts. "They're the experts," she said.
This holiday season, the major excitement on the menu for children who love fantasy adventures may be the cinematic release of the latest installment of the "Fantastic Beasts" franchise.
Unlike J.K. Rowling's other tales of wizardry and witchcraft, this latest series isn't based on any books (unless you count the screenplay for the movie, which Bloebaum said numerous people have already ordered at the bookstore).
For adults looking to give children similar adventures to read, the hot book series this year is the "Nevermoor" series by Jessica Townsend.
The books follow Morrigan Crow, a young woman blamed for all manner of misfortunes and supposedly cursed to die at midnight at a predestined time.
However, as she awaits her fate, a man named Jupiter North appears and whisks her away to the magical city of Nevermoor. Adventures ensue.
Bloebaum called the books amazing. "It's like J.K. Rowling and Roald Dahl got together and wrote a kids' book," she said.
For younger readers, Bloebaum recommends "The Hugging Tree: A Story of Resilience" written by Jill Neimark and illustrated by Nicole Wong.
It tells the story of a tree that ends up on a cliff and must grow there -- finding comfort in the moon as well as support from the loons and a connection with the people sitting in her shade.
Bloebaum said older children who may not care for fantasy adventure might enjoy "Where the Ocean Meets the Sky" by Crispin Latymer, about his solo travels aboard his sailboat.
A blend of fantasy and reality can be found in the comic book trade paperback "Abbott," written by Saladin Ahmed and illustrated by Sami Kivela.
Elena Abbott is an African-American newspaper reporter in Detroit in the early '70s. While she contends against a supernatural menace, the book is steeped in the actual gender and racial politics besetting Detroit in that era.
Racial politics also play a major role in another graphic novel, "Incognegro; Renaissance," by Mat Johnson and Warren Pleece. Another African-American reporter, this time male, has light enough skin to pass for white in the 1920s during the Harlem Renaissance.
He uses this "advantage" to solve a murder mystery in a story that also teaches young readers about the history of the period.
Samantha Geary, an assistant in the McMinnville Public Library children's room, and her fellow librarians also have recommendations this Christmas.
"Looks like many of our favorite and go-to recommendations aren't brand new," she said.
Heading the list of library recommendations is "You Hold Me Up" written by Monique Gray Smith and illustrated by Danielle Daniel.
"It's a sweet, simple book showcasing many actions that make someone feel loved," Geary said. "It's great for families wanting to share that love that comes through everyday activities."
Also, in the picture book category, is "Old MacDonald Had a Truck" by Steve Goetz. Geary said librarians recommend it for toddlers and preschoolers into construction.
As for chapter books, librarians recommend "Dog Man and Cat Kid" and "Dog Man: Lord of the Fleas" by Dav Pilkey. These are the latest installations in the Dog Man series.
"It's so slapstick," Geary said. "It's obvious that Pilkey knows his audience. These books are written just for kids."
Young nonfiction readers might like "Her Right Foot," written by Dave Eggers and illustrated by Shawn Harris. It tells the tale behind the Statue of Liberty. Geary said it's a great introduction for young children to the nonfiction genre.
"Nellie Bly and Investigative Journalism for Kids" by Ellen Mahoney introduces children to crusading 19th-century journalist and feminist icon Nellie Bly.
It also presents them with a number of practical activities to help them learn about everything from putting together a newspaper to digging for facts.
Bly was famous for going around the world by herself in 1890, making the trip in 72 days — beating the fictional record of Jules Verne's character Phileas Fogg in the 1873 novel "Around the World in 80 Days."
Then there is "Around the World in a Bathtub" by Wade Bradford, another book on the librarians' list.
Geary said it offers a fun insight to how people around the world tackle bathtime.
"Extra information at the end of the book satisfies the hankering for more in-depth knowledge about each bath ritual," she said.
Shay McClean has been buying children's books at Third Street the past four years. Among her strongest recommendations is "Inky's Great Escape" by Casey Lyall and Sebastià Serra.
The book is based on a true story about an octopus who escaped from an aquarium in New Zealand. Octopods are truly great escape artists. "They're absolutely famous for that," McClean said.
The proper word is "octopods," by the way, not "octopi," she added. "A lot of people make that mistake, thinking that 'octopus' is a Latin word and using the plural form for a Latin noun," she said.
Octopus is a Latinized form of the Greek word oktopous. Its correct plural is, therefore, octopodes. It is the same with more than one hippopotamus. The plural "hippopotami" is now considered to be either funny or absurdly pedantic.
None of that matters, of course. "Inky is incredible," McClean said. "The octopus truly is fascinating. The pictures in the book are amazing. You could spend the whole day with this book, just looking at the pictures. It's also an easy read."
Speaking of things Inky, McClean also recommends "Inkling" by Kenneth Oppel and Sydney Smith.
An ink spot from the pen of a comic book artist comes to life and embarks on a series of escapades. "I don't know how they made an ink blot cute, but they made an ink blot cute," McClean said.
More serious, and particularly relevant, adventures await in "Dreamers" by Yuyi Morales. "The whole thing is about her experience coming to America," McClean said.
"It's insightful and just such a beautiful book," she said.
Young readers, especially those into the construction industry, might appreciate McClean's recommendation of "Builders and Breakers" by Steve Light.
The picture book depicts a wide range of construction scenes. With minimal words, McClean said it is appropriate for preschoolers.
"The illustrations are so detailed and beautiful," she said.
Some of the drawings require the book be turned different ways to appreciate the perspective. McClean said she appreciates that some pictures show women in construction jobs.
Empowering girls is a recurring theme in many of the books on this year's Christmas lists, including "Strong is the New Pretty" by Kate T. Parker, which includes a journal where readers can chronicle their own experiences.
A strong female hero also stars in "Property of the Rebel Librarian" by Allison Varnes, about a 12-year-old girl who defies her parents, reads banned books and rallies other kids to do the same.
If that makes parents feel squeamish, they might opt forMcClean's recommendation of a book series based on the 1980s video game "The Oregon Trail."
The books allow young readers to choose their own adventures, much like the original game. "I read the first one, and my camp caught on fire," McClean said.
"Kids love it, and so do their parents who grew up playing the video game in the '80s," she added.
McClean also recommends "Children of Blood and Bone" by Tomi Adeyemi, which examines tales from West African mythology. "It's nice to see that," McClean said. "So often, mythology focuses on the classic Greek, Roman and Norse."
It is also great to see people coming to Third Street Books, she said.
There was a strike in England, Spain, France, Italy and Germany among workers for the mail-order monolith Amazon last weekend, she noted, that contrasted sharply with life in a small community bookstore.
"We feel appreciated and taken care of here," McClean said. "I tell people that's what they're paying for an independent local bookstore. You may be paying full retail, but you are helping provide for a healthy community."