Bob Rhoads - 1924 - 2018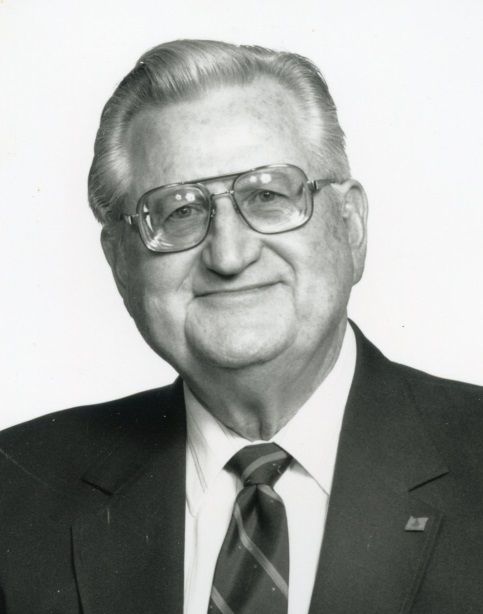 A full life, well-lived, and a modern "pioneer of Oregon." Born in Alba, Missouri, on July 21, 1924, the first son of Cecil and Emily Rhoads, Robert Claude Rhoads, moved to Bend, Oregon, in 1928 at the age of 4. Bob crossed the United States from Missouri to Oregon on the back of a Ford Model T automobile with his parents and his brother, Tom Rhoads. Upon arriving in Oregon, his father Cecil worked at a local lumber mill where he joined his brother, who was already established in Oregon. A few years later, Bob and Tom were joined by their sister, Donna. The young Rhoads family grew up during the Great Depression in central Oregon, and the struggles of that time shaped Bob into the loving father and community leader he became as an adult. He learned the lessons of how to stretch a penny and to give back to the community. He attended Bend High School, graduating in 1942, and was a member of the high school marching band and football team. He was active in the Boy Scouts, rising all the way to an Eagle Scout, and to earn extra spending money he ran the concession stands during baseball games. He worked delivering newspapers for the Bend Bulletin, where he befriended Les Schwab. Upon graduation, Bob joined the Army and served many roles, including company clerk for a supply company during WW II throughout Europe, including Scotland, France and Germany during the war. He received an honorable discharge as sergeant and later after college was commissioned as a 2nd lieutenant in the Army Reserve, rising to the rank of major before retiring.
After returning to Oregon from the war, Bob obtained his Bachelor of Arts degree in history and political science in 1949 from Willamette University. While attending Willamette University, he played college football, managed the basketball team, and helped pay the bills by utilizing his lifelong love for magic and illusion by putting on paid magic acts at parties and events as the great "El Dusto." He was a member of Sigma Alpha Epsilon (SAE) fraternity along with his lifelong friend and fraternity brother, Mark O. Hatfield, who would later become Oregon's governor and senator.
After graduation, Bob moved to Eugene, Oregon, to begin a 43-year career in banking, starting with U.S. Bank, where he was quickly promoted to bank manager. While at U.S. Bank, he met Doris Ann Miller, who worked as a bank teller and they began dating. They were married on May 24, 1952, and started a family in Eugene. While in Eugene, Bob was both a vice president at Citizens Bank and later a senior vice president at Peoples Bank. In 1982, Bob and Doris moved to McMinnville, Oregon, where Bob was hired as a senior vice president and tasked with helping the formation of Valley Community Bank in McMinnville. Bob finally retired in McMinnville at Washington Mutual.
Bob enjoyed gardening and was a Master Gardener. He was a past president of the Emerald Rotary Club of Eugene and a member of the McMinnville Rotary Club, served as a director of the Lane County Red Cross, member of the Jaycees and the Scottish Rite, where he earned the 33rd degree in Masonry. He was a devoted fan of the Oregon Ducks, being a season ticket holder for both Ducks football and basketball.
Bob never met a stranger and greeted everyone with a warm smile and a heartfelt greeting! He was beloved by many in the communities where he lived and worked. Wherever Bob traveled, he always ran into someone who was a friend or someone Bob had helped in the course of his career or his many volunteer or community service clubs. Family vacations were always interrupted with "Hey, Bob! How are you doing?" no matter where the family traveled.
Bob Rhoads is survived by his "five" children, Debbie Rhoads Price of College Station, Texas, Gary Rhoads of Salem, Oregon, Linda Rhoads Byers and husband, Tommy Byers (who is included as a "son" instead of "son-in-law"), of McMinnville and Rob Rhoads and his wife, Avery Zhou, of Portland, Oregon; eight grandchildren; and six great-grandchildren.
In closing, a job well done: a good and faithful servant to his family, a pillar to his community and the state of Oregon.
A viewing will take place at Macy & Son from 4:00 to 7:00 p.m. Friday, November 23. Services will be held at 3:00 p.m. Saturday, November 24, at the Chapel of Macy & Son. To leave condolences, visit www.macyandson.com.