Sheridan bounced from playoffs by Kennedy, 27-6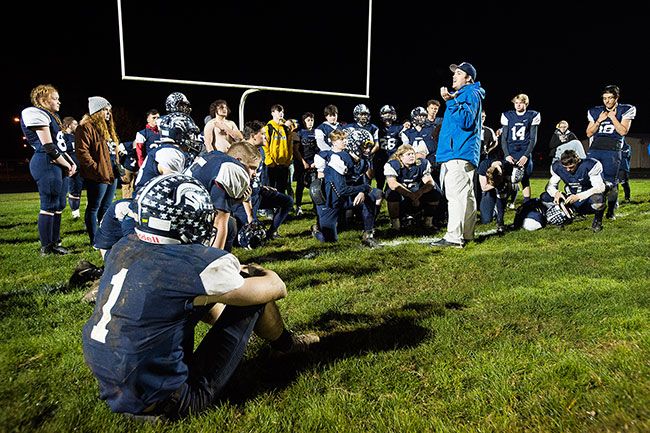 SHERIDAN – The Spartans were eliminated from the Class 2A state playoffs tonight as the Kennedy Trojans captured a 27-6 victory at Bill Chrisman Memorial Field.
Sheridan entered the quarterfinal matchup ranked second in the state and previously beat the Trojans 44-7 back in September, but the visitors simply executed better in all facets of the recent contest.
Kennedy broke through in the initial quarter with Bryce Vandervort's 24-yard rushing touchdown at the 6:31 mark. The Trojans Emorej Lynk moved his team into scoring position with a massive run up the left sideline, which went for 35 yards.
After the Spartans failed on a third-down conversion, Kennedy again marched the field. The Trojans eventually went up 13-0 in the second quarter as Lynk busted a 34-yard rush up the middle, then capped the drive with a one-yard scoring plunge.
The Spartans finally earned a measure of momentum as safety Jacob DeBoff picked off a pass at the Kennedy 40-yard line and returned it to the 34. Sheridan running back Josh Rogers churned out a couple hard-earned first downs before DeBoff located Chris Savoldi on a 23-yard touchdown.
Down only a touchdown, the Spartan defense couldn't hold. Lynk tallied his second score with only a minute remaining in the first half, making it 20-6 Trojans entering the break.
Any hope of a rapid comeback in the third quarter became dashed as Kennedy recovered an onside kick to begin the second half. The road team drove to the Sheridan one-yard line and on fourth-and-goal, Lynk plowed into the end zone for the 27-6 advantage.
Sheridan failed to muster any scoring threats over the remaining 18 minutes of the game, and fell by the 21-point margin.
The Spartans finish the season 8-2 overall after capturing the Special District 2 title and two home playoff contests.