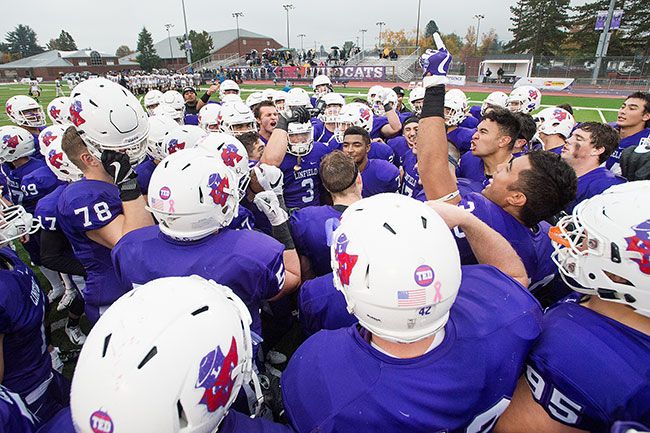 The streak lives on: Linfield defeats PLU, 41-7
The streak lives on.
Linfield football increased its NCAA record consecutive winning seasons streak to 63 years after defeating Pacific Lutheran University 41-7 today at Maxwell Field. The Wildcats' defense posted yet another strong outing in limiting the Lute offense to 171 total yards.
Linfield's defensive line simply dominated the interior.
Travis Swanson led the Wildcat linemen with two sacks and three tackles for loss. Starting linebacker Patrick Pipitone also recorded an impressive performance, notching seven tackles, two-and-a-half for loss and forced three fumbles. Monster back Tyler Bergeron returned an interception 72 yards for a touchdown in the third quarter.
Offensively, the Wildcats benefited from a 108-yard rushing effort by Chidubem Nnoli. He also scored two touchdowns including Linfield's initial pair of scores in the first and second quarters.
Leading 20-7 at halftime, Linfield increased lead in the third quarter. Quarterback Wyatt Smith lofted a beautiful 36-yard touchdown pass to JD Lasswell for a 20-point advantage at the 9:32 mark.
Five minutes later, Bergeron jumped a route by PLU, intercepting the pass and returning it 72 yards for another score.
In the fourth quarter, Smith passed for his second TD, hitting Chris Cassi on a 26-yard flag route.
With their 34-point victory and their streak extended another year, the Wildcats (5-2, 4-1 NWC) look to win their fifth game in a row next week at University of Puget Sound. Game time is 1 p.m.