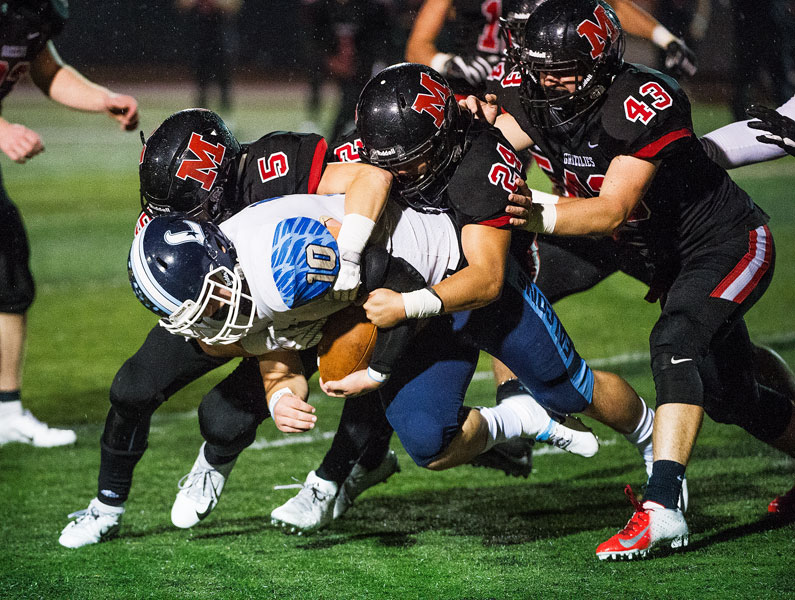 Grizzlies lose 48-27 in season finale to Liberty; Friday night recap
Despite a quick start and a brilliant offensive first half, the McMinnville Grizzlies fell in their regular season finale to Liberty tonight, 48-27. Mac enters the state playoffs as an at-large bid, but has lost three of its last four contests.
Local fans couldn't have envisioned a more explosive offensive barrage by the Grizzlies in the initial 24 minutes. Mac scored its first touchdown two minutes into the opening quarter. Quarterback Sam DuPuis fired deep to wide receiver Colton Smith for a 40-yard score.
After the Grizzly defense forced a three-and-out, Mac took over at its 18-yard line. After DuPuis hit Kevin Sullivan for a 16-yard gain, the Grizzlies faced a fourth-and-one at the 39-yard line. Mac coach Ryan McIrvin's decision to go for it paid off as DuPuis picked up two yards on a keeper.
Two plays later, DuPuis hooked up with Smith on a 47-yard deep pass. The pair capped the drive with a four-yard score on a slant route. After Parker Spence nailed the extra point, Mac led 14-0 with 2:03 left in the first quarter.
Liberty answered with a 54-yard drive which Falcon quarterback Bradley Norman ended with a three-yard touchdown run.
The Grizzlies battled back with a 64-yard series. DuPuis first hit on passes of 12 and 19 yards to Smith and Spence. Noah Kepler then gained 11 yards for another first down. Three plays later, Kepler took a toss sweep seven yards into the end zone for a 21-7 advantage.
Norman orchestrated two scoring drives in the second quarter to tie the game at 21 entering halftime.
The Falcons used their rushing-heavy offensive attack to wear down the Grizzlies in the second half. Brian Bafaro, Liberty's bruising tail back, punished the Mac defense. He put Liberty up 27-21 with a three-yard touchdown with 10:30 left in the third quarter.
Mac answered immediately. DuPuis bombed a 61-yard pass to Smith, who outraced the entire Liberty secondary for the game-tying score.
Unfortunately, the Falcons responded with a 71-yard series to take a 33-27 lead. Norman scored his third touchdown on another quarterback keeper.
Mac's chance to tie on their next series ended as DuPuis was intercepted in the end zone by Marquis Brown. While the Grizzlies forced a punt on the next Falcon drive, Liberty also tightened the screws on defense and made Mac kick away the ball as well.
Liberty then padded its lead with a Aiden Maloney seven-yard rushing score. After another DuPuis interception, the Falcons sealed their road victory as Norman scampered 70 yards for his fourth TD.
McMinnville (5-4, 1-3 Special District 3) awaits its playoff fate, with brackets being released this weekend.
Scores from around Yamhill County:
Amity 45, Dayton 7
Sheridan 49, Culver 7
Yamhill-Carlton 22, Blanchet Catholic 14
Clatskanie 49, Willamina 14