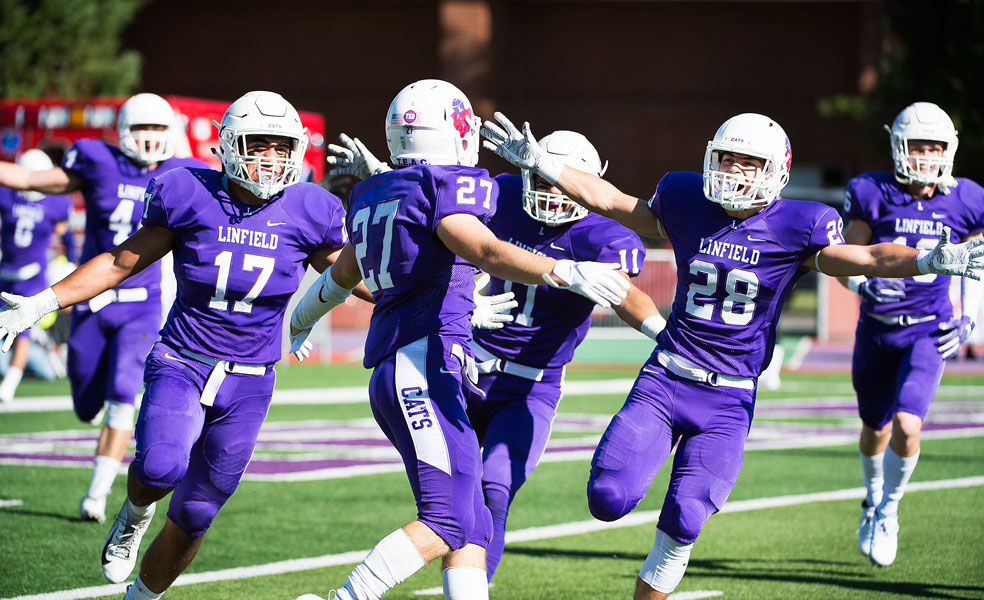 Wildcats stomp Lewis & Clark, 43-26
A big day from Linfield's special teams unit led to a 43-26 home victory over Lewis & Clark today at Maxwell Field.
Keegan Weiss returned a kickoff 91 yards for a touchdown in the first quarter, Willy Warne booted his early season kicking woes by going three for four, including a 54-yarder and J.D. Lasswell gained 35 yards on a punt return to set up a Wildcat score.
On Linfield's second drive, quarterback Wyatt Smith completed three straight passes, including a 35-yard strike to Weiss in the end zone. Weiss went to the ground to corral the pass, bobbled it initially, but held on for the opening touchdown.
After Lewis & Clark scored its first touchdown on Michael Abraham's 55-yard rush, Linfield immediately responded with Weiss' 91-yard kickoff return.
In the second quarter, Warne nailed a 54-yard field goal to place the Wildcats up 19-7.
With 3:47 remaining in the first half, Linfield took over at the Pios' 24-yard line following a short punt. A personal foul moved the ball to the 12-yard line, then Chidubem Nnoli gashed the Lewis & Clark defense on a rushing touchdown.
The Pios scored on a 97-yard kick return and Warne chipped through a 26-yard field goal to make the halftime score, 29-13 Wildcats.
Linfield and Lewis & Clark traded passing scores to open the third quarter. First, Caden Voges launched a 39-yard toss to Aida Verba-Hamilton to make it a 29-19 score.
But the Wildcats responded with 70-yard, 10-play drive, ending in a Smith to Lasswell eight-yard score.
With 4:48 left in the third, Nnoli extended Linfield's lead to 43-26 by outracing the defense on a 59-yard rushing touchdown.
Both sides rotated in their backups to finish out the fourth quarter. Linfield ultimately captured the 24-point win for its second Northwest Conference victory.