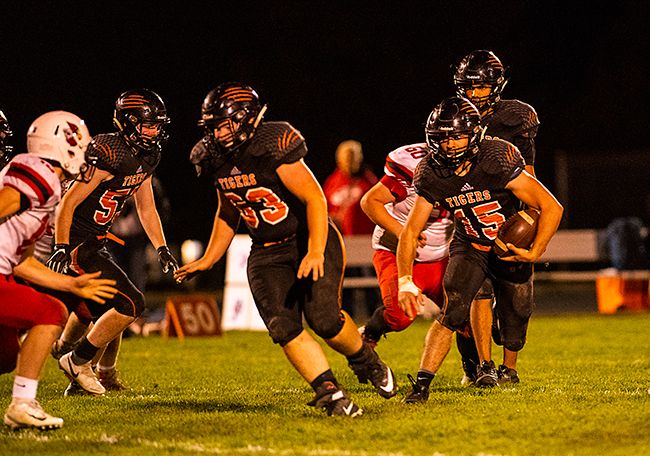 Y-C flattens Corbett, 38-6; Mac drops Glencoe, 44-22; Thursday Night Football recap
YAMHILL – Yamhill-Carlton kept its hopes for a winning season alive with Thursday night's 38-6 home victory over Class 3A Special District 1 – East foe Corbett. The Tigers (3-4, 1-2 SD1-East) need to win their final two games, both on the road, against Salem Academy and Blanchet Catholic to ensure their first winning record in a decade.
After struggling to score points in the last two weeks (14 points combined), the Tigers' offense erupted against the Cardinals. Y-C took its opening drive 77 yards in eight plays, culminating in Jaime Garcia's 11-yard touchdown run.
Garcia added another score in the second quarter. After the Tigers took over possession at their own 38, Owen Amerson ran for eight yards, then Garcia lofted a beautiful pass to Decker Richmond for a 33-yard gain. Three players later, Garcia punched it in from five yards out to give Y-C a 16-0 lead.
Corbett earned its lone touchdown with 1:08 remaining in the first half. After a Y-C punt was blocked, the Cardinals started with a short field – at the Tiger five-yard line. Running back Luke Finn eventually scored from three yards to cut Y-C's lead to 16-6.
In the third quarter, the Tigers all but iced their victory with a three-series sequence. First, Amerson made it 25-6 on a one-yard rushing TD. On the Cardinals' next play from scrimmage, Rey Risch recovered a fumble at the Corbett 39-yard line. Garcia then capped a short, six-play drive with an 18-yard touchdown strike to Trent Blakely.
Leading 32-6, Y-C added its final score in the fourth quarter. With mostly reserves playing, Risch led the team 51 yards in seven plays. The drive concluded with his two-yard rushing TD.
Y-C returns to action next Friday at Salem Academy; kickoff is 7 p.m.
Scores from around Yamhill County –
McMinnville 44, Glencoe 22
Sheridan 62, Gervais 0
Willamina 40, Taft 13