Myrtle Genevieve Parsons - 1921-2018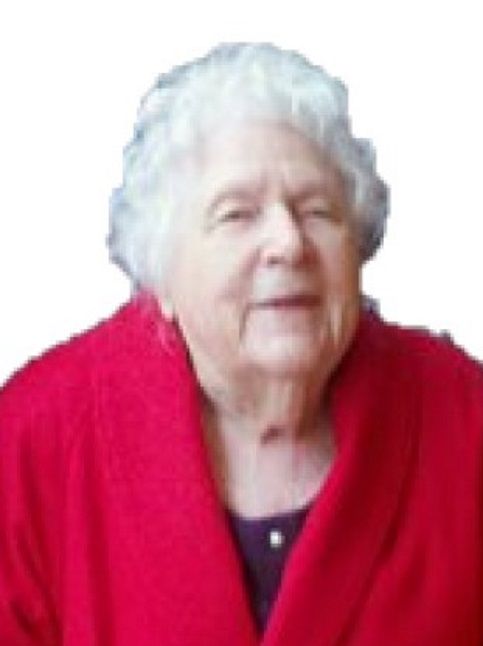 Graveside services for Myrtle G. Parsons of Portland, Oregon, formerly of McMinnville, Oregon, will be held at 10:00 a.m. Saturday, September 29, 2018, at St. James Catholic Cemetery in McMinnville. Myrtle died September 16, 2018, at age 97, at home in Portland. She will be buried there alongside her husband, who passed away in 2008.
Myrtle Genevieve Parsons (née Ring), daughter of Gustav Bernhardt Ring and Iva Louise (Greenawalt) Ring, was born May 29, 1921, in Smith Center, Kansas. When she was a young girl, her family moved to Kearney, Nebraska, and then eventually settled in McMinnville. She graduated from Kearney High School. Later, she studied at Kearney State Teachers College (University of Nebraska at Kearney), and then returned to school later in life to earn a Bachelor of Arts from the University of Portland.
Myrtle married Eugene P. Parsons on July 12, 1946, in Salem, Oregon. She taught third grade at Columbus Elementary School in McMinnville. Later, she stopped teaching to raise their three children on a farm near her parents on N.E. Riverside Drive in McMinnville. When her folks passed away, they eventually settled in Portland, where she returned to work as a school librarian at Jefferson High School. She suffered from retinitis pigmentosa, glaucoma and cataracts. But, she was very resilient and never let her gradual loss of sight to total blindness stand in her way of leading a long, happy life.
Myrtle loved reading (and later talking books), traveling in North America and Europe, and singing. She also enjoyed sewing, cooking, studying nutrition, gardening, animals and spending time with her family. She was fortunate to be a great-grandmother and will affectionately be remembered by her family as "Gang Gang," a nickname given to her by her only grandson. She and Gene were active members of St. James Catholic church when they lived in McMinnville.
Myrtle is survived by her daughters, Nancy N. and Mary Alice Parsons; son, Charles P. Parsons, all of Portland; and grandson, Dr. C. Raj Parsons, Pharm.D., and his wife Deena and their children, Henry and William of Vancouver, Washington.
Memorial contributions can be made to the St. Jude Children's Research Hospital, care of Macy & Son Funeral Home, 135 N.E. Evans Street, McMinnville, OR 97128. To leave condolences, visit www.macyandson.com.