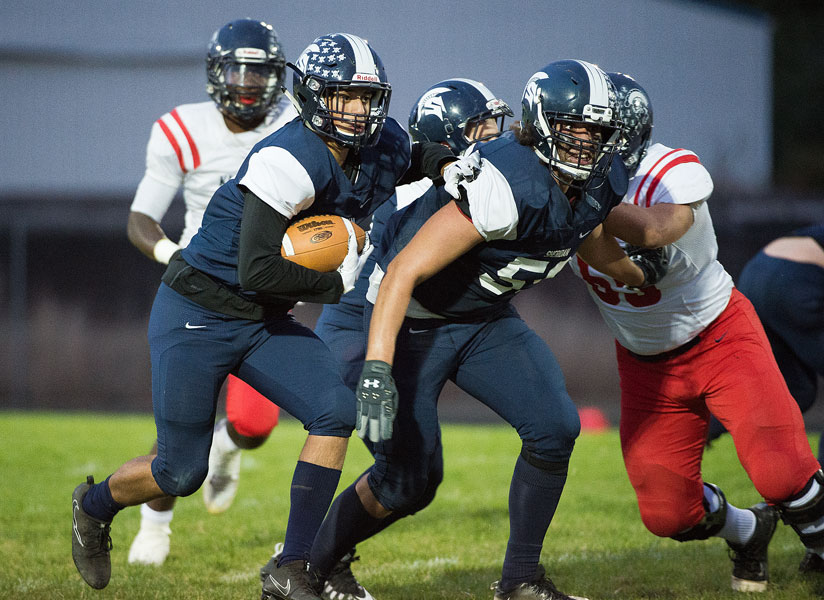 Sheridan blows out Kennedy, 44-7
SHERIDAN – Powered by a dominant line performance, Sheridan won its third consecutive game tonight after defeating Kennedy, 44-7. The Spartans (3-1, 2-0 Class 2A Special District 2) overpowered their conference foes with excellent interior line play, leading to a stout defensive performance and another monster night from running back Josh Rogers.
Spartan quarterback Jacob DeBoff had a hand in both of Sheridan's initial two touchdowns. On the first series, a six-play, 52-yard drive, DeBoff scrambled 10 yards for the first score.
After the Trojans went three-and-out, the Spartans took over on the Kennedy 40-yard line. Rogers gained 11 yards on three runs, and DeBoff capped the series with a 20-yard strike to Wyatt Schultz. Schultz leaped high for the catch, and then ran 10 yards into the end zone to put Sheridan up, 14-0.
Sheridan's defense forced another punt on the next Trojan series. Rogers placed the team on the Kennedy 38-yard line after a 34-yard sprint. Chris Savoldi ended the drive with a nine-yard reverse and Trevor Lambert's PAT made it 21-0 Spartans.
DeBoff returned a pick-six with under four minutes to play in the first half, giving the home side a 28-0 advantage at halftime.
Kennedy attempted an onside kick to start the third quarter, but DeBoff alertly smothered the ball. The Spartans upped their lead to 31-0 as Lambert banged through a short 22-yard field goal.
The Spartans' defense dialed up the pressure on the next Kennedy series. Brennen Meneley clobbered Trojan quarterback Angel De La Rose, dislodging the football. Reilley Dearth scooped up the turnover and returned it the Kennedy 41.
Rogers scored from six yards out to put Sheridan up 38-0 with 1:23 left in the third.
Kennedy tallied its only touchdown as Emorej Lynk gashed the Sheridan defense for a 34-yard score.
Backup running back DeEldon Paulk earned the Spartans' final touchdown with less than two minutes remaining in game. He plowed into the end zone from six yards out.
Sheridan travels to Chemawa next Friday at 7 p.m.