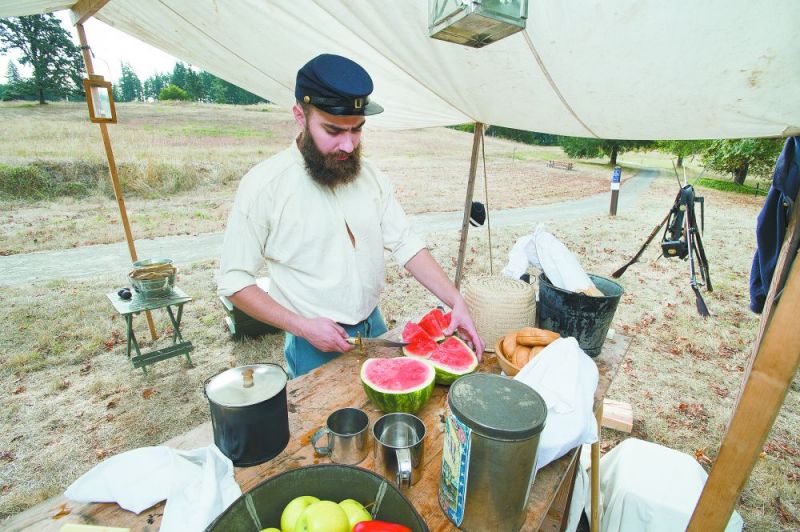 All quiet at the western fort
The Civil War here was very civil indeed. People got shot now and again, but that had nothing to do with the war. It was just a time when friends and neighbors were prone to settling disputes by shooting one another.
Elsewhere on the continent, Americans took that concept to the extreme. They spent the four war years racking up a death toll, via bullets and bacteria, that would eventually reach an estimated 750,000.
None of the carnage came near Fort Yamhill, however. The closest major action of the Civil War played out 1,369 miles away, when the Battle of Picacho Pass erupted in April 1862.
Even as Gen. Philip Sheridan defeated Confederate forces under Gen. Jubal Early in the Shenandoah Valley in 1862, the fort that Sheridan helped create in Oregon remained quiet to the point of boredom. Blissful boredom.
Civil War re-enactor Gary Wolfsen admitted Sept. 15, during Living History Day at Fort Yamhill, that there wasn't a whole lot to re-enact.
The Civil War raged mainly in the East and South. And the sweeping military campaigns targeting Native American tribes didn't begin until after the war.
In the Yamhill Valley, both soldiers and civilian partisans seemed content to leave the bloodshed largely to others.
Of course, intercultural harmony has rarely been one of America's strong suits, especially in the 19th century. That being the case, fellow re-enactor David Plett conceded, "There were times when the Army could have done better." He termed it a time of "relative reason."
Unfortunately, "relative reason" isn't what lures people to see men dressed in Civil War uniforms toting muskets. So the audience at this year's Living History Day proved no larger than Christine and Michael Palmer of Salem dropping by for half an hour.
"We can't predict until the day of the event if three people will show up or 10," said re-enactor Andrew Engel.
Christine Palmer said she wishes she could say that she and her husband drove out because they share an intense interest in local history. But in truth, she said, "He's from here, so he likes to drag me to really boring events in Yamhill County."
No offense taken, Plett said.
"What makes our group unique is our dedication to this story," he said. "Just because it's fascinating to us doesn't make it fascinating to everyone else."
Wolfsen said people's lack of interest in Fort Yamhill is their loss.
"There's a story to be told here," he said. "It's a forgotten history. It has to be dug up and researched."
Fort Yamhill was built in 1856. It remained active for only about 10 years.
Gen. Sheridan, who would become the namesake of the town of Sheridan when it was incorporated 26 years later, was posted at the fort until the outbreak of the Civil War. In fact, he supervised its construction.
At its height, the fort consisted of 76 men serving under three officers. Only three soldiers remained toward the end of the fort's existence in 1866.
That's fitting, as only three re-enactors turned out to tell the story — Wolfsen, Plett and Engel.
"We are relatively similar in size to what was going on here in the early 1860s," Engel said. "There was not a massive amount of glory to be had on the Yamhill."
A corporal named Royal A. Bensell kept journals documenting how uneventful duty was at the fort. The journals formed the basis for an award-winning book titled, "All Quiet on the Yamhill: The Civil War in Oregon."
The fort may have been a dull place, Wolfsen said, but that's what makes it so interesting.
Plett said he wishes people knew more about the history Fort Yamhill represents.
"The soldiers who built it were under the command of Ulysses S. Grant during the Civil War," he said. "The soldiers garrisoned there were watching out for Native Americans, but they were also there to take the political pulse of the local population. There were a lot of pro-Confederate people in the Oregon at the time, and the federal government wanted to make sure that Oregon stayed in the Union."
A major trade route once ran through Polk and Yamhill counties, and the fort guarded it. Soldiers made sure the trail was free of whiskey smugglers and other assorted ne'er-do-wells.
"This is basically Interstate 5, only 150 years ago," Plett said.
People could also come to the fort just to see replicas of period clothing and other items in exact detail. "Our clothing is authentic, in most cases, right down to the stitch," he said.
Wool uniforms may seem like a form and cruel and unusual punishment, especially in the heat of the summer. But Plett said people needn't feel pity for re-enactors.
"Only pity them if they're wearing their clothes poorly," he said. "Wool is designed to absorb moisture. It's not uncomfortable if you're wearing it properly."
Although Plett said he might not be the kind of re-enactor who stages battles, he and the others share an obsession with history.
"Same crazy, different flavor," he said. "Some people golf. Some people fish. I shoot guns without bullets and wear weird clothes."
Nonetheless, he was pleased to find himself at the peaceful end of historical re-enactment.
"Blood and conflict sells," said Plett. "However, a quiet word of strength means more than a thousand cannons."