Francis "Tooter" Ray Laughlin - 1925-2018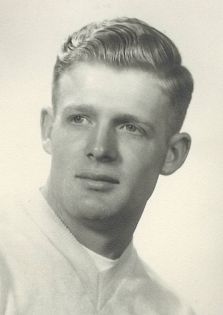 Francis "Tooter" Ray Laughlin passed away September 10, 2018, at his home in McMinnville, Oregon. He was 92 years old.
Tooter was born September 18, 1925, in Yamhill, Oregon, to parents Brick and Angie Laughlin. He attended school in Yamhill. Upon his 18th birthday, he joined the Marine Corps during WWII. At age 19, he fought in the battle of Iwo Jima with the 4th Marine Division and witnessed the American flag being raised on Mount Suribachi. After the war's end, Tooter returned to the Yamhill-McMinnville area where he met the love of his life, Clara Granger.
Tooter worked for Laughlin Logging for 50 years. He was a devoted family man whose interests were steelhead fishing, hunting, gardening and visiting with friends and family.
Tooter is survived by son, Steve; daughter, Julie Brilz; granddaughter, Laura Aase; grandson, Michael Aase; great-grandson, Darren Hopper; and son-in-law, Doug Aase. He was preceded in death by wife, Clara; daughter, Debbie Aase; sister, Ethel Sharp; and many more family and friends.
He will be remembered for his good nature, easygoingness, dry sense of humor and much more.
Viewing will take place from 9:00 a.m. to 6:00 p.m. Monday, September 17, at Macy & Son Funeral Home. Services will be held at 1:30 p.m. Tuesday, September 18, at the Chapel of Macy & Son. Memorial contributions may be made to the Wounded Warrior Project in care of Macy & Son. To leave condolences, visit www.macyandson.com.