Royal June (zook) Bryant - 1934-2018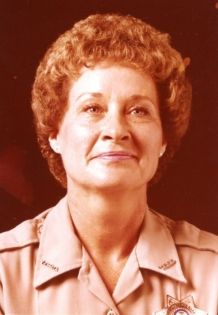 Royal June (Zook) Bryant passed away July 11, 2018, at the age of 83. She was born August 24, 1934, in Ransomville, Kansas, to parents Omer and Ruby Zook. She lived in Ottawa, Kansas, until 1947, when she and her mother moved to Dundee, Oregon. She attended Newberg High School. She met Donald Young, and they were married in 1951. They had three children, and divorced in 1967.
In 1974, she received her bachelor's degree in law enforcement from Chemeketa Community College, and soon began her law enforcement career, as a deputy with the Yamhill County Sheriff's Office, and later McMinnville PD, Salem PD, Oregon State Penitentiary, and Eugene PD. She was extremely proud of her time in law enforcement.
She married John Bryant in 1979. They lived in Nampa, Idaho, Eugene, Oregon, and at Siltcoos Lake near Florence, Oregon. After John was diagnosed with cancer, they moved to McMinnville, where Royal cared for him until his death in 1987. After John's death, Royal volunteered with hospice for several years, until health problems forced her to stop. She continued to live in McMinnville until her death.
Royal loved to fish, travel to the coast, and cared deeply for family and friends. She was a very independent, strong-willed woman, with a fiery temper. She also had a great sense of humor and loved to laugh. She was a great cook, and loved to cook for others.
She is survived by two daughters, Viki Jenkins and Diana Nerby (Mark); her son, Doug Young (Rosemary); seven grandchildren; eight great-grandchildren; and one great-great-grandchild.
A memorial service will be held at 1:00 p.m. Saturday, August 4, 2018, at the Chapel of Macy & Son in McMinnville, with a reception to follow. To leave condolences, please visit www.macyandson.com.