John I. (Jack) Hunderup - 1922-2018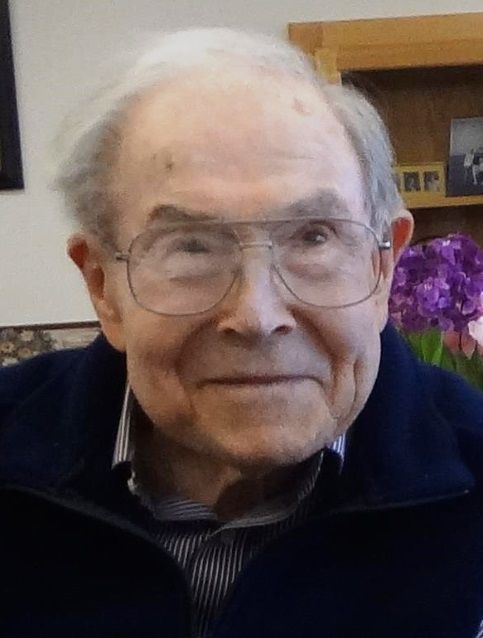 Jack Hunderup was born December 10, 1922, to H. August and Josephine Hunderup in Portland, Oregon. Following the death of his mother when he was four years old, he and his sister and brother were reared by their paternal grandparents who were immigrants from Denmark. He graduated from Washington High School in 1940 and enrolled at Linfield College, majoring in business and economics. After graduating summa cum laude in January 1944, he earned his MBA degree from Northwestern University in Chicago and Evanston, Illinois. While there, he passed the CPA program.
He married the love of his life, Marjorie Alexander, on June 8, 1945, right after she graduated from Linfield. They moved from Chicago to Corvallis in 1946, and he began his professional career teaching accounting at Oregon State College, and later by serving as assistant business manager there until he accepted a position in 1951 as assistant comptroller of Continental Grain Company in New York City. By then, their two daughters had joined the family. They all returned to Corvallis a year later when he joined the staff of the Oregon State System of Higher Education comptroller's office. Jack was active in Kiwanis Club and was elected to the Corvallis School Board in 1953, serving a term as chairman prior to moving to Eugene in 1958. Jack was Vice-Chancellor of Facilities Planning for the Oregon State System of Higher Education. He had administrative responsibility for land acquisition, campus planning, construction and maintenance for the eight institutions of OSSHE until his retirement on December 31, 1984.
Jack served as a ruling elder in Presbyterian churches in Corvallis and Eugene. During the years following his retirement, he and Marjorie were able to travel to Central America, Europe, Australia and New Zealand. They also enjoyed using a vacation home in Yachats on the Oregon coast, and served together on the local committee for the annual Yachats Music Festival. For several years, they spent some winters in Palm Springs, California. In 1999, they moved into the Hillside Retirement Community, where Jack served as treasurer of the Residents Association as well as the Hillside Foundation for many years. He loved to garden and raised many vegetables in the community garden.
Jack's wife, Marjorie, passed away in January of 2017. He is survived by his two daughters, Barbara Moon (Richard) of Corvallis, and Carol Hankins (Gary) of Newberg; a half-brother, Robert Hunderup of Haltom City, Texas; three grandchildren, Michelle Akins (Alan), Emily Moon (Peter Esbensen) and David Moon (Anne-Marie). He has five great-granddaughters; and two step-great-granddaughters.
A memorial service will be held at 11:00 a.m. Saturday, September 15, at the First Presbyterian Church in McMinnville.
In lieu of flowers, the family requests memorial donations be made to the John I. and Marjorie A. Hunderup Endowed Scholarship Fund at Linfield College. To leave condolences, visit www.macyandson.com.