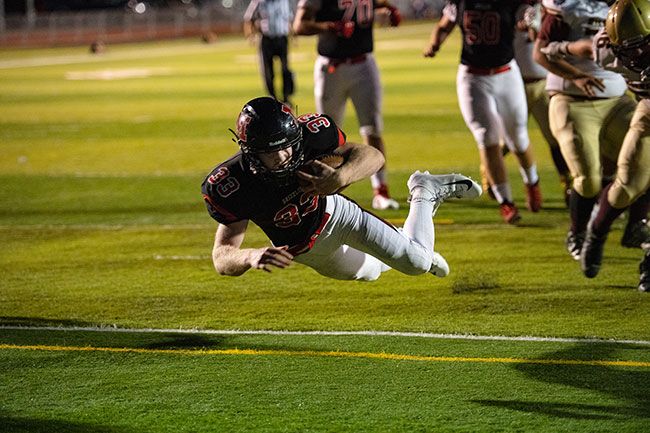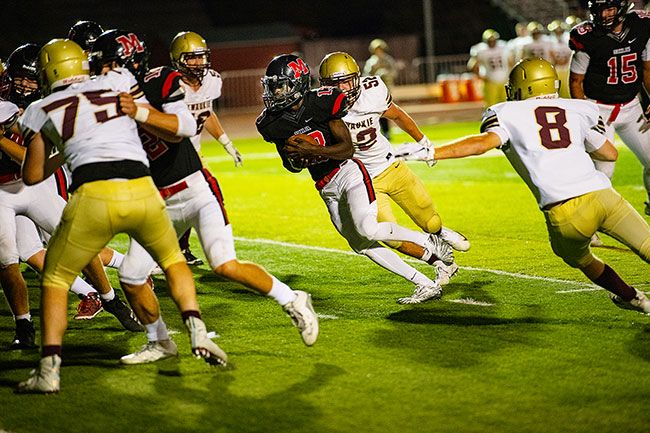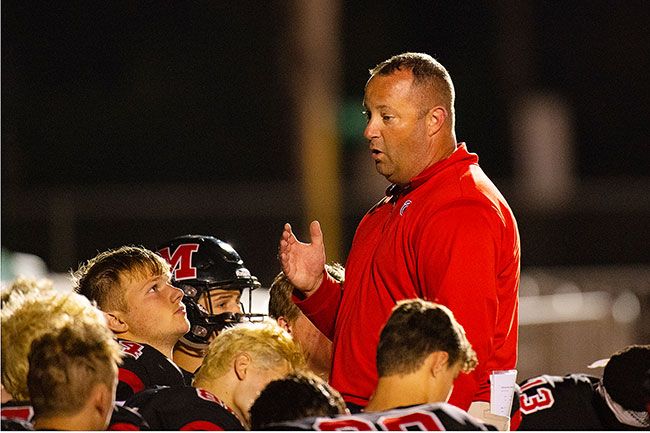 Mac football opens season with 41-7 victory over Milwaukie
McMinnville football fans couldn't have asked for a better show during Friday's season opener between the Grizzlies and Milwaukie Mustangs at Wortman Stadium.
Behind a dangerous passing attack led by quarterback Sam DuPuis and wide outs Parker Spence and Colton Smith, the Grizzlies scored 41 points and a stingy defense yielded a sole touchdown in the 41-7 non-conference triumph.
Local supporters were given ample cause to cheer less than a minute into the contest. Smith, playing corner back, jumped a route and picked off a pass from Milwaukie quarterback Nicholas Cooper. Smith raced 46 yards, scoring Mac's first touchdown of the evening. Spence banged through the PAT and the Grizzlies led 7-0.
Following the score, the Grizzly defense caused another turnover on Milwaukie's subsequent drive. Mustang running back Juan Murray initially rushed for five yards before a hard hit forced him to cough up possession. Mac's Noah Kepler alertly dove on the loose ball.
After DuPuis was intercepted in the end zone and Milwaukie went three-and-out, the Grizzlies regained possession at the Mustang 26 yard line. Kerby Hartzell moved the Grizzlies four yards on a rush, then DuPuis skied a 21-yard touchdown to Spence in the corner of the end zone.
McMinnville increased its lead to 21-0 in the second quarter. A six-play, 58-yard drive powered by the rushing of Hartzell culminated in another DuPuis to Spence touchdown pass.
With less than five minutes left in the first half, the Grizzlies achieved yet another touchdown courtesy of DuPuis' arm. He located Smith on two consecutive throws, the second a 30-yard bomb up the sideline which handed the home team a 27-0 advantage.
At the start of the second half, Mac used an effective rushing attack to tack on another score. Kepler gained 18 yards on three rushes, Smith earned 16 yards on a reverse and DuPuis bulldozed the defense on an 11-yard sprint.
Kepler eventually capped the drive with an eight-yard plunge into the end zone, putting the Grizzlies up 34-0.
Milwaukie turned the ball over again on its next series, this time on an interception brought down by Kepler.
Mac next executed a 12-play, 38-yard drive which ended with Hartzell's seven-yard rushing touchdown.
The Mustangs finally found the end zone with less than four minutes left as Murray sealed a 19-play 80-yard drive with a two-yard score.
Grizzly second-teamers, led by quarterback Isaac Alexander and running back Bodie Zollinger, then perfectly salted away the clock to conclude the 41-7 Mac victory.
The Grizzlies (1-0, 0-0 Pacific) host Roseburg next Friday at 7 p.m.