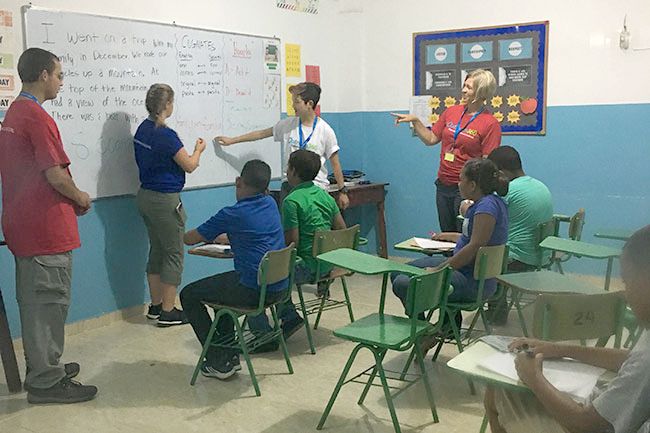 Susanne Sayles: Trip opens eyes to life's simple truths
In the fall of 2016, I was offered the opportunity to take a group of high school leaders to the Dominican Republic as a representative of the Oregon Association of Student Councils.
After a year and a half of preparation, I finally embarked in July with 11 students. We were headed to Monte Cristi, a rural enclave not much larger than McMinnville.
The group consisted of students who had recently completed their sophomore, junior or senior years. Many had never left the United States, and only one spoke Spanish with confidence and skill.
One challenge was convincing parents their children would be safe abroad, particularly in a relatively remote section of a developing country, far from the teeming capital of Santo Domingo.
Parents were scared, and I understood why: The Dominican Republic shares the Caribbean island of Hispaniola with poverty-wracked Haiti. And Monte Cristi lies in the far northwest corner, by the Haitian border.
I couldn't help but worry that parental trepidations might be rubbing off on the students. The last thing I wanted was a student having such an adverse reaction that he or she would need to go home early.
But Monte Cristi is — as is, truly, the entirety of the Dominican Republic — full of incredibly kind, talented and generous people. They pride themselves on their land and culture.
Nationally, tourism and the cultivation of sugar, cocoa and coffee bolster the economy. In the Monte Cristi area, fishing, salt mining and the cultivation of bananas and rice dominate.
A staple of the town is its iconic clock tower, designed by the same man who designed the Eiffel Tower in Paris. Life there reminds me a lot of life in laid-back, small-town Oregon — with the addition of tropical beaches and fresh mango juice.
Another staple of Monte Cristi is the organization we worked with: Outreach360. Founded in 1995, it was an outgrowth of a local orphanage.
Outreach's core philosophy is to "release the hero within." It is guided by the belief that each student should live a life of choice. Its staff understands that choice stems from access to education, so works diligently with students year around, providing educational services free of charge to local families.
In the three days we worked directly with students of Outreach360, we were tasked with developing lessons around the theme of hospitality and tourism, using the skills of translation and interpretation.
This was a challenge for my students, as they had never taught anyone before, let alone kids who did not speak English fluently. But my students quickly adopted the Outreach motto, "communicate love," and that paid off.
I have learned this in my time as a teacher as well. If a student does not feel seen, heard and accepted in my classroom, he or she is less likely to engage in content, no matter how much excitement I bring to a subject.
That's Maslow's Hierarchy of Needs at its finest. You must address the basic needs of people before you place greater demands on them.
For me, that is stuff I see and manage every day. For my students, it was new.
Many of the travelers were quickly able to pick up on the fact that they had to learn names, be willing to share parts of themselves with the kids and be flexible when a student came to class after having a terrible morning. But for one 18-year-old from a small town in Oregon, this was otherworldly
This student struggled in many ways to find a place in our experience. The student doubted personal qualifications, lacked confidence in the presence with others and felt uncomfortable in the new cultural environment.
In each day's debriefing, this student spoke of an unmet desire to connect with the kids and have it "feel real."
One morning, I asked how this student planned to be intentional with our charges that day. The student responded, "I'm going to tell them I'm scared."
That was a great idea, as empathy is an incredible element of humanity. It fascinates me to the degree that I have a symbol for empathy tattooed on my body.
Our ability to listen to an individual's views and understand where they are coming from, despite perhaps not fully agreeing, creates bridges of understanding that are not constructed in many other ways. In taking the time to understand someone else's worldview, stemming from the genuine truth of their experience, we are able to find common ground with greater ease.
This was my traveler's plan — to share an experience of being terrified to teach, of feeling out a place in a foreign place, and of sensing lack of control in interaction with the students. The hope was that they would understand and offer support, and by golly, it worked.
Even though it took until our last day to risk going outside a long-held comfort zone, this student was eventually able to successfully engage the students in an authentic way.
I love traveling for the moment, of being in an unknown place and realizing how small the world truly is. This has come to me in many forms over the years:
A conversation with a stranger in Berlin in which we realized how similar our fathers were, despite our miles of distance in upbringing; wearing a University of Oregon sweatshirt in New Zealand that resonated with a McMinnville swim coach's sibling; working with a nonprofit in the Dominican Republic and sharing my favorite childhood book with a student, only to hear her say it was her favorite book, too.
So I feel so very fortunate in being able to witness that realization in someone else.
By connecting with local kids, my students were able to understand how the scale and scope of our world is limited only by those who don't take the time to experience it. They discovered that, around the world, kids are kids.
No border makes Captain Underpants less funny to an elementary school student, as language barriers do not prevent laughter. And culture differences do not erase the fact that sharing ice cream with a stranger can lead to a beautiful appreciation for the little things in life.
Through our trip to the Dominican Republic, my travelers were able to understand the importance of communicating love before anything else, and realize that grand effects can grow out of such a choice.
It is said that kids are the greatest teachers of life's simplest truths. My hope is that our world can take the time to absorb this particular lesson.