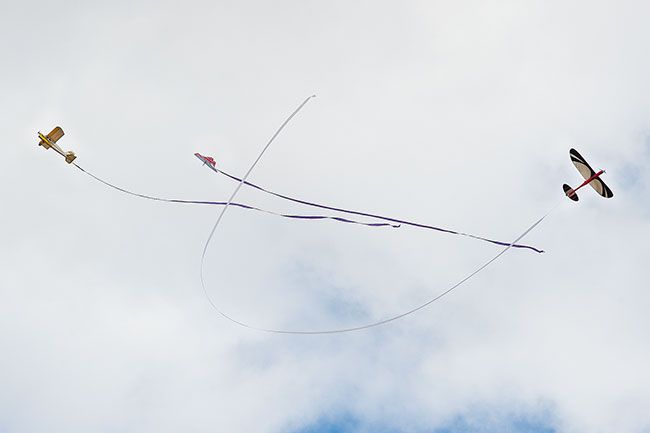 Ribbon cutters: Model airplanes a big hit at Valley View show
Four miniature planes flew at other's tails, each with a long string trailing behind. The goal? To sever the strings until just one remained.
From the ground, McMinnville Aircraft Modelers (MAM) President Shawn Barney controlled his plane, which he built himself — its center is made from a red baseball bat he bought at the Dollar Tree.
"This will be a riot!" he said.
Two planes were down until Barney's competitor whizzed directly beside his and cut its string, forcing Barney's plane to land safely on the ground.
"It takes some skill to get that close to each other up in the air," said Daniel Wallberg, watching closely. "What if those were to crash?"
The model plane combat event was one of many festivities Saturday at the Valley View Concerts, Car & Air Show. Although the popular hot air balloons were absent this year, the crowd still enjoyed model airplane shows, kids' games, food and live music all day Saturday.
"I just like to see everybody and to help people and to serve people," said the event's activities director Carla Chrock. "It's our giving back to the community."
She's also hopeful the balloons will return next year.
McMinnville resident Melissa Cochran was looking forward to them, but she said her 3-year old, Andrew, still had plenty of fun, especially watching the airplanes.
"It was really neat seeing all the little tricks they could do flying in the air," she said. "All the loops flying around. I've just never seen that before."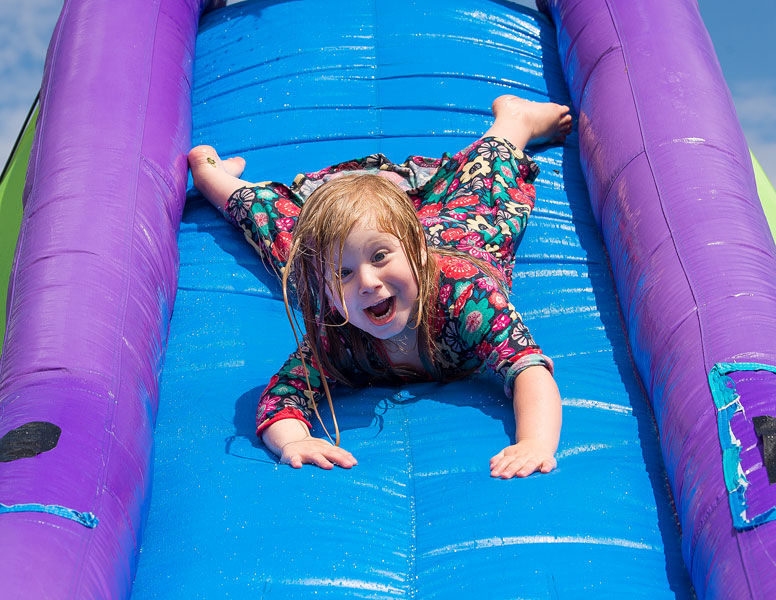 She watched as an aeromaster model airplane barrel rolled in the air, with its red double wings and propellers. MAM member Cecil Mead, who built the plane, controlled it from the ground with his handheld radio.
"I'm not a real pilot," he said. "I never could afford it. But I always built models and enjoy going to meets and flying with other people."
Mead started building when he was 7 years old after his aunt's town store received a shipment of model airplane kits. Even the smell of the plane's wood intrigued him.
He started building, and kept putting together multiple model planes and showing them in competitions.
"If there was a contest within 500 miles of my house, I was there," he said.
He continued making planes while in the Navy, while working for Howard Hughes, and when giving tours at the Evergreen Aviation and Space Museum. His love for the craft never stopped, and he now has at least 20 still saved in his garage. The flying comes naturally.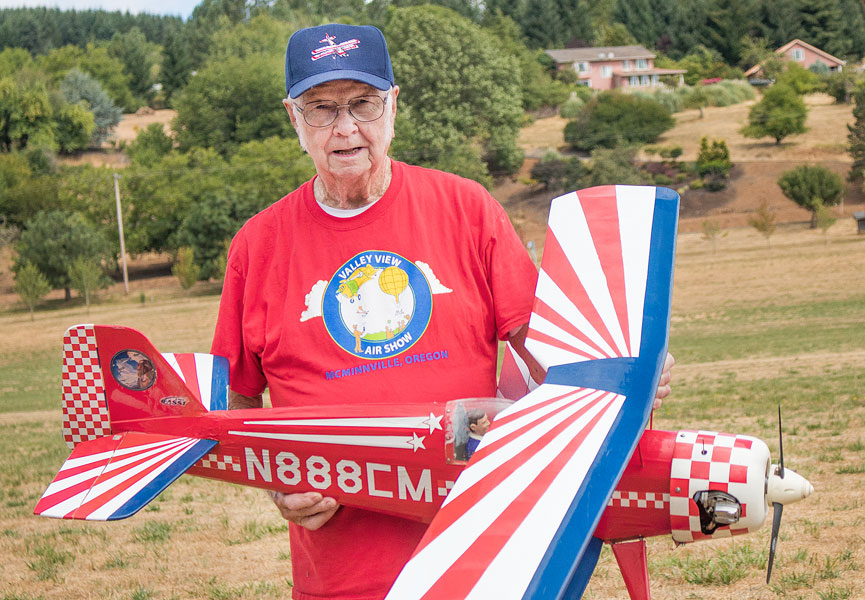 "Once you learn how to fly, you don't have to think about what to do," he said. "It's like driving your car. You just do it."
Barney said he appreciated that so many plane lovers gathered to celebrate their hobby this weekend, especially on August 11, which happens to be National Model Aviation Day.
"Aviation, once it gets in your blood, so to speak, it's just a passion that you have," he said. "It's fun to be able to share that passion with other guys that have done it."