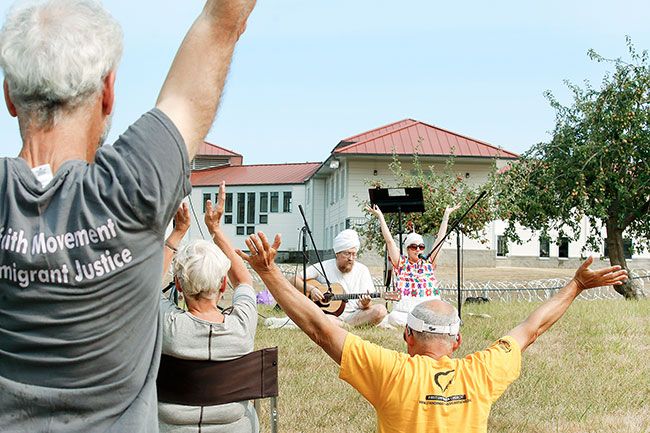 Crowds dwindle at prison, but voices still raised in protest
Gurpreet K. Singh of Beaverton visits the federal penitentiary in Sheridan every month for what has become a combination worship service and protest for 123 refugees imprisoned there.
Her prayers are with the men behind the wire and walls, Singh said, but her heart during the Aug. 12 gathering also went out to Surjit Malhi.
Malhi had finished posting campaign signs for U.S. Rep. Jeff Denham Keyes, R-Calif., July 31 and returned to his truck. Two young men were waiting for him.
They began beating Malhi, 50, while shouting, "Go back to your own country!"
Eight days later, 71-year-old Sahib Singh Natt walked down a residential street in Manteca, California, and was jumped, knocked to the ground, beaten and spat upon by two men. One suspect is the son of the local police chief.
Both men, like Singh, are Sikhs.
Members of the Indian religious tradition often wear distinctive garments which, along with their ethnic ancestry, make them common targets for bigotry and hate crimes in America.
Singh remembers a different country.
When she moved to the United States from India in 1993 to work and attend school, she said she marveled at the sense of security and acceptance her new country offered.
"I remember walking alone on the street in 1995 and thinking I was grateful to live in a country where I could feel safe," she said. "Now I tell my husband not to be alone on the street at night."
Everything changed for Sikhs after the terrorist attacks of Sept. 11, 2001, Singh said.
Their clothing, especially their turbans, marked them as "foreign" — and just vaguely Eastern enough to be associated with Islam and terrorists. Then the profiling began, said Singh.
"There are always the pat downs, the scans and the security questions," she said. "It's always there."
She said suspicions and hostility toward Sikhs became particularly intense after the 2016 presidential election when President Donald Trump's aggressive policies toward immigrants seemed to embolden xenophobic bigots.
"After the 2016 elections, there was an uptick of hate crimes against members of the Sikh community," she said. "I wish people would take the time to learn about us before making any decisions."
Members of the Sikh Center of Oregon in Beaverton often accept invitations to community events and schools to explain their faith, Singh said.
They also participate in events like the gatherings in Sheridan where they regularly prepare and serve a langar, a traditional community meal.
Singh worries such efforts aren't enough. "It like preaching to the choir," she said. "The man pulling the knife on the bus isn't coming to these meetings."
People still look at Sikhs and see only foreigners and threats, she added. "We are the most visible, but often the least understood, religious minority in the United States."
However, if Singh and her fellow Sikhs were preaching to the choir Aug. 12, it was a particularly loud choir as progressive Christians and other people of faith raised their voices outside the barbed wire of the prison.
Attendance at the gatherings at Southside Park has decreased since the first one on June 24 attracted about 300 people. Sunday's event drew approximately 80.
Nonetheless, the gatherings have become consistent. Leaders of the Interfaith Movement for Immigration Justice have organized the services for the second Sunday of every month at 4 p.m. until the detainees are released.
Miriam Vargas Corona, the executive director of the McMinnville Hispanic advocacy group Unidos Bridging Community, said the gatherings are set at 4 p.m. so everyone has a chance to attend regular Sunday morning church services.
In addition to Sunday's gathering, a group of church leaders from Yamhill, Washington, Multnomah, Clackamas and Polk counties caravanned to the prison Aug. 9 to deliver a letter to Elizabeth Godfrey, the acting regional field office director for Immigration and Custom Enforcement.
The letter asks for the release of the 123 detainees.
"Many of these individuals are fleeing violence only to be met with the isolation and desperation of incarceration," the letter reads.
"We've been saddened to hear reports from the federal public defender of depression among the men detained and profoundly disturbed to learn that one of the men recently attempted suicide," it continues.
"Our faith traditions teach us that people fleeing persecution and violence should be met with open arms and compassion — not incarceration and certainly not further violations of their human rights and human dignity."
Efforts to deliver the letter to ICE headquarters in Portland Aug. 7 didn't go smoothly, with three religious leaders arrested for allegedly obstructing access to the building.
"We didn't have anyone arrested," Corona said of the Aug. 9 caravan. "We were just trying to have someone deliver the letter."
A security guard at the prison accepted the letter, supposedly on ICE's behalf.
Corona said there is no apparent reason for the men to be imprisoned. "At this point, they have all passed their credible fear screenings, and at the discretion of ICE, could be released to proceed with their asylum claims and not be locked up," she said.
Singh feels a personal connection to the refugees, who were first taken to the prison June 10.
Of the 123 men detained, 52 are from India. Of those, 36 are Sikhs. The other refugees come from South America, Nepal, China and other countries.
"We were moved as people of faith to speak out," Singh said.
The Rev. Erika Marksbury of First Baptist Church in McMinnville led those assembled Sunday in a responsive reading.
"We come in kinship with those who should have been met at our borders with compassion, but instead have been victims of hard-heartedness," she said. "We cry out, 'Let our people go!'"