Organizer cancels car cruise festival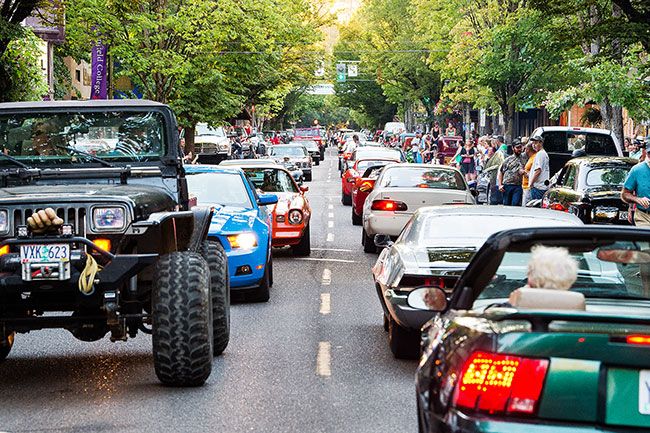 McMinnville's Dragging the Gut Festival is roadkill — at least for now.
Organizer Ruben Contreras announced over the weekend he is cancelling the 9-year-old car celebration because city officials are taxing him out of business.
City Attorney David Koch countered that Contreras still owes the city $4,000 from last year's festival because it required additional police protection.
"He has not paid any portion of that $4,000 that I know of," Koch said.
Koch sent letters to Contreras and potential sponsors for this year's event (originally scheduled for Aug. 24 to 25) on Friday, saying Contreras has failed to seek the required permits.
Coupled with Contreras' failure to pay for additional police protection last year, Koch warned "his ability to lawfully conduct many of the festival activities is now in jeopardy."
Contreras posted on a Facebook page he is cancelling the festival entirely. "I just don't have that kind of money," he said.
He holds the copyright to the name Dragging the Gut Festival, Contreras added, so it is unlikely anyone could take his place as the festival's organizer — at least under that name.
Koch said city permits are usually fairly inexpensive. There are two types of permits for events. Special event permits for mass gatherings, either public or private, cost $250.
The single $250 can cover multiple activities for the same event over multiple days at multiple locations — such as Dragging the Gut's live music downtown and car show at the Evergreen Aviation & Space Museum.
Street-use permits are free and cover the closing of public streets which happens at the UFO Festival and Farmers Market. Koch said Contreras failed to get any street-use last year. He applied for the special-event permit a week before the event.
"As a result, a very dangerous situation occurred with all the side streets open with highly congested traffic patterns going through," Koch said. "It was not a well-thought-out public event."
Because of the threat to public safety, he said, city officials needed to increase police presence downtown. "We were really stuck to where we had to bring in overtime officers," he added.
Last year, Koch said, Contreras refused to apply for permits until a week preceding the event, leading city officials no opportunity to discuss safety concerns.
That's when they added the requirement to pay overtime costs for the police department to Contreras' special event permit.
Contreras is not being targeted, Koch said. "Everyone goes through this process. Our primary concern is public safety."
Contreras said he was surprised by the letters sent Friday to him and would-be sponsors.
"They never contacted me and I haven't gotten a letter," he said.
He contends permits shouldn't be required for an event that is essentially just people driving down the street.
"I treat it as if it were a permitted event, but it's basically people just hanging around," he said.
Contreras said the festival is a world-class event that attracts hundreds of visitors to the community who boost the local economy by staying in hotels and eating in local restaurants.
"I think we give a lot to the community," he said. "I appreciate their concerns and I think we've proven ourselves every year."
In his letter to Contreras, Koch pointed out it is less than 60 days until the date of the festival.
"You have failed or refused to apply for the required permits.
"Without receiving a complete application for your proposed event, the city cannot provide any assurance that the necessary permits can be issued in time for any or all of the activities associated with your event to occur," he further warned.
If Contreras attempts to hold any events without the required permits, Koch warned authorities would stop the festival themselves.
Koch also told Contreras the failure to pay the $4,000 from last year also jeopardized his ability to get permits this year.
Contreras should be able to pay the extra money for last year's police protection, Koch told the News-Register. "I would note that Dragging the Gut is a for-profit festival," he said.
Cruising downtown is free, but entry in the car show is $20 per car. The festival's website lists dozens of sponsors and community partners.
Contreras touts the fundraising aspect of the event, saying the festival raised a significant amount of money and donations for Yamhill Community Action Partnership's food bank.
Diane Longaker, the food resource development coordinator for YCAP, said the festival has brought in $5,500 and 2,000 pounds of food for YCAP over the past three years. That equates to roughly 20,000 meals, Longaker said.
YCAP distributes about 2 million pounds of food per year, she said, but the contributions of the festival were extremely appreciated.
For his part, Contreras said he feels targeted.
"It's just hurtful and it doesn't make any sense to me," he said. "I feel these people have unintentionally defamed me."
Last year, the festival tussled with the McMinnville Downtown Association over use of an electrical panel. Then MDA-director Rebecca Quandt said the panel, owned by the MDA, could be used by events only after showing proof of insurance and a signed liability waiver — which Contreras learned about on Friday of the event. He had neither, and ended up obtaining use of a private generator for the live music setup at the U.S. Bank Square.