60 years on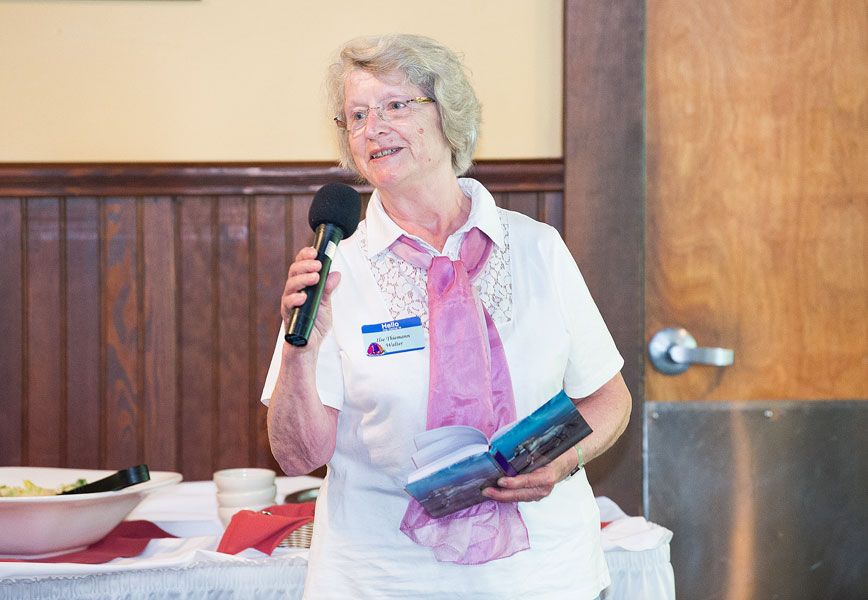 Members of McMinnville High School's Class of 1958 remember their hometown fondly and their classmates with affection. Even though they'd made no formal plans for a 60th reunion, when the German exchange student who spent her senior year here called, they quickly arranged an impromptu gathering.
Almost one-third of the living members of the class attended the luncheon Friday at Golden Valley Brew Pub. And every single one said he or she was glad to be there, happy to see their old friends — "really old," a few joked — and glad to be back in McMinnville.
"Growing up here was special," said Lyle Fisher, who spent 22 years in the Navy after graduating from Mac High.
Dean Krieger, who still lives in McMinnville, said he and his classmates had a wonderful time growing up in the 1940s and 50s. "We had a perfect life."
The city had a few thousand people and was known for its walnuts and filberts. Young people could walk all over, ending up at the swimming pool or at the theater for a 9 cent Saturday matinee.
"McMinnville was the best place in the world to grow up," said Connie (Howard) Heim.
Tom Draper, another McMinnville resident, agreed. "I hope (today's) kids can have as good a life as we had," he said.
Bob Youngman added, "We were truly blessed. We didn't realize then how lucky we were."
The 120 students in the Class of 1958 attended to classes in the old high school, a multi-story brick building at 12th and Baker streets. But they graduated in the gymnasium at 15th and Ford streets — a structure being demolished this summer, coincidentally.
"We walked in the new gym. We were the first class to do so," recalled Gordon Hall of Newberg, who was student body president his senior year.
A member of Future Farmers of America (FFA), Hall had helped with landscaping at the new school beside that gym. "I got to drive the tractor when the lawn went in," he recalled.
In addition to his interest in agriculture, he was "always kinda politically involved." Not only was he student body president, he also held a state office in FFA. "I liked public speaking," he said.
In fact, he went on to Oregon State University to study political science. Then he changed his mind — fortuitously, he said Friday — and went into business.
He took management training with J.C. Penney and worked for the company in Southern Oregon for six years. He returned to McMinnville and joined Hagan Hamilton insurance, eventually becoming president. He did some real estate and property management work before finally retiring five years ago.
Before they donned their commencement robes, the 1958 Grizzlies chose a graduation motto summing up their past and future: "We have crossed the bay ... the ocean lies ahead."
Ilse (Thiemann) Walter, the foreign exchange student, reminded her classmates about the motto during Friday's reunion.
"We have since crossed many an ocean," she said. Members of the class have experienced all kinds of events and emotions, from rough, uncertain times to joy and happiness, she said.
Although she didn't expect to be chosen, the German teen applied to American Field Service (now simply AFS) for a chance to travel abroad. At least the interview would be a positive experience for her future job search, she believed.
But she was successful, and soon was on her way to McMinnville. "I didn't even know where Oregon was," she recalled.
At the reunion, she thanked her classmates for making her feel welcome.
"You let me take part in your lives," she said, noting they had included her in everything, even strawberry picking.
During her exchange year, she had perfected her spoken English, learned to drive, mastered typing and came to appreciate American sports.
She played her recorder-flute in the band and attended the homecoming dance and senior prom. She even had a chance to ride a horse, Twilight, at her friend Maureen (McFee) King's house.
Most important, that year she made lifelong friends, including her host sister, Patti Russell, and Priscilla (Prouty) Tiller, who helped organize the reunion after Walter announced she'd be visiting the U.S. this month.
Walter, a retired educator who lives in Worpswede, in northern Germany, said she considers all of her American classmates friends. Over the years, she said, she has realized "more and more how being with you determined my life."
She wasn't the only one to remember strawberry picking.
The 1958 graduates said most teens worked in the fields in the summer. They would board buses that took them to Alderman Farms or other locations, where they would pick a variety of berries, beans and other crops.
Working was good for them, they said. They learned responsibility and earned money for school clothes. And despite the hot weather and long hours, they had fun.
Yvonne (Lofton) Hedgecock had a different sort of job — scooping up 32 flavors of ice cream at Trill's, the forerunner of Alf's. "Brown Cow, licorice, triple and double cones, soft-serve," she recalled Friday, remembering what she did during her junior and senior years.
When she wasn't working, she joined friends for burgers at the Chick-N-Eat drive-in on 99W at the north end of the city, or ordered a graveyard Coke at the Palm Café downtown. Or she went roller skating at the rink on Evans Street.
Friday nights were often spent watching Grizzly games; students wore their school sweaters in support of the team, she said.
Hedgecock, who married just after graduating, flew in from North Platte, Nebraska, for the reunion. She hadn't been to McMinnville for a long time, so she was surprised when she drove by Alf's Ice Cream.
"They say it has a monkey," she said, amazed.
Tiller, a Centralia, Washington, resident, did her share of working and attending events, as well. But she was also "very serious about academics" — something classmates gently joked about at Friday's gathering.
"I enjoyed learning, and I knew I was going to be an English teacher," said Tiller, who earned enough picking vegetables and fruit to pay for her first year at Willamette University.
Mac High had a good, well-rounded curriculum, the retired educator recalled. And the class had strong teachers, such as Annie Six, who taught English; Audrey Showalter, who taught civics and Latin; and Robert Paul, who taught math.
Along with their "super principal," James "JB" Conaway, they cared about students' progress and about the students themselves, she said.
"There weren't any big problems back then. No smoking, no drugs. It was a very decent place to be," she said.
All the students got along well, said Tiller and many others at the reunion.
"It was an exceptionally nice class," Hall said, noting many of the members had been together since elementary school.
Marleah (Compton) Llewellyn added, "We all grew up together and were there for each other."
And Wally Mekkers, who returned to McMinnville after a career in the military, said he is proud to be a member of the Class of 1958.
"We all went to school together, we played together ...," he said. "This is a class that stuck together. And we're still together" 60 years later.
They plan to meet again in five years. And in 10.