Book: "Sleeper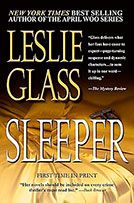 Leslie Glass opens her complex and suspenseful novel, "Sleeper," with a trip into Yamhill County wine country.
Two University of Oregon students cruise the Dundee hills, passing vineyards and tasting rooms, then explore an unmarked back road. As their motorcycle approaches a primitive gate, they're spotted on security cameras by men using a former berry farm as a drug lab. The students never make it to graduation.
About the same time, Michael Tamlin — a woman whose father was hoping for a boy — is working in Washington, D.C., as an intelligence specialist for a federal agency called the Financial Crimes Enforcement Network. She tells friends and family she's an auditor, but actually she's a highly trained undercover agent.
She loves the work, which gives her a chance to preserve truth, justice and the American way. But she quickly decides to give it up (too quickly to be plausible) when her boyfriend proposes she marry him and move to Portland.
Conveniently, a major Portland bank has been trying to recruit Tamlin as their security chief. She takes the lucrative private sector job and heads west, only to discover the situation is more complicated than she expected.
First, she hates the house her fiance picked out. She discovers, too, that he rented it for them, adding her name to the contract without permission, long before he even proposed. There may be even more troubling news about their relationship on the horizon, too.
Second, she discovers her predecessor at the bank died in a hunting accident. That raises her suspicions: maybe he was murdered, instead. She begins the investigations she was hired to do, but soon is delving even more deeply into the dealings of one of the bank's biggest customers.
And that customer owns property in the Dundee hills ....
Glass does a good job of revealing the world of high finance and making it understandable. Tamlin is an interesting and likeable protagonist, even though her quick resignation and move don't fit with her general character.
There are several bad guys, with varying degrees of meanness and ineptitude, and they can be funny to read about — although the crimes they are trying to commit aren't funny at all.
Glass gets the setting right, too. The Yamhill County and Portland settings will please local readers.
"Sleeper," by Leslie Glass, Peppertree Press, 2010