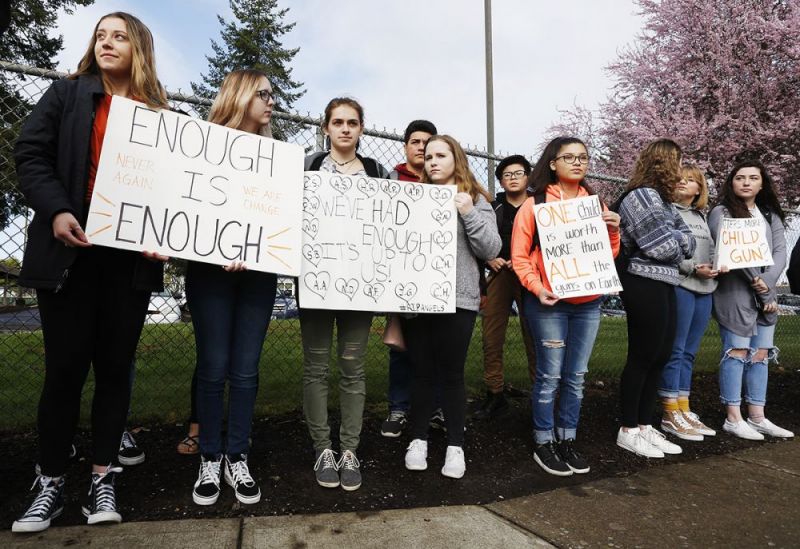 Area students join nationwide walkout over gun violence
A couple hundred students walked out of McMinnville High School after first period Wednesday in solidarity with similar walkouts across the country to protest school shootings.
Students at Willamina High School and other county schools also demonstrated.
Willamina students who participated in the walkout without their parents' permission were were given Saturday detention, said Principal Tim France. Amy Fast, an assistant principal at McMinnville High, said her students risked unexcused tardiness for second period if their parents didn't give their approval.
"It's worth it," said Chloe Gunn, a junior at McMinnville High. "We're expressing our First Amendment rights."
The length of the walkouts varied from school to school, but the protest in McMinnville lasted approximately 17 minutes.
Gunn said emotions at McMinnville High are still raw after a threatening note was found in the restroom of a local grocery store that read, "March 1. R.I.P." More than half the student body stayed home from morning classes March 1. "And it was during Unity Week, which just made it worse," Gunn said. "It was like someone wanted to ruin that."
Students have had enough, she added. "I'm really tired of being afraid," Gunn said. "I just want something to be done."
Kylee Gwilliam, a junior, said adults who say mass shootings are the price of having freedom are making a grim choice. "They care more about being able to fire automatic weapons on the weekends than they do about our lives."
Tommy Douglass, another junior, said it was an honor to participate in the walkout.
"I feel this is a really important day," he said. "It's our lives being affected, so our voices should be heard."
Many of the teachers at McMinnville High seem sympathetic to the walkout, he added.
"The teachers have been great," he said. "They've been very supportive when times are scary."
Douglass said he would like to see a ban on high-capacity magazines and semi-automatic weapons. One thing he doesn't want to see, he said, is armed teachers. Teachers with guns are more likely to draw fire than effectively return it, he added. "We don't want our teachers shot," said Douglass.
Students were joined by several community members, including Dr. Maeshowe Pierce, who lives a block away from the school. She brought her young children to the walkout.
"I want our kids to be safe," said Pierce. "Kids are so traumatized right now."
When 22-year-old Jacob Tyler Roberts ran into Clackamas Town Center near Portland Dec. 11, 2012, and killed two people as well as himself, a friend of hers was in the mall alongside a pregnant woman. "It's getting so most of us know someone affected by gun violence," Pierce said.
An absolute approach to the Second Amendment is not keeping people free, she added. "Living in fear is not freedom," she said. "Dying at school is not freedom."
See Friday's News-Register for more from the demonstrations.