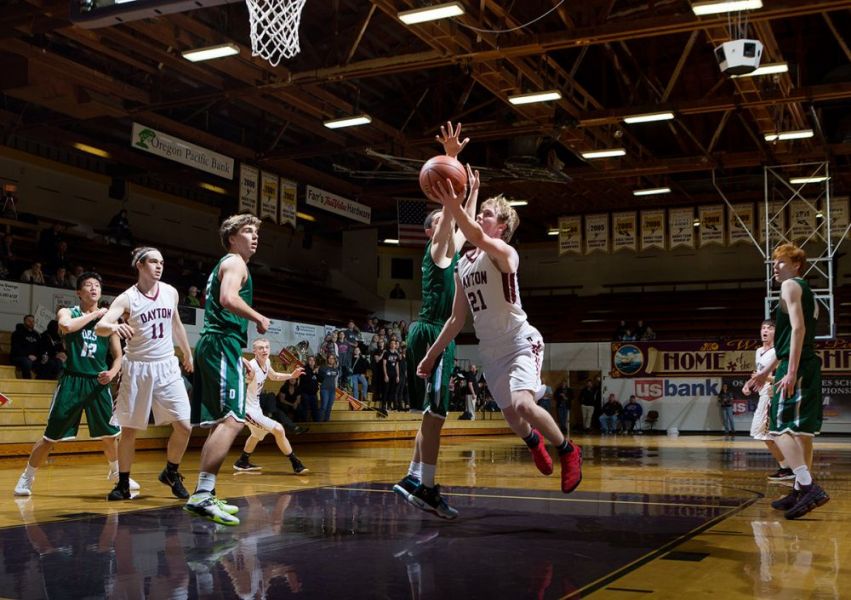 Dayton boys overcome cold shooting, top Aardvarks in state quarterfinal, 46-37
COOS BAY – Dayton's boys basketball team experienced poor shooting throughout tonight's quarterfinal against Oregon Episcopal at the Pirate Palace in Coos Bay. However, with textbook defense and 15-8 scoring advantage in the fourth quarter, the Pirates prevailed 46-37.
With their postseason victory, Dayton moves on to face Santiam Christian at 6 p.m. in tomorrow's semifinal contest, also held at Marshfield High School.
As a result of Dayton's cold shooting, the Aardvarks started the game on a 9-0 run. Ian Holzman did the majority of the damage with a three-point and a lay-in after a Pirate turnover.
The Pirates responded with a 7-0 stretch, highlighted by Braeden Nowlin's beautiful pass to Tanner Lewis for an easy finish underneath.
After one quarter, OES led 11-9.
Dayton's offense failed to ignite in the second period. After Lewis' pullup jumper gave his squad a 17-11 advantage at the 4:12 mark, the Pirates scored only three points during the remainder of the quarter.
Jim Lin's lay-up gave the Aardvarks a 21-20 edge entering halftime.
In the third. OES took a six-point lead on Colby Bullard's deep trey, but Dayton scored eight straight to take a two-point advantage at the 1:37 mark. Lewis proved especially critical to the mini-run, aggressively attacking the hoop for four points.
With 18 seconds left in the period, Holzman recaptured the lead for OES with a right side three. The Aardvarks entered the ultimate quarter up 29-28.
Dayton immediately seized control during the final period. Lewis canned a long three-pointer and Nowlin swished a pull up jumper to make it 33-29 Dayton two minutes into the quarter.
Holzman brought OES back within one point after a lay-in and a foul shot. Braeden Nowlin retaliated with a corner three, Matthew Brodeur hit two free throws and Lewis scored a baseline floater for an eight-point edge.
While the Aardvarks closed within five with under two minutes remaining, Dayton hit clutch foul shots down the stretch to earn the 46-37 win.
Dayton head coach Ron Hop bemoaned the dismal shooting percentage of his squad, attributing it to inefficient ball-movement.
"We had three assists and 10 turnovers; we need to move the basketball better than we did. We're a much better passing team than we showed tonight," said Hop.
Lewis scored a game-high 22 points and grabbed six rebounds to lead the Pirates. Nowlin chipped in 12 points and six boards. No other Pirate scored more than four points in the defensive struggle.
Holzman powered OES with 20 points and four rebounds. Lin added 10rebounds to go with four points.
Despite the low-scoring affair, Coach Hop credited his players for their effort. He added, "I'm glad our kids didn't play their best game, but still won. That tells me they played really hard. Right now, it's win and move on, so if we can keep winning ugly, then so be it."