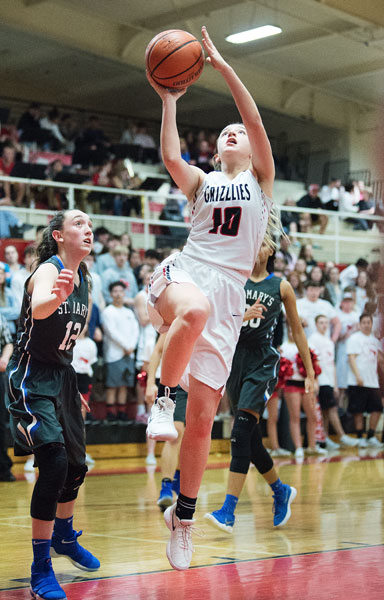 Grizzlies' girls tourney hopes end with 54-52 loss to Blues
McMinnville's 11th-ranked girls' basketball team could not find the mojo to get past St. Mary's Academy Tuesday night, falling in the first round of the state tournament to the Blues at the Furnace, 54-52.
After leading early in the contest, 14-4, St. Mary's tied the score at the 3:58 mark of the second period, 21-21. The Blues led 25-21 before Mac rallied back to take a 31-26 lead at the half.
Feeding their senior post Alix Williams to open the third stanza, the Grizzlies gained a 38-33 lead, appearing ready to put a strong run together. But the Blues came roaring back with an 8-0 run, ending the third with a 41-38 lead.
The Grizzlies went up 44-41 at the 5:27 mark of the fourth period on another inside move by Williams, but St. Mary's fought back for a 47-46 lead at the 3:16 mark. The hosts went down 54-48 on a pair of free throws with 37 seconds left.
Kayla Heuberger hit the front end of a one-and-one to close the score to 49-54. Purposely missing the second shot, the Blues grabbed the rebound but Mac's Tori Fox stole the ball and fed Ashley Rhoads who drilled a triple, closing the score to 54-52 with 9.4 seconds left in the game.
The Grizzlies fouled at the 7.7 mark and the Blue's Marley Johnson missed the front end of a one-and-one. The Grizzlies grabbed the rebound and raced down the floor. A cross-court pass to Rhoads for a winning three came up short.