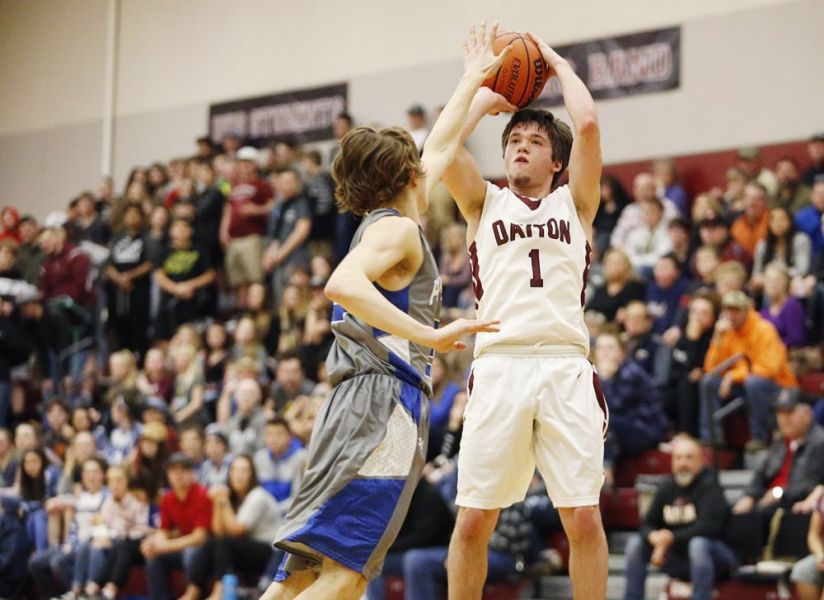 Pirates vanquish rival Amity, 66-60
DAYTON – Playing a physical and intense rivalry contest against Amity tonight, the Dayton boys' basketball team persevered for a 66-60 victory. Dayton's Braeden Nowlin and Amity's Kodiak Yaeger each scored a game-high 22 points, but the Pirates' supporting cast ultimately proved the difference.
The matchup featured an up-tempo pace throughout, but rugged defending resulted in low-scoring outputs for two of the top offenses in the state.
Dayton raced to an imposing 10-2 lead to begin the first quarter. Lukas Findley was especially active early, scoring four points and grabbing three boards. His offensive rebound and subsequent dish to Tanner Lewis for an eight-point lead forced an Amity timeout.
Out of the restart, Amity fired back with an 8-2 stretch, highlighted by Sam White's coast-to-coast finish at the 1:14 mark. Both squads then traded buckets and the quarter ended with Dayton up 15-13.
The Warriors outscored their hosts 16-13 in the second to take a 29-28 lead into halftime. Yaeger scored seven points in the period, including corner three at the 6:30 mark.
The Warriors would enjoy their final lead of the evening during the initial moments of the third. Zac Blake answered Nowlin's floater with one of his own, putting Amity back up one at 31-30. However, the Pirates finished the quarter with a flurry of buckets to lead 48-43 entering the fourth.
While Amity stayed within striking distance = during the ultimate quarter, Dayton's defense tightened the screws down the stretch, and Findley drilled two clutch free throws with eight seconds left, preserving the triumph.
For Dayton, Nowlin's 22 points were supplemented by Lewis' 18 points and five rebounds. Findley added eight points and five boards, and Matthew Brodeur chipped in eight points and a steal.
Amity was led by Yaeger's 22 points, five rebounds and two blocks. Blake scored 19 points and dished three assists to play an important secondary role, and White recorded 10 points and five assists.
Dayton (13-1, 3-0 WVL) takes on Sheridan Wednesday at 7:30 p.m. on the Spartans' home court.
Amity (10-3, 1-2 WVL) hosts Willamina at 7 p.m. Wednesday.