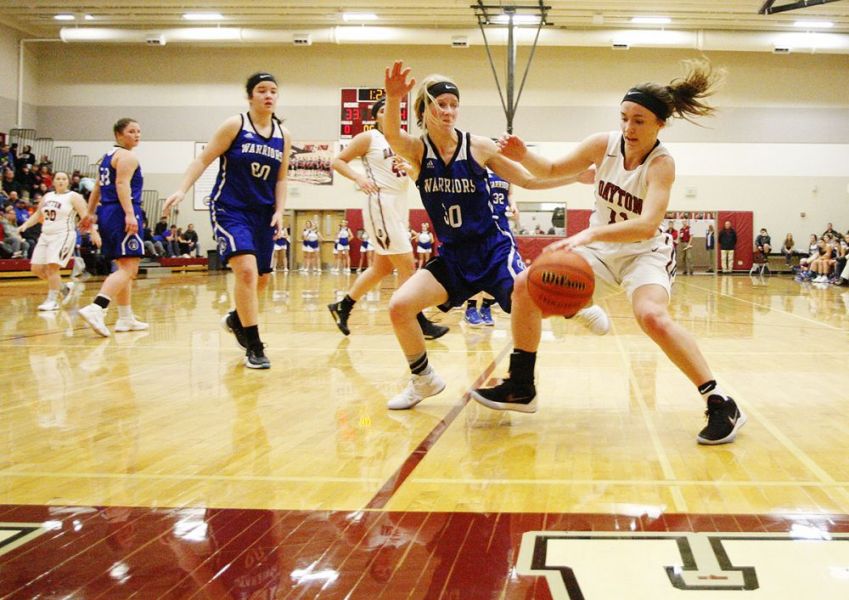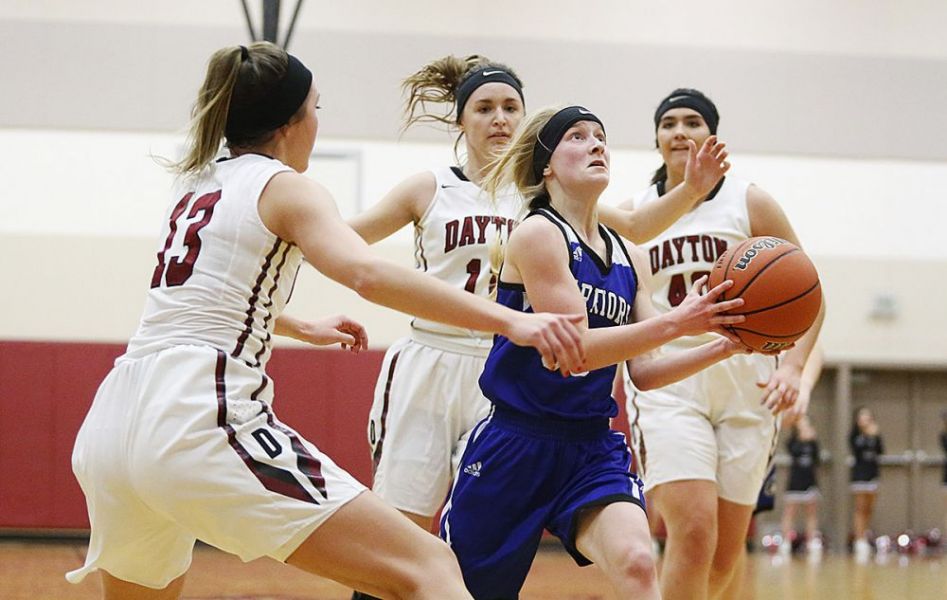 Dayton girls defend home court, beat rival Amity, 41-37
DAYTON – Chloe Cisneros dominated the paint, scoring 19 points, and the Dayton girls defended home court tonight, winning 41-37 over rival Amity. Cisneros added five rebounds and two blocks, while Shawnie Spink chipped in 17 points and six steals during the winning effort.
The Pirates, ranked number one in the state, improved their record to 12-1 overall, including a 2-0 mark in Class 3A West Valley League play.
Amity remains tied for second in the conference, but sits four games up of Sheridan with an overall record of 9-5. The Warriors retain a top-10 state ranking, coming in at number eight after the loss to their rivals.
Both squads felt the absence of key players. Dayton was without star forward Kalina Rojas, while the Warriors played without the services of athletic guard, Keeley Graham.
Cisneros helped overcome the loss of Rojas with outstanding post play. She notched six points in both the first and third quarters. Her offensive put back with 4:36 left in the third initiated a crucial 11-3 run by the home team Pirates.
Spink took over during the rest of the period, scoring seven consecutive points. She staked Dayton to a 35-26 lead entering the fourth quarter.
Jaden Moore pushed the Pirate advantage to 39-26 with a left side three at the 6:28 mark. However, the Warriors would retaliate with a 7-0 stretch. Morgan Croxford fueled the comeback run, first with a wraparound assist to Alyssa Plummer and then with a banked in three which made it a 39-33 margin.
Cisneros answered with a strong inside move, but Croxford tacked on a pair of free throws to keep it a four-point game at 41-37. Alas, the Dayton defense held over the remaining 40 seconds, and the home fans celebrated their rivalry win.
Maylin Williams led Amity with 15 points, Croxford recorded six points, 13 rebounds, five assists and two blocks and Kaia Rosenbaum scored four points and grabbed five boards.
With Cisneros and Spink dominating the Pirates' offense, Moore's five points completed the final tally.
Dayton (12-1, 2-0 WVL) returns to action Wednesday at Sheridan; tip-off is 6 p.m.
Amity (9-5, 2-1 WVL) next hosts Willamina, also Wednesday at 6.