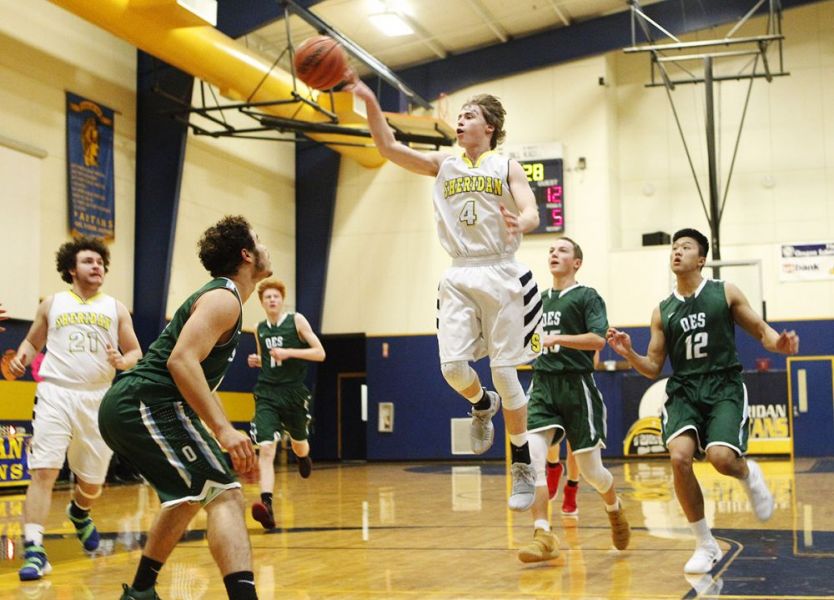 Spartan boys drop first game, 56-47, to OES
SHERIDAN -- A sluggish start doomed the Sheridan boys' basketball team during Wednesday's 56-47 opening night loss to Oregon Episcopal. The Spartans scored only five points in the first quarter and 13 in the first half, before finding offensive rhythm in a 34-point second half output.
Starting point guard Jake DeBoff provided the entire Spartan offense in the initial period, dropping in a lay-up, midrange jumper and a free throw. With DeBoff the only threat, the Aardvarks grabbed a 9-5 lead after eight minutes.
OES grabbed its largest advantage late in the second quarter as ZW Rahimian drilled a three-pointer for a ten-point edge. Sheridan's Damon Magness trimmed the halftime deficit to 21-13 with a short jumper.
The Spartans' offense appeared to awaken in the third. Magness cut to the hoop for a lay-in, DeBoff soared for a reverse and Magness hit again on a jump shot to make it a 25-21 OES lead.
However, the Aardvarks closed the quarter on a 7-0 run to enter the fourth up 38-26.
Despite a nine-point fourth quarter from Sheridan's Chris Savoldi, the home team could never close the gap to less than the final seven-point margin. OES made six free throws down the stretch to seal the victory.
DeBoff (15 points, three steals), Savoldi (14 points, four rebounds) and Magness (six points, seven rebounds) led the Spartans in the loss.
Sheridan (0-1, 0-0 WVL) travels to Clatskanie Friday.