Mac High grad named Seattle 'Woman of Influence'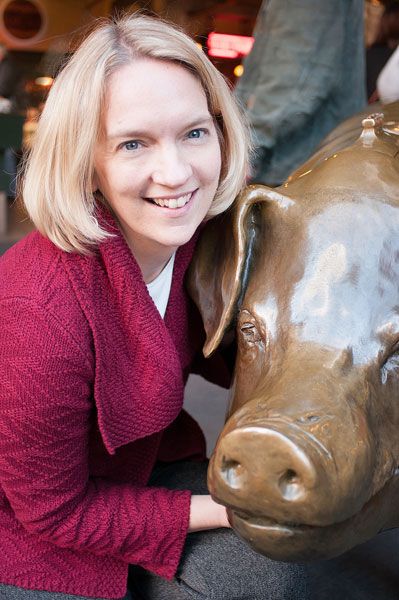 A McMinnville native has been named one of 14 "Women of Influence" in Seattle.
Lillian Sherman, who graduated from McMinnville High School in 1987, was chosen from more than 200 nominees. She and other winners were honored at a ceremony earlier this month in Seattle.
The Puget Sound Business Journal hosts the awards program. Sherman said she'd been involved in nominating women for the award in past years, but this time "the tables were turned."
Sherman, who serves as executive director of the Pike Place Market Foundation, was chosen in the nonprofit category.
Her work with the charitable arm of the famous market involves raising funds for programs providing housing, health care, day care and food assistance to low-income people.
In addition, she led a team that recently raised $9 million to complete a market expansion project, which added 40 apartments for seniors, a neighborhood community center, and spaces for food assistance programs, in addition to new retail spaces.
Sherman pursued undergraduate studies at Seattle-Pacific University and earned a master's degree at Seattle University. She started her career creating special events for The Bon Marché, then switched to nonprofit management and fundraising.
She always enjoyed planning events.
"I realized there was an actual job doing that," she said. "Then I learned I could marry event planning with supporting causes I love and care about."
After spending a few years with the Pike Place Market Foundation in the 1990s, she joined FareStart, a Seattle program that trains homeless people to work in restaurants. She moved to Wellspring Family Services, also Seattle-based, in 2006.
She returned to the market foundation as executive director in 2012. She described her management style to the business journal this way: "Hire the smartest, most collaborative thinkers and watch them fly."
"I can honestly say I have the best job in the city!" she says in her bio on the foundation's website. "Every day as I walk through the market, I'm surrounded by our mission: a neighborhood where low-income people find dignity, hope and community."
Sherman said her job with the well-known and well-loved public market puts her in a position to meet many people.
She doesn't ask them for money, she said. She gives them an opportunity to use their donations in a way that make a positive difference to the entire community, including low-income people the market aims to "keep healthy and thriving."
"We have a really remarkable community here," she said. "I get to tell that story every day."
Sherman was born in Edmonds, Washington, north of Seattle. When she was 3, the family moved to McMinnville, when her father, Dick Sherman, took a job teaching industrial arts at McMinnville Junior High.
Her father later moved to the high school, where he taught welding, metalworking, drafting and other shop skills. Her mother, Genne Sherman, worked as secretary at the Methodist Church.
During her high school years, Sherman was active in student government, Key Club and National Honor Society. She played tennis, served as news editor of the student newspaper and participated in Girls' State.
After school, she took part in the Methodist Church youth group and the church's handbell choir.
She played piano, often practicing with stuffed pigs Ham and Bacon sitting alongside the keyboard. The whimsical pets now reside in her office at the Pike Place Public Market, which has a pig theme.
In school and out, Sherman was passionate about music and theater. She said drama teachers Barbara Jelinek, Rhella Spiering and Carol Burnett were major influences, particularly Burnett. Choir teacher Doug Anderson also served as a role model for her, she said.
"I was a Twilighter forever," she noted. "We were always putting on a show."
The fun she had in high school taught her skills she still uses today.
"I learned the value of being comfortable standing in front of people," she said. "I do that every day."
She advises current high school students to pursue public speaking skills, as well. In addition, she urged them to trust themselves to do what's right.
"You know what to do, so stick to your gut," she said. "Speak your truth and stand by it."
She also believes in balancing work and home life. She enjoys hiking, swimming and spending time with her two high school age children, Anna, 17, and Zach, 14.
Her parents still live in McMinnville, but make frequent trips to Seattle. They were present for the ceremony honoring Sherman and the other "Women of Influence."
"Not that we're proud or anything," her father quipped.