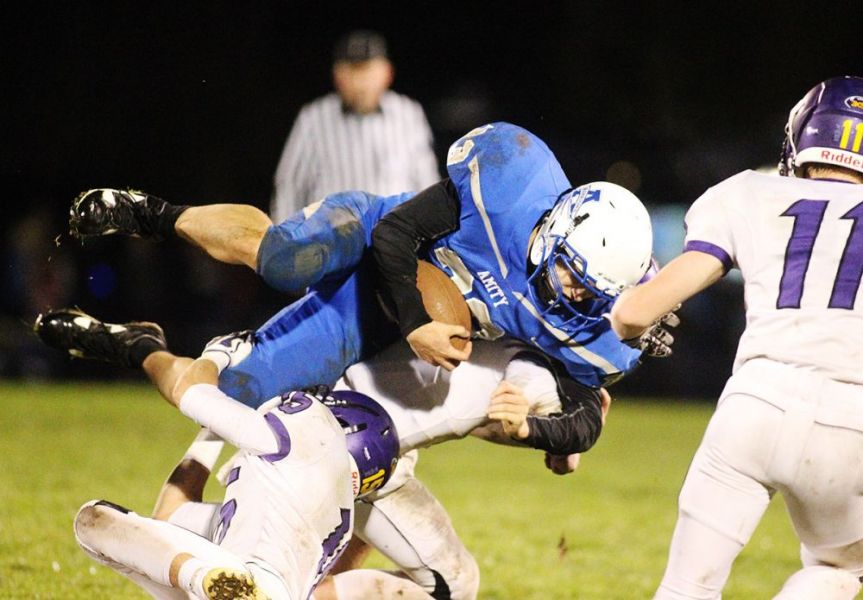 Warriors lose 42-34 to Harrisburg in first round of state playoffs
AMITY – A first-half shootout transformed into a second-half defensive struggle during tonight's first round of the state playoffs between the home team and fifth seed Amity Warriors and the 12th-seeded Harrisburg Eagles. Trailing 34-26 in the fourth quarter, the Eagles scored 16 unanswered points to claim a 42-34 triumph.
Both sides displayed powerful offensive schemes during a blistering first half which resulted in 53 combined points. The initial 24 minutes witnessed eight lead changes as neither offense encountered much resistance.
Harrisburg jumped on the scoring spree first with quarterback Dax Bennett scoring a five-yard touchdown run with 8:45 remaining in the first. Bennett's TD capped a 65-yard drive totaling three minutes and fifteen seconds.
Amity immediately retaliated with a 58-yard series totaling four plays, concluding with Jonathan Mather scoring a seven-yard TD.
The Eagles reclaimed the advantage on the following drive, going 75 yards on five plays. Bennett completed the series with a 59-yard bomb to receiver Antonio Owens.
The Warriors answered with a lengthy passing tally of their own. Tyler Parr launched a beautiful seam pass to Sam White, and the senior running back notched a 58-yard touchdown with 3:33 left in the first.
Once again, Harrisburg matched Amity's output by marching 60 yards for another six points. Owens scored his second touchdown of the night on an eight-yard reverse.
Starting from their own 31-yard line, the Warriors compiled their finest series on the next possession. First, Brian Hatch gained three yards, and after a 10-yard penalty, Mather gashed the Eagle defense for 16 yards. He next rattled off runs of nine and six yards to pick up a first down. Jaycen Nelson joined the fun with a nine-yard rush to the Harrisburg 46.
Parr then located Payton Richardson for a 22-yard pickup. After a Mather four-yard run, Parr again found White for a touchdown, this time a 16-yard catch-and-run down the sideline.
Leading 20-18, Amity allowed William Downs to return the ensuing kickoff 82 yards for a touchdown and a 26-20 Eagle edge with 9:35 remaining in the second.
After Nelson returned the Harrisburg kickoff 25 yards to the 50, Amity marched downfield in nine plays, ending with Nelson's six-yard rushing touchdown. Michael Duncan nailed the PAT, and Amity snatched a slim 27-26 advantage heading into halftime.
Both squads appeared to correct their defensive mistakes during the break, leading to a scoreless third period.
However, to begin the fourth, the Warriors compiled a lengthy drive beginning at their own 37-yard line. Mather proved instrumental yet again, earning 41 yards on five carries. Parr secured another six points on a one-yard QB sneak, and Duncan's PAT handed Amity a 34-26 lead.
Gabe Knox answered the call for the Eagles on their next possession. He accumulated 41 rushing yards on seven touches. Bennett scored a four-yard touchdown then tacked on a two-point conversion to tie the game at 34.
Amity turned over the ball on downs on the following series, gifting Harrisburg possession at its own 34. Bennett decimated the Warrior defense with runs of 22, 18, seven and four yards before hitting Downs for 17 yards and the game-winning touchdown with 56 seconds remaining.
While the Warriors would control the ball two more times, both attempts to drive for the tie resulted in interceptions and the Eagles claimed the road victory.
Amity finished the season 7-3 overall, losing in the first round of the state playoffs for the second straight year.