Halloween activities today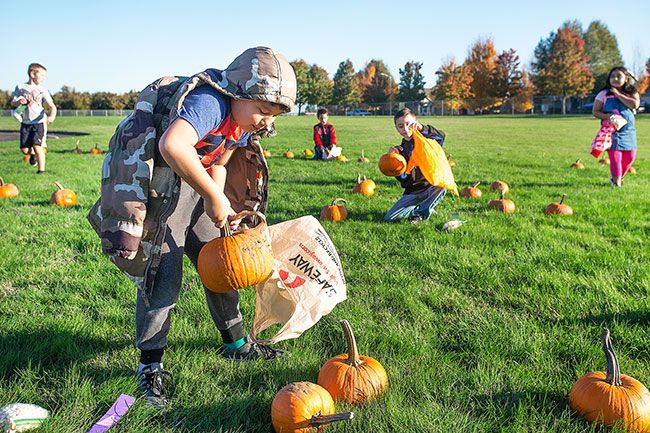 Children have a choice of trick-or-treat venues this afternoon — downtown McMinnville, local retirement homes and the Evergreen Aviation Museum, in addition to their own neighborhoods.
Five retirement homes, Vineyard Heights, Life Care Center, Hillside Retirement Community, Fircrest and Parkland Village Retirement Community, will be open to costumed children today. They'll be hosting other free activities as well.
Hours and addresses are:
* Life Care, 1309 N.E. 27th St., trick-or-treating 3 to 5 p.m., with sack lunch.
* Hillside, 300 N.W. Hillside Parkway, trick-or-treating 6 to 8 p.m., with orange pumpkins on front doors marking units with candy available.
* Parkland, 3121 N.E. Cumulus Avenue, Halloween party 3:30 p.m., with trick-or-treating, face painting, refreshments, crafts and a costume contest.
* Vineyard Heights Assisted Living & Retirement Cottages, 345 S.W. Hill Road, McMinnville, will host a "Night of Fun for Halloween" from 6 to 8 p.m., with slime making, cookie decorating, games, a raffle, photos and candy.
* Fircrest Senior Living Center, 213 Fircrest Drive, McMinnville, will welcome children of all ages from 3 to 5 p.m. to enjoy costumes, hot cocoa and lots of free candy.
At the Evergreen Aviation Museum, children can trick-or-treat among the airplanes, make their own slime, decorate pumpkins and take part in other activities from 4 to 7 p.m. Admission is $4 general, $3 senior, $1 child 5 to 16, free child under 5 or museum membership holder.
Linfield College will host a trick-or-treating tour of dorms from 6 to 8 p.m. on Halloween. Children must be accompanied by adults. They should meet in Riley Hall on campus to start the free "Halloween Extravaganza."
The largest trick-or-treat event will be staged in downtown McMinnville, where hundreds of children and parents will show off their costumes as they collect candy. Trick-or-treating will run 4 to 6 p.m., compliments of the McMinnville Downtown Association.
Starting at 2:30 p.m., the News-Register will be taking photos of trick-or-treaters in exchange for a $1 donation to Homeward Bound Pets.
During the trick-or-treating, the MDA booth at Third and Cowls streets will hand out free reusable bags, while supplies last.
Calvary Chapel will offer free hot chocolate at its booth at Third and Davis streets. And Operation Candy Drop will collect extra candy at Third and Davis to donate to military service members.
For more information, call 503-472-3605.