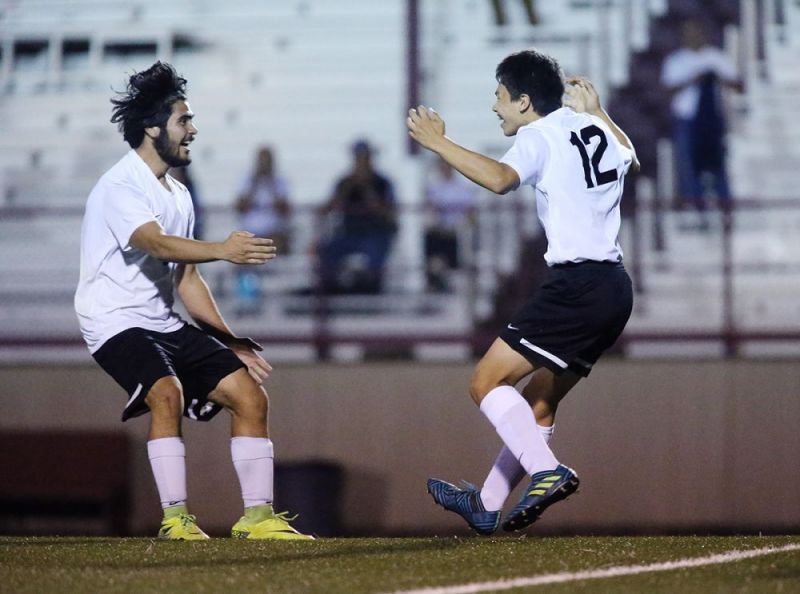 Rubio for the win! Striker's late goal leads Dayton to 2-1 win over Western Mennonite
DAYTON – For the second straight match, Dayton's Enrique Rubio played the hero. The Pirates' striker slotted home tonight's game-winning goal in the 78th minute, leading his team to a monumental 2-1 home victory over Western Mennonite. Rubio also recorded the go-ahead score during Monday's 3-2 win against Gervais.
The Pirates' triumph propels them into third place in the Class 3A/2A/1A Special District 2 standings. If Dayton holds their current position, the boys in cardinal-and-black will qualify for the state playoffs for the first time since 2013.
Against the Pioneers, the Pirates displayed impressed stretches of possession followed by dangerous runs into the attacking half. Jorge Miramontes aptly controlled the midfield, threading passes to wingers Bryant Chavez and Cristhian Garcia, who then bombed passes to Rubio and Lukas Findley.
However, even with Dayton constantly on the attack, neither team registered an opening score through the first 40 minutes.
Finally, the Pirates broke through in the 43rd minute. Garcia, a tireless worker in the midfield, received a long through ball from center back Genaro Isles. Garcia then powered his way through three Pioneer defenders and fired a low shot, beating Western Mennonite's keeper to his right.
Leading 1-0, Dayton refused to let its foot off the gas. Garcia nearly scored a brace, but barely missed making contact on a diving header in the 62nd minute.
In the 68th, Matthew Brodeur blocked a shot, and keeper Mike Duarte palmed away the rebound try, preserving the 1-0 advantage.
The visitors earned some late momentum during the 71st minute. Their offensive effort was rewarded with a penalty shot, one which Luke Williams coolly drove into the upper 90, tying the game at one.
Again, the Pirates raced into the attack, desperately searching for the game-winner and a crucial conference victory. In the 76th minute, Rubio found a sliver of daylight on a header, but it was easily collected by the Pioneer net minder.
But in the 78th, Dayton found pay dirt.
Ivan Nambo received a pass deep in Western Mennonite territory. He dribbled past two defenders, and then shielded the ball from a third. Garcia raced into the picture and snagged Nambo's drop. Spotting Rubio making a run, Garcia threaded the perfect assist to his onrushing teammate, and Rubio captured the result with an incredible goal.
Alas, it was not Rubio's final entry on the match report. After an 80th minute call that didn't go Dayton's way, Rubio was caution once, and then again, for vocal dissent. Dayton was thus forced to see out the last 17 seconds of the match a man light.
The Pirates (4-3-1, 3-3-1 SD2), now winners of three straight, aim to continue their recent success with a road match at Delphian Tuesday at 4:15 p.m.