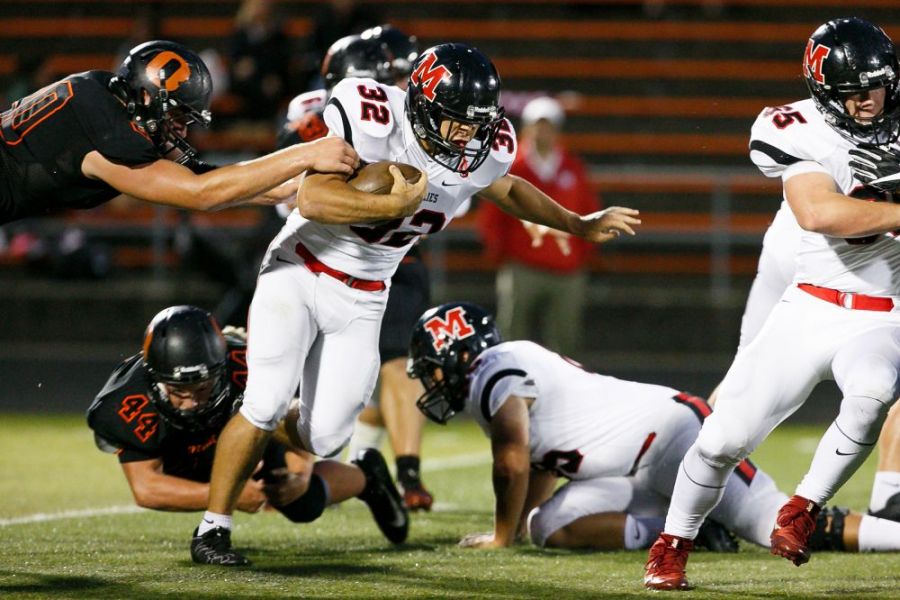 Olympians deliver Mac's first loss of the season, 47-7
SALEM – McMinnville's football team fell prey to Sprague's prolific offense tonight at Olympic Stadium, as the Grizzlies dropped their first contest of the season, 47-7. Mac's loss snapped a three-game winning streak to open the season, however, the locals remain in third place in the competitive Class 6A Greater Valley Conference.
The Olympians appeared explosive from the opening whistle. Led by elite players like quarterback Spencer Plant, running back Noah Mellen and wide receiver Alek Altringer, Sprague marched 85 yards downfield on their first drive to grab a 6-0 lead.
McMinnville, conversely, struggled to find a rhythm against a stout Olympian defensive front. Workhorse tailback Ray Jacob appeared smothered on many of his first half runs.
As the Grizzlies offense struggled, Sprague's seemed unstoppable.
The home team added six scores on eight of their next possessions following the opening salvo. Plant threw for three touchdowns, Mellen added two rushing scores and Altringer routinely escaped the Mac defensive backs for long receptions.
Mac entered the break trailing 40-0, but the starters continued to play for most of the second half.
Jacob, in particular, persisted against the mighty Sprague defense. His sustained attack saved the Grizzlies from suffering a shutout, as he powered into the end zone for a three-yard touchdown with 9:42 remaining in the fourth quarter.
Jacob's score capped an impressive Mac drive which traveled 80 yards on 15 plays. Sam DuPuis, the Grizzly QB, seemed most comfortable on the series. He hit passes of 27, seven and two yards to move the chains.
The Grizzlies attempted one final try at trimming the Oly margin of victory late in the final period, but the 38-yard drive stalled as time ran out.
McMinnville (3-1, 1-1 GVC) returns home next Friday for a league matchup with South Salem.