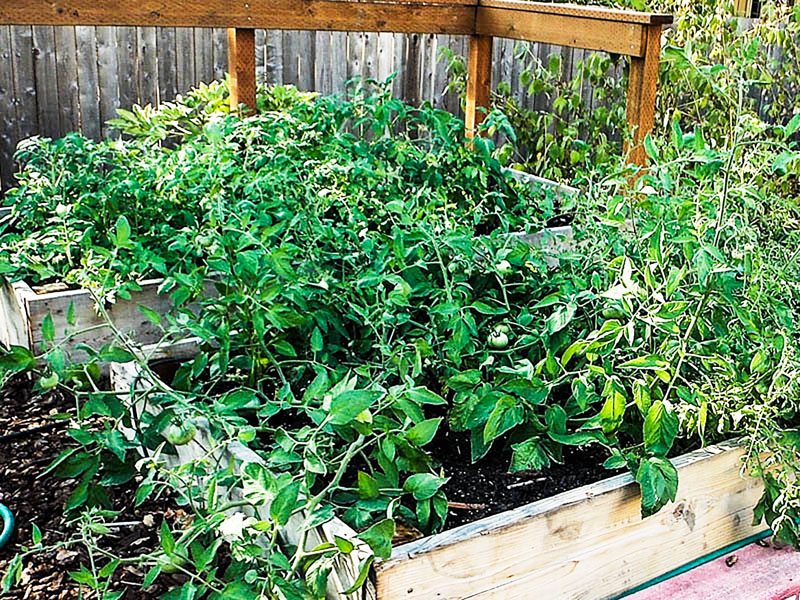 Gene Nesbitt: Seed to Supper program creating more gardeners
Yamhill County families are learning to become more food secure through a joint program of the Oregon Food Bank and the Oregon State University Extension Service. The Seed to Supper program is a comprehensive gardening course that gives novice gardeners on a limited budget the tools and confidence needed to successfully grow a portion of their own food. The course is offered at no charge to the participants.
Participants in the Seed to Supper classes attend a series of six weekly classes of two hours each. The course curriculum consists of garden site and soil preparation, garden planning, planting, container gardens, caring for a growing garden and harvesting and using the garden bounty. The focus is on growing vegetables in a small area using raised beds and containers. The classes are taught in both English and Spanish. Comprehensive gardening manuals are provided to class participants.
Approximately 100 English and Spanish-speaking residents have attended the course with a 65 percent completion rate. Typical comments of the course attendees are: "I had never grown any vegetables, but now feel confident to try"; "The kids were excited and helped plant the garden"; and "I learned so much about eating healthy and even how to cook some veggies I never had tried."
See Also: Enhancing food security in Yamhill County
On a post-class visit to several of the participants, an instructor observed how it "made her happy to see them succeed at gardening." Another instructor, who visited the home garden sites, reported nearly 100 percent success in growing some vegetables in their containers and raised beds. Several Seed to Supper participants have raised beds in the Community Garden with significant success in growing their own food.
The Seed to Supper program was developed for adults on limited incomes interested in developing food gardening skills. It is a first step in helping families become more self-sufficient in vegetable gardening. The Yamhill Community Action Partnership and the extension service administer the program. The Yamhill County Master Gardener volunteers are instructors for the classes.
Studies of participants in several established Seed to Supper programs reported class participants were better prepared to deal with garden issues, such as pest management and seasonal planting cycles. Survey results also displayed an increase in capacity to grow food and an increase in self-reliance due to a reduction in grocery bills. Past participants are eating more fruits and vegetables than they had typically done during the growing season. The Yamhill County Seed to Supper program is experiencing similar results for its participants.
The Master Gardeners dedicate many volunteer hours to help coordinate and provide instruction for the program through community-based classes for both English and Spanish speaking residents. The growth and success of Seed to Supper has been made possible by the many community partners who interface with the target populations. These community partners help with recruitment of participants, hosting of the classes and providing gardening containers and raised beds for the participants, either at their homes or in a community garden.
The Seed to Supper program in Yamhill County was initiated in the spring of 2016. The first class was held at Newberg Head Start. Subsequent classes have been hosted by YCAP, Hope on The Hill, Deskins Commons (Yamhill County Housing Authority) and St. Michael's Episcopal Church.
Linfield College's Center for the Northwest, through its Home Garden project, has provided approximately 15 raised beds and 30 containers for Seed to Supper participants. In addition, five participants currently have raised beds at the McMinnville Community Garden, three in the Hope on the Hill Community Garden and two in St. Michael's Episcopal Church Community Garden. Through their residents' participation in the Seed to Supper program, Deskins Commons in Newberg was successful in starting their own community garden with raised beds provided by Linfield College. For many participants, the Seed to Supper program has provided the first opportunity to grow their own fresh vegetables with confidence to succeed. For others, the classes provided information which enhanced the quantity and quality of the vegetables in their garden.
The next scheduled Seed to Supper class will be held at Deskins Commons in Newberg starting September 30. This will be taught in Spanish. Classes in both Spanish and English are being planned for McMinnville, Newberg and Sheridan for the spring of 2018.
To become a Seed to Super community partner, class hosting site or to register for a class in your community or to obtain more information, you may contact the Yamhill County Extension Service at 503-434-7517 or email: jade@oregonstate.edu. The Seed to Supper classes are available to all Yamhill County residents regardless of income.