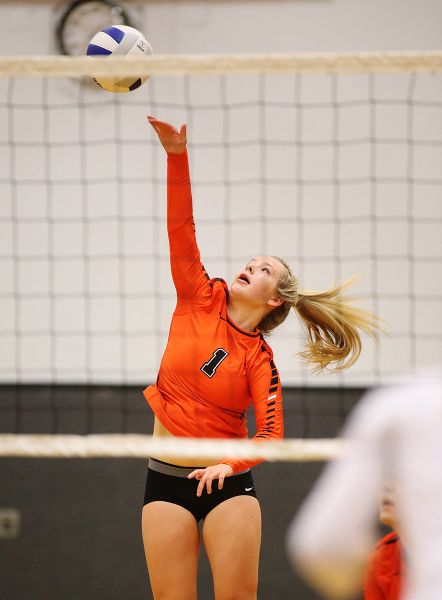 Berry leads 'Dogs to 3-1 victory over rival Sheridan
WILLAMINA – Bethany Berry's 18 kills, five blocks and five aces propelled the Willamina Bulldogs to tonight's 25-18, 25-15, 19-25, 25-13 four-set victory over rival Sheridan.
Berry proved especially critical in the second and fourth sets where she collected eight and five kills, respectively. She added two crippling aces late in the final game to snatch away any hope of a Spartan comeback.
The first set appeared closely contested until the Bulldogs embarked on an 11-3 run to establish a 22-14 lead. Andrea Otter's two straight kills highlighted the impressive stretch. After Brooke France produced a stuff block for Willamina, Berry secured a rejection of her own to hand the home side the opening 25-18 win.
Sheridan strung together a solid 6-3 edge to begin the second. Hunter Hasslen received a quick set from Kassidy Ellis and threw down a ferocious spike; Paighton Samples also contributed to the lead with an ace and excellent defense.
After the 'Dogs tied the set at 6, the two rivals traded leads until Willamina's Taryn Hunt soared from the backline for an amazing kill, finalizing a 7-1 stretch and 15-11 lead. The Bulldogs cruised from there, as Berry proved impossible to stop, and they captured the 25-15 result.
Hasslen came alive in the third, helping the Spartans claim its only win of the night. The teams traded blows, resulting in the set being tied at 19. Hasslen took over with three kills and a block down the stretch, and Sheridan won six consecutive points for the 25-19 triumph.
But Berry refused to let the visitors gain any more momentum in the fourth. Willamina raced to an 11-4 lead as Maddy Konovalov served two aces, France touched the sky on a kill and Kylie Anderson blasted an ace off a Spartan defender. Berry steered the Bulldogs to ultimate victory, however, gathering five of the last nine points on three kills and two aces.
Aside from Berry's typically dominant outing, Willamina benefited from all-around performances from the remaining members of the starting lineup. Otter produced eight kills and a block, France locked down the frontline defense with three blocks while adding eight kills and an ace, Anderson secured five ace serves, and the jump-serving Hannah Hughes, filling in at setter, also netted five aces.
Sheridan was led by Hasslen's 10 kills, three blocks and an ace. Emily Monroe and Samples tied for second on the Spartans with four kills apiece.
Willamina (2-3, 2-1 WVL) next hosts Western Mennonite Monday at 4 p.m.
The Spartans (2-3, 2-1 WVL) compete in the Neah-Kah-Nie tournament Saturday at 9 a.m.