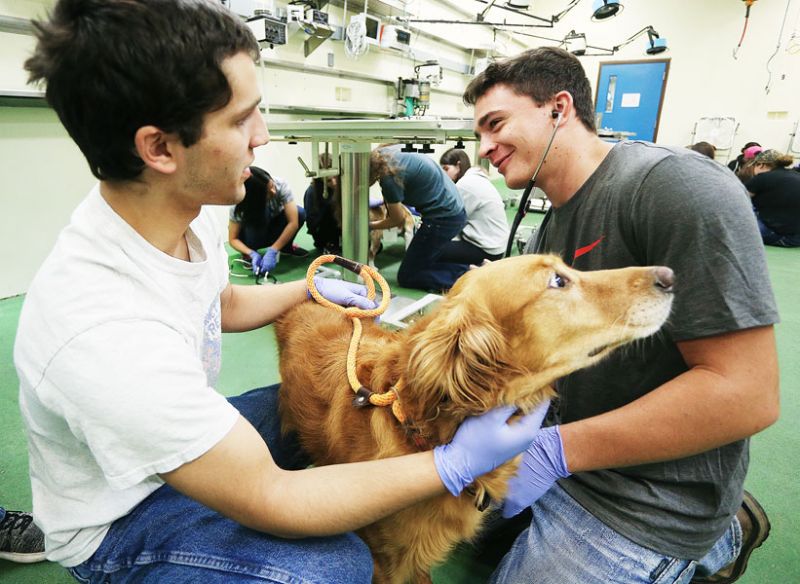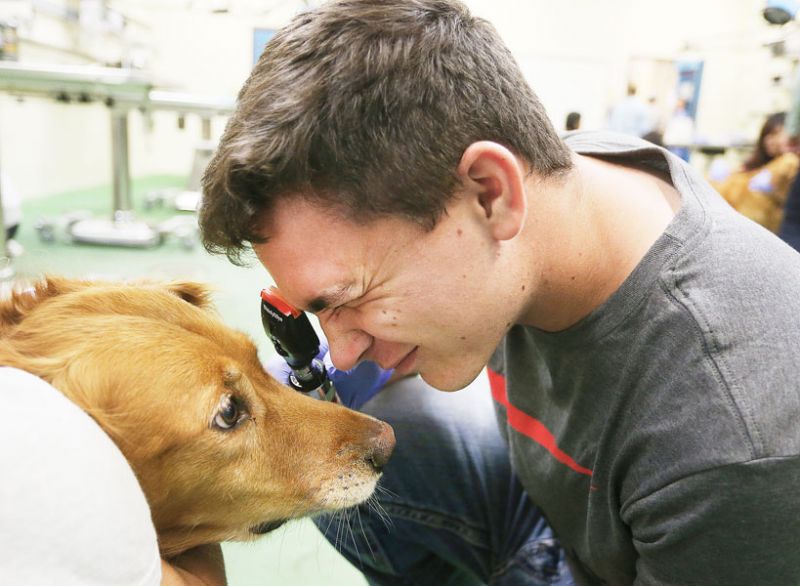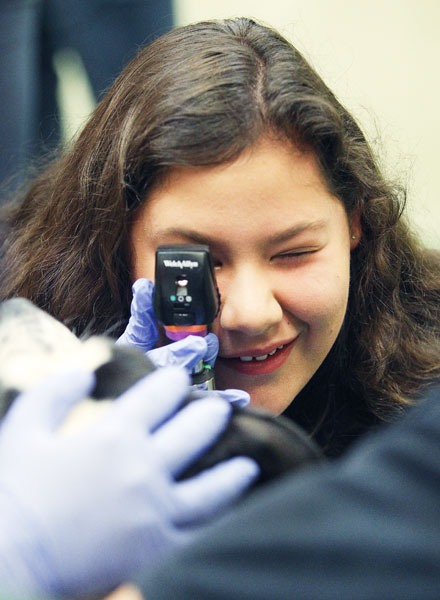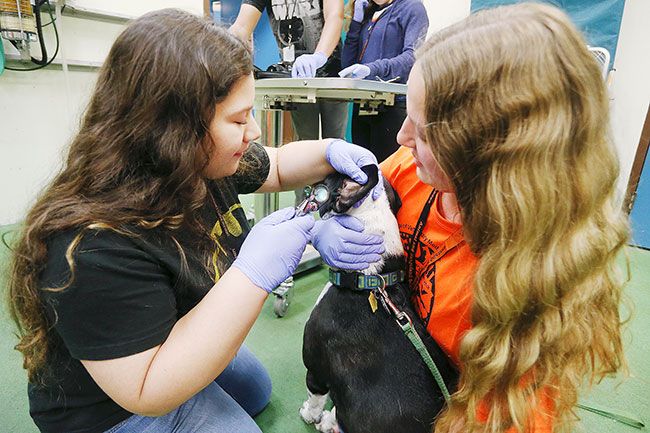 Stopping By: Vetting a career path
"I want to experience everything," said Jordan, who plans to become a doctor, but hasn't yet decided whether she would rather treat human patients or four-legged ones.
"I'm looking for the right program," she said. "I want a challenge and I love to learn."
She and Owen Amerson, a junior at Yamhill-Carlton High School, spent the week at OSU's College of Veterinary Medicine. About two dozen high-achieving high school students were accepted into the Summer Veterinary Experience, which exposed them to lectures and classes, while also allowing practical experience with dogs, horses and other animals.
"This program is an important way for us to try to expose young people to veterinary medicine, and biological science in general," said Dr. Jana Gordon. After all, she said, being a veterinarian is "a great profession."
If they make that career choice, some of the summer students may end up at OSU. The Corvallis school offers programs in both large and small animal care, the latter focusing primarily on dogs and cats.
The school's veterinarians sometimes work on raptors or native big cats for wildlife rescue programs, said Lyn Marie Smith-Gloria, media liaison. But there aren't courses aimed at training students in the care of exotic animals.
Tess Collins, coordinator of admissions, said Jordan, Owen and other high school students are selected on the basis of their grades, their background in science, their experience with animals and their responses to several essay questions.
But that doesn't necessarily mean someone who has shown animals at the fair will be chosen over a student whose sole experience is caring for a pet cat.
"We want to expose students who haven't seen a lot, too, ones that just have a passion for it," Collins said. "And we want to expose them to higher ed. We want to help them decide their next step."
This is the sixth year the veterinary college has hosted the camp.
Collins recently sent out a survey of past participants. Of the 13 who responded, all are enrolled in college somewhere, and several are pursuing animal-related fields.
For both Owen and Jordan, the Summer Veterinary Experience also was an introduction to higher education in general. They lived in dorms with roommates, ate in OSU cafeterias and toured the campus more than 20,000 students call home during the school year.
"The dorm room is kind of small, but it's enough," said Jordan, who has visited colleges, but never stayed at one.
Owen said he thought it would be hard living in such cramped quarters for four years. "I can handle a week, though," he said.
He and fellow high schoolers enjoyed working with veterinary school students, who have already earned degrees in subjects such as biology, zoology or other scientific disciplines.
Emily Mongan, a third-year vet student, was one of their mentors. In addition to helping high schoolers with the canine wellness exams, she described what undergraduate school and veterinary college are like.
Mongan recommends anyone considering joining her in veterinary school gain experience first by working in a vet clinic. It will give them a variety of experiences and let them observe vets and vet techs in action, she said.
Marci Witczak, a second-year vet student, agreed working in a clinic is valuable.
"I learned tricks to make the animals and the owners more comfortable," Witczsak said. "Like if you're giving vaccines to puppies, if you give them a treat afterwards, it makes it a positive experience."
Jordan has taken a step in that direction. She visits the Tigard clinic where her mother works as a vet tech.
It's always a learning experience, she said.
Owen, son of Tyler and Aime Amerson, has gained understanding while living on a farm near Yamhill. He's given injections to cattle and banded bull calves.
He enjoys working with both large and small animals. During one session of the Veterinary Experience, he helped give a wellness exam to Jo-Jo, a shaggy canine.
As other students held and calmed Jo-Jo, Owen maneuvered an otoscope into the dog's L-shaped ear canal. The lighted instrument allowed him to view the tympanic membrane, in addition to observing the health and cleanliness of the canal's tissue.
Jo-Jo was patient, but not eager to have a scope in her ear. Owen approached the task gently, but firmly.
"You have to have their best interests in mind," Owen said, balancing the dog's comfort with the need for the exam. "You know this is helping."
Jordan agreed. Vets need to treat animals with respect, and that sometimes means subjecting them to things they won't like.
"If someone didn't do it, they would get sick," she said.
Jordan, daughter of Melissa and Jason Bracken, said she expects she'll become a specialist, no matter what kind of medicine she chooses. Then again, she might just open her own veterinary practice.
She loves animals, she said, especially her chihuahua-dachshund puppy, Maggie. "I think there's more challenge working with animals, because they can't tell you what's wrong," she said.
Jordan was amazed at what she learned in the canine wellness exam. As another student steadied Dori Anne, she held a scope to the friendly black dog's eye.
"Wow," she breathed. "You can see the back of the eye ... bluish green color, sometimes yellow ... really cool."
Dori Anne returned the compliment by licking Jordan's cheek.
Next Jordan watched her mentor, Mongan, demonstrate checking Dori Anne's teeth and gums.
Then Jordan tried it herself. She pressed her finger against the dog's gums, then watched the tissue turn pink as blood returned — an indication of good health, Mongan said.
Dr. Gordon told Jordan, Owen and other students the importance for vet students to examine many healthy animals as they're learning.
They should practice feeling for pulse and listening for the heartbeat, as well as examining the eyes, ears, nose and mouth, the coat, lymph nodes and extremities. Every dog is slightly different within a normal range.
Working with a variety of breeds of dogs is helpful, too: the respiratory system of a breed with along snout will sound different from that of a bulldog, for instance, she said.
Only by becoming really familiar with what good health looks, sounds and feels like, she said, can they recognize signs of illness.
Starla Pointer, who is convinced everyone has an interesting story to tell, has been writing the weekly "Stopping By" column since 1996. She's always looking for suggestions. Contact her at 503-687-1263 or spointer@newsregister.com.