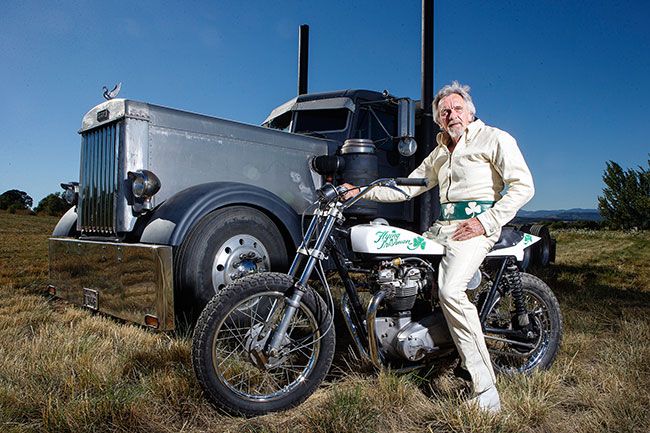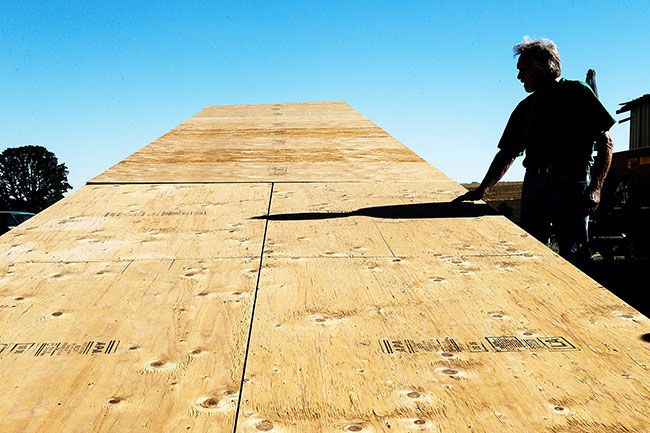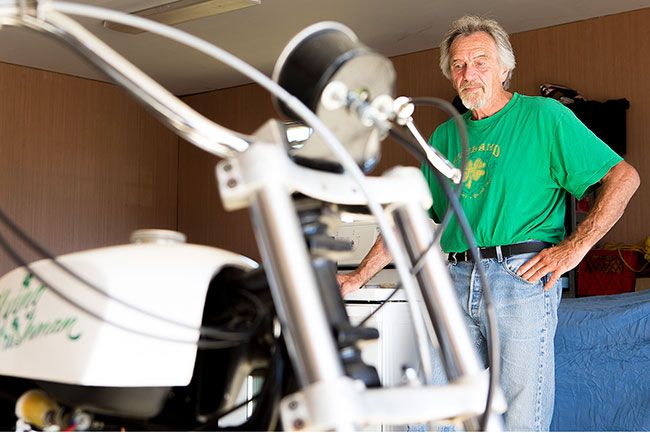 Stopping By: Evel intentions
But taking that same bike up a ramp at high speed and sailing over two trucks? No problem.
"People have the impression that we're touched in the head," said daredevil Denny Edwards, who is planning to come out of retirement for one final feat.
But he's not crazy, he said. He's prepared.
Everything from the angle of his launch ramp to the nuts and bolts on his bike to his safety helmet and leathers are checked, double-checked and triple-checked. It's a job, not a lark.
Making the jump itself will be easier than talking to the crowd beforehand, he said. Public speaking, now that's scary!
Edwards, known as "The Flying Irishman" during his daredevil career of the 1970s and '80s, will attempt one last jump Saturday, Aug. 12, on the Evergreen museum campus.
It's been 32 years since he retired. Now 72, he will attempt to become the oldest person to sail his bike over a pair of Peterbilts.
His 2 p.m. jump will cap an event devoted to vintage vehicles.
Pre-1975 motorcycles will go on display at 9 a.m. Owners can register their bikes at the site.
The Boondock Boys will play vintage and Southern rock to help entertain the crowd. Admission is free.
Although Edwards' daredevil ride figures to be the highlight, he said the day really isn't about him.
For one thing, he wants to send a message of support for the military. For another, he wants to honor motorcycle riders, including those who came before him and those who've continued the sport since his retirement in 1985, upping the ante with increasingly amazing stunts.
"I want to show young people how this started," he said.
Most of all, though, he wants to honor the daredevil who made the sport famous around the world, Evel Knievel.
Evel jumped cars and fountains and even tried to fly across the Snake River Canyon. He inspired generations of stunt riders, including Edwards himself.
"This jump is for Evel, the only worldwide household name in the business," Edwards said.
"The Flying Irishman" was a contemporary of Evel. Both men used full-size, street bikes, which are heavier and more powerful than the two-cylinder bikes many stunt riders use today.
Edwards said he never felt any rivalry toward Knievel, just awe.
"You can't compete with a guy like that," he said. "He had 'it,' that quality that made him a star. There was only one like him."
Edwards met the master showman in 1974.
"I was really nervous, but Evel shook my hand and invited me right into his dressing room," he said. They hit it off and talked at length, as Knievel sipped his trademark Wild Turkey.
The next day, the Oregon man was in the crowd when Evel performed a jump.
"That put things in perspective about the way this business affected people around you," he said. "I was a nervous wreck for him. So how did my wife and two little kids feel?"
Edwards grew up around motorcycles in Grand Ronde. Both his parents rode.
As a child, he perched on the gas tank of his mother's 1941 Triumph. As soon as he was old enough, he got his own bike.
The 1963 Willamina High School grad found work as a truck driver. Motorcycles were his passion, though, and he became a flat-track racer as well.
When he wasn't racing his 1950 Triumph, he was reading motorcycle magazines. He found an article about Evel Knievel that described the dimensions and angles of his takeoff and landing ramps.
Edwards, who had never jumped as much as a crack in the pavement, decided to build himself a set of ramps and try an Evel-style stunt.
By that time, 1972, he was living on the Southern Oregon Coast. His father, Bill, and brother, Bob, were running a logging business there in Brookings-Harbor.
He commandeered their shop parking lot for his project. The only problem was, it didn't offer enough room for his approach.
He went out on Highway 101, got his bike up to full speed, then veered through a gate into the parking lot. He raced up the takeoff ramp and flew over a broad gap to the landing ramp.
"To my surprise, it felt pretty neat that first time," he recalled.
He had already promised organizers of the Azalea Festival that he'd make his first jump at their Saturday event. But he didn't finish building until Thursday, so didn't get much time to practice.
On festival day, he set up his ramps on a vacant lot, then went home to change and prepare.
When he headed back that way, he noticed a traffic jam had developed up ahead. Vehicles were parked this way and that on both sides of the road.
He figured there'd been a collision. But it turned out the rubber-neckers had all turned out to see him perform.
Edwards spoke to the crowd, then mounted his mother's Triumph.
With the local football announcer, Lloyd Russell, narrating the action, he cleared six cars without a hitch. The crowd went wild.
People even took up a collection on his behalf, handing him $470 in donations. He realized he'd made more money with his stunt than he would in two weeks at his regular job.
"I was hooked," he said.
Edwards was a 27-year-old father whose wife was expecting their second child. In retrospect, he said, becoming a daredevil wasn't the smartest decision, given how many responsibilities he had.
"Real responsible," he said sarcastically, speaking to his younger self.
But he was undeterred. He quit his regular job so he could become a daredevil.
He drove his ramps to jump sites in a big truck. His family followed behind in a motorhome.
They traveled through every part of the region, playing fairs, festivals and even Pixieland.
One of their early stops was the 1972 Yamhill County Fair. The Flying Irishman was one of the top attractions, along with Jo Ann Castle from "The Lawrence Welk Show" and Grandpa Jones from "Hee Haw."
Edwards drew crowds wherever he went. They applauded his daring and skill.
He knew, of course, that some of the spectators came in hopes he would crash. That's just human nature, he said.
But most viewers really wanted him to succeed, he felt.
Early in his second year on the circuit, Edwards suffered his first serious crash.
At a fair in Longview, his ramps were wet from an overnight rain. And he had to stage his takeoff from slick grass rather than gritty pavement.
Things just didn't feel right, but he tried the jump anyway. When the front wheel of his bike smacked the edge of the landing ramp, instead of setting down on top of it, he knew he was in trouble.
He had plenty of time to rethink that moment, since he spent the next three months in a body cast.
"I had to get really hurt before I learned to focus," he said, describing how he learned to tune out the crowd as he prepared himself mentally and physically for future jumps.
It never occurred to him to quit. In fact, he booked his next appearance — a jump over 10 Cadillacs — from his hospital bed.
In 1985, after more than 100 successful jumps, Edwards made his final attempt before resuming his career as a log truck driver.
At the Crook County Fair, he sailed over a log truck. The jump was clean, and so was the landing. But a rotten board in the ramp broke through and he crashed anyway.
"Just some broken ribs and ripped toenails," he said, as if it were no big deal. And, in fact, he managed to get on his bike again for his traditional dramatic finish, riding through a ring of fire.
There'll be no ring of fire this time around, at his post-retirement jump. Just two Peterbilt cabs positioned end to end, mimicking the length of the log truck he jumped back in '85.
And the landing ramp will be solid. He built new ramps this summer, after deciding "what's left of me" would jump again.
The high end of Edwards' new ramps stands 10 1/2 feet tall. He plans to set them up 60 feet apart, with the landing ramp positioned just a hair to the left of the takeoff ramp, as he tends to drift to the left a little.
He aims to be going 62 mph when he hits the 4-inch stripe in the center of the take-off ramp. Once he's in the air, he said, he can make a slight adjustment in his trajectory by revving the engine or hitting the brake, but he can't change his path much.
"You have to do it before you hit the ramp," he said, stressing the importance of preparation.
The ramps are about the only things new about his upcoming event.
He'll ride his 1966 Triumph 750, a street bike that "lands hard" because it lacks suspension. "It has a really great sound," he said of the hulking machine.
The trucks over which he'll jump are vintage, too, one circa 1949 and the other 1962.
He will be wearing the same protective leather suit he wore at the peak of his career. "It keeps the hide on you" if you take a spill and slide across asphalt or gravel, he said.
He's put a lot of thought into what he'll be doing.
"I've been mulling this for a few years," Edwards said. "It's like old singers performing at the casino, or old actors making another movie. You miss the whole excitement of all that stuff."
He's wanted to make another jump while he was still physically able.
"I'm fortunate to still be in good shape," he said. "I want to inspire other older people to do whatever they want to do.
"It's not too late. The only thing we ever have is this moment."
One of his friends, a healthy man, recently died in a logging accident.
"We just never know what's going to happen," he said. "We can't control yesterday or tomorrow, only right now."
Starla Pointer has been writing the weekly "Stopping By" column since 1996. Contact her at 503-687-1263 or spointer@newsregister.com.
---
If you go
What: Motorcycle daredevil Denny Edwards comes out of retirement to make one last jump
When: 2 p.m. Saturday, Aug. 12
Where: The Falls Event Center on the Evergreen Aviation & Space Museum campus
How: There is no charge for the event, which will also feature a display of vintage motorcycles, and music from 9 a.m. until jump time.
---
Friends will watch Edwards jump again
Spectators will include people he worked with in the 1970s and '80s, when he was a regular on the daredevil circuit. For instance, Gaylor Williams, who worked on his ground crew back in the '80s, plans to attend the event at the Evergreen museum campus.
Edwards is even expecting some friends who caught his first jump at the Azalea Festival in Brookings-Harbor — and maybe some local residents who saw him at the '72 Yamhill County Fair.
He'll also have two extra special guests who weren't around for that first jump: His son, Jason, who was born a few months after Edwards started his stunt career, and his 18-year-old grandson, Rugby.
"Three generations of us together. It will be quite a reunion," he said.
A fourth generation will be missing, though, since his father, Bill Edwards, died not long ago. He had been there to cheer at every other jump The Flying Irishman made.