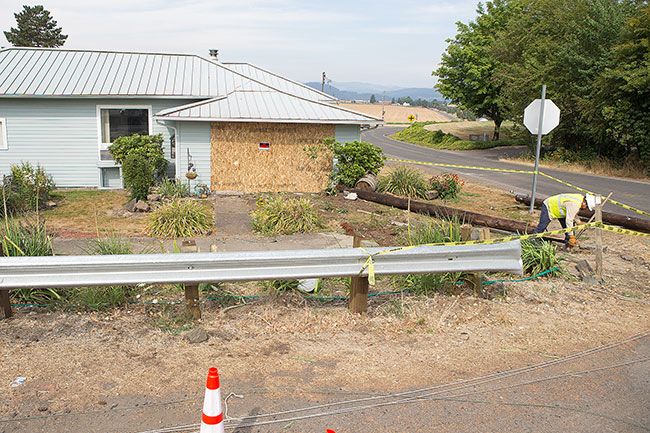 Car crashes into house in Yamhill
[UPDATED 6 p.m. 8/8/17] YAMHILL — An SUV failed to negotiate a corner at Highway 47 and Pike Road, crashing through a guardrail and slamming into a house about 12:30 a.m. Sunday.
Both the driver,, 17-year-old Teagan Taylor Johnson of Sherwood, and the residents of the house, Douglas and Cindy Edwards, escaped injury.
Oregon State Police said the SUV was southbound on Highway 47 when it clipped a pair of power poles, knocking out power in the area, then struck the house.
When power lines dropped to the ground, they blew local transformers, according to Yamhill Communications Agency dispatchers. The residents of the house told dispatchers the structure had begun to fill with fumes and smoke.
Yamhill Fire Chief Brian Jensen was the first responder to arrive at the Edwards residence, followed by an array of medical and law enforcement personnel. "They were still in the house and they had helped the driver out of her vehicle," he said.
The residence is just north of Yamhill-Carlton High School, on the west side of the highway. Jensen said it has been struck by vehicles several times in the past.
A Portland General Electric crew responded to restore power and the American Red Cross to assist the householders. They will have to find refuge elsewhere for an indefinite period of time, authorities said.
OSP said the driver logged a blood alcohol content of .13. The presumed level of intoxication in Oregon is .08. She was released to her parents after being cited for driving under the influence of intoxicants.