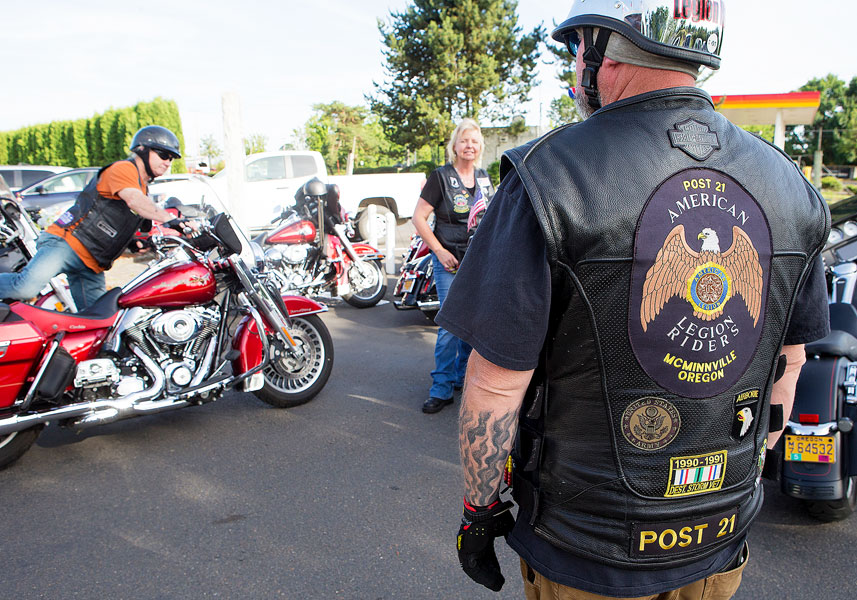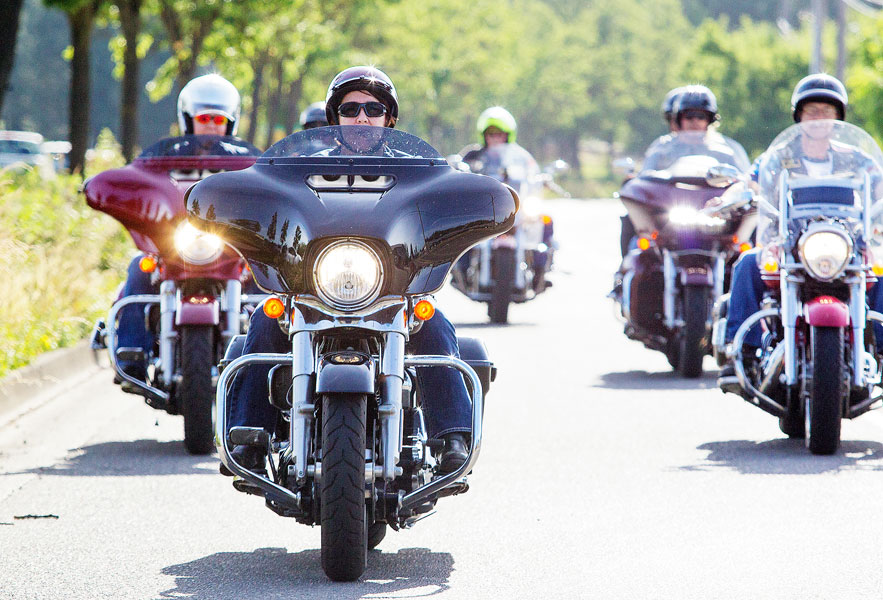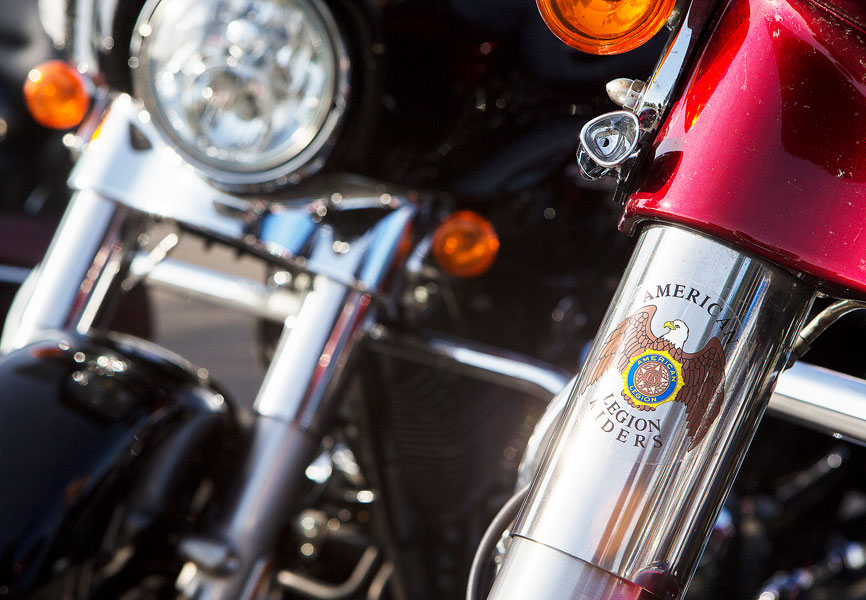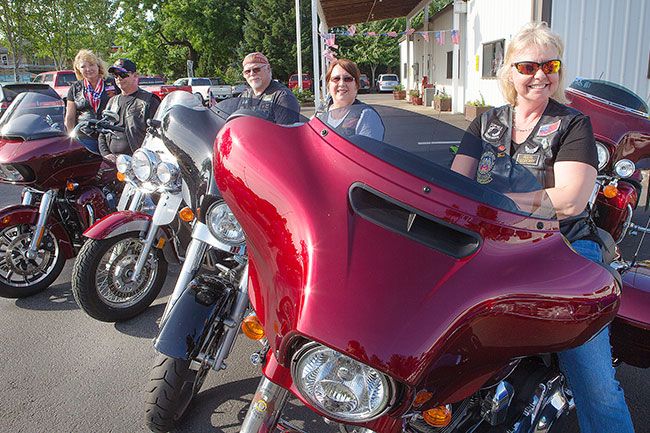 Stopping By: Help on wheels
The desire to help veterans brings them together. The thrill of the open road binds them.
The roar of a dozen or two powerful motorcycles carrying American flags? That gets them noticed.
"With those flags flying, it's a beautiful thing to see," said Jeri Paull, secretary of American Legion Post 21's American Legion Riders group.
She is one of about 50 patriotic motorcycle owners associated with the local organization.
It's not a motorcycle club, members are quick to say. They don't like that terminology, because it can carry a negative connotation.
Director Jerry Perry Jr. said theirs is an organization that's intent only on doing good. He said it escorts honored veterans, helps with memorial ceremonies, raises money for vets and Legion endeavors, and shines attention on veterans' causes.
"We're one of the most visible parts of the Legion family," said Gale Sears, a Rider also serving as commander of Post 21.
The Riders are a rolling demonstration of the mission of the American Legion, Sons of the American Legion and the Legion Auxiliary. They embody the latter's motto: "For God and country, we advocate for veterans, educate our citizens, mentor youth and promote patriotism, good citizenship, peace and security."
The American Legion was chartered by Congress in 1919, following World War I. It is open to men and women who have been on active duty during periods of war.
In 1993, a pair of Legion members who loved motorcycles invited like-minded members of the Legion, Sons and the Auxiliary to join them on a ride. The successful event turned into a permanent organization, and soon other chapters of the American Legion Riders sprang up.
Now more than 110,000 riders belong to more than 2,000 chapters across the U.S. and in several other countries.
McMinnville's Post 21 chapter is the largest in Oregon, with about 42 members. The next largest Oregon chapter counts 38.
Most of the local members are Yamhill County residents. However, some come from farther away, feeling the McMinnville group and its activities suit them best.
The majority of Post 21's Riders are men, either veterans or members of the Sons group. Seven of the members are women, mostly either vets themselves or related to vets in some way.
Male or female, motorcyclists must belong to another of the Legion groups before they can join the Riders.
Some members rode long ago, then renewed their interest after learning about the organization. Some rode with their spouses, then decided to get their own bikes. Some learned to ride just so they could take part.
Jeri Paull rode with her husband, Michael, at first. The Riders' vice director, he's a Legion member, and that qualified her to join the Auxiliary, then the Riders.
She's also the great-granddaughter of Civil War veteran Manning Moses. That would have qualified her for the Auxiliary in its own right.
Wanting to ride beside her husband, rather than behind him, she bought a Moto Guzzi. She recently upgraded to a Harley — a 2016 Street Glide Special in "Velocity Red."
She had loved motorcycles since she was a child. She said she was smitten after seeing "Easy Rider" at the drive-in.
To update her riding skills, she took the Team Oregon motorcycle course.
She and her fellow members agree that driving "extremely defensively" is the key. They never assume a motorist will notice a bike, even if it's finished in shiny, red paint.
Riders wear protective gear, including eye protection and helmets — the latter so they can ride legally, as well as safely. And every member proudly wears the Legion Riders patch, which features an eagle.
The logo covers the back of their leather vest or jacket. It's usually fashioned of black leather, but Paull's features red leather complementing her bike.
Individual Riders can add other patches, as well — an American flag in most cases, and/or a POW/MIA flag. Most add logos from military units, and some include patches from events, such as Riding on Military Pride, which attracts Riders from all over the West.
"ROMP just strengthens the camaraderie that's already developed," said Paull, who recently returned from a group ride to the San Francisco Bay area.
Some also sew on patches that mark long-distance achievements. Several Post 21 Riders have patches from the "Iron Butt" association for riding more than 1,000 miles in a short period of time as an ALS fundraiser.
Each mile they cover together brings Riders together, contributing to the cohesiveness of the group, Sears said.
An Army vet, he said he's proud that Riders, and Legion group members in general, are willing to work together toward common goals. "We all stick together," he said.
They support one another, as well. Perry, the organization's leader, credits joining the Legion Post, then the Riders, with making a huge difference in his life.
A veteran of the Army who served from 1986-1991, he said he knew no one when he moved to McMinnville. But after he joined the Legion, he felt, for the first time, that he had friends.
"It helped bring me out of my shell," said Perry, who serves as sergeant-at-arms in Post 21.
As he became active in Post 21, he couldn't help noticing the Riders. He'd loved dirt bikes when he was a child, and ridden street bikes as an adult.
He wanted to own a bike again. He now has a 2016 Harley Street Glide Special in flat black.
"Riding is time to myself," he said. "It's a way to get away from work," he said.
His wife, Janet Mattson, also joined the Riders. She's also in the Legion Auxiliary. They've enjoy spending time together and riding with people who have the same values.
Sears, who owns a 2014 Street Glide Special in metallic blue, rode motorcycles as a young man. As an adult, "I met a woman who rode, so I got into motorcycles, too," he said.
He also enjoys having time to himself when he's riding.
Many veterans need time to "settle into our own thoughts," he said. "We find some solace in throwing our leg over the motorcycle."
Riding makes you think in the moment, rather than dwell on things, Paull said.
"The only thing you're thinking about is riding," she said. "You have to."
When they're not focused on road safety, the Riders are thinking of others.
They join other Legion groups in contributing to Post 21's efforts, including sponsorship of three American Legion baseball teams: Middle School Team 1, T-Ball Team 12 and Mayor Team 4. They have helped repair homes of two female veterans who might otherwise have lost their residences, for instance.
In addition to helping local veterans, Perry said, the Riders go wherever they're needed.
Their legacy rides aren't just pleasure trips. Such rides raise money for scholarships for the children of veterans who've been lost or disabled since 9/11. Last year, Riders raised $1 million for the cause nationwide.
They also plan rides that stop at homes for veterans, where they give out care packages. On a recent ride, they delivered about 120 packages to a facility near Albany, handing out socks, toothbrushes, decks of cars, even a fishing pole to an avid angler.
Seeing the smile on the senior fisherman's face "meant a lot to us," Paull said. "It makes us feel really good to make a difference."
For Paull, and many of her fellow Riders, Memorial Day is a highlight of the year. Riders accompany other Legion family members and members of the Sea Cadets to local cemeteries, where they make patriotic presentations.
Not only is it a way for Riders to honor vets and their families, she said; the parade of bikes also helps draw a crowd.
The Riders also lead funeral processions traveling to Willamette National Cemetery. Sometimes they act as an honor guard for veterans who had gone on honor flights to Washington, D.C., as well.
"It's hard to keep your emotions in" on such duty, Perry said.
And during formal ceremonies, tears may fall. "Every time they play 'Taps,'" Paull said, "I think of the men and women who've made that sacrifice."
Starla Pointer, who is convinced everyone has an interesting story to tell, has been writing the weekly "Stopping By" column since 1996. She's always looking for suggestions. Contact her at 503-687-1263 or spointer@newsregister.com.
---
Leaders of the pack
The Post 21 American Legion Riders officers are:
Jerry Perry Jr. is the director, akin to president, of Post 21 Legion Riders.
Michael W. Paull is vice director. Jeri Paull is secretary.
Debra JuShae-Sieber is the treasurer and Chris Sieber the safety coordinator.
Jerry George is chaplain. Jim Connelly is historian and Gene Hamilton is sergeant-at-arms.
Gale Sears, commander of the Legion post, is a past director of the Riders.
More information about the Legion Riders and Post 21 in general can be found at www.vetsclub.org or on Facebook at American Legion Post #21 McMinnville Oregon.