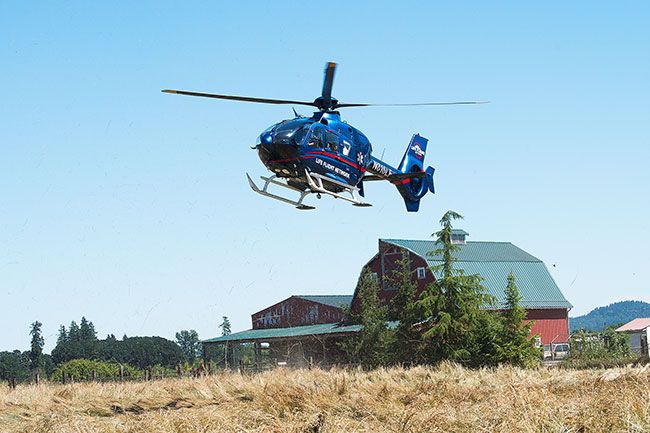 Father, son die in Highway 99W crash
A father and his son died and several people were injured Monday afternoon in a multi-car crash on Highway 99W at Durham Lane, south of McMinnville, according to Oregon State Police.
Investigators gave this account:
About 2:15 p.m., a 2003 Pontiac Sunfire, driven by Billie J. King, 24, of Falls City, was northbound on the highway, and was slowing or stopped to turn left onto Durham Lane.
A northbound 1993 Ford F250 pickup towing a small utility trailer, driven by Justin M. Sauers, 24, of Amity, rear-ended the Pontiac.
It was knocked into the southbound lane where it was struck broadside by a southbound 2007 Toyota Sequoia, driven by Kris F. Painter, 62, of Amity.
The impact separated the pickup from its trailer, and the pickup struck a vehicle parked in the driveway of a residence and then the garage/laundry room area of the house.
The front passenger in the Pontiac, Jeremy M. King, 29, of Falls City, was pronounced dead at the scene. Billie King was transported by ground ambulance to Salem Hospital. A 7-year-old female and a 3-year-old male who were passengers were taken to area hospitals for treatment. The 3-year-old died Tuesday night, according to OSP Sgt. First Class Brad Hessel.
Jeremy and Billie King are husband and wife, according to their Facebook pages. They were accompanied by their children.
Kris Painter was examined by medical personnel at the scene but did not require hospitalization.
Passenger Shirley Robbins, 82, of Portland, was transported by ambulance to Salem Hospital. Another passenger, Laurie Painter, 59, of Amity, was flown by Life Flight helicopter to Salem Hospital. Taken by ambulance to Salem was passenger Brittany Painter, 27, of Amity.
Sauers was transported by ambulance to Willamette Valley Medical Center.
Highway 99W was closed for about six hours and traffic was detoured around the crash scene by an ODOT crew. In addition to members of the county's Multi-Agency Traffic Team, Amity, McMinnville and Sheridan medical/rescue personnel also responded, as did two air helicopters.
See Friday's print edition for additional details.