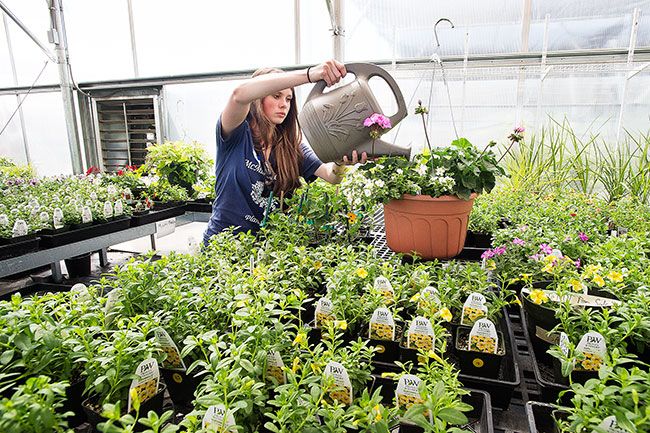 Supporters try to save horticulture pathway from the chopping block
Chris Ames spoke to Duniway Middle School students in April about her career with Oregon Pride Nursery. Horticulture is "a hot industry," she said, offering an array of jobs for those with and without college degrees.
Monday night, she spoke again, this time to the school board in defense of the horticulture career pathway at McMinnville High School, which may be eliminted.
"Don't cut the pathway," Ames said. "We should support it even more."
She was one of several people, including students, who spoke to the board after learning that Mac High's half-time horticulture teacher is tentatively scheduled for layoff. It's among the equivalent of about four full-time positions on the possible cutting board at the high school, based on a projecting funding shortfall that the Legislature could eliminate.
Enrollment in the horticulture pathway has been dwindling, Superintendent Maryalice Russell said. She said it had gone from 15 students in one class in 2011-12 to nine spread between two classes this year, despite a decade-long effort to encourage more students to enroll by offering a "feeder" program at the middle school level.
Russell said students expressing interest in horticulture during the registration period this spring would be directed to other pathways, such as natural resources management, which offer similar courses. Mac High has more than 15 career pathways, which teach real-life skills and let students explore various job possibilities, so there are lots of options available.
Many horticulture students also participate in FFA, under the leadership of the horticulture teacher. Mac High teams have been successful in state and national FFA competition over the past decade. A stipend for FFA advising remains in the budget.
Students told the board the classes and extracurricular program teach them more than how to grow plants. They learn business, leadership, customer relations and public speaking skills as well.
"I would never have had enough courage to talk to you," said a sophomore girl named Jordan. "It's helped me grow as a person."
In addition, she and other students told the board, they find their niche in horticulture.
"It helps bring friendships," said a student named Eduardo. "In that class I feel safe.
"I have opened up and made friends. It feels so peaceful to see smiles every day."
The high school cuts are related to expected budget shortfalls considered by the district's budget committee. The group approved a budget proposal last month which is due to be finalized by the school board on June 26.
The proposed budget is based on a state allocation of $8.1 billion to K-12 schools for the coming biennium. That funding level would leave McMinnville School District about $2.1 million short of continuing current staffing and programs next year, Russell said.
The district plans to use about $1.2 million from its reserve fund, leaving it still $900,000 short.
The Legislature is now entertaining levels of $8.2 million or even $8.4 billion, Russell said. At $8.4 billion, she said, the district could sustain itself with no program cuts, although it still would need to use reserves to some extent.
In other business Monday, the board:
* Heard that construction projects are on schedule.
The new facilities and maintenance building on Lafayette Avenue, the old Willamette Greystone building, is due for completion Sept. 1. The high school cafeteria expansion and new career-technical center are expected to be finished in late August.
Baker Field is due for completion by Aug. 1. It is getting an all-weather soccer field, football practice area, lighting system and public walking track.
Facilities Director Pete Keenan said six 75-foot poles have been installed, each featuring a bank of high-intensity lights drawing only 50 watts of power. At Wortman Stadium, each bank draws 1,000 watts — a huge difference.
Keenan said teachers will pack up and move out of most classrooms in the district in order for renovations and improvements to take place over the summer. District personnel will begin moving things to storage areas on June 22, the day after school lets out.
* Honored 14 retiring employees: Leslie Johnstone, Tim Lynn, Pat Muller, Debbie Pugh, Mike Rex, Kathleen Walker, Mary Pierce, Rick Ryan, Don Crawford, Joan Ainslie, Cindy Schroeder, Vickie Blair, Cecil Scitern and Gary McCullough.
Wascher Elementary School choir members serenaded them, as well.
* Accepted a state grant for seismic improvements. The grant will provide $1.5 million for Adams, $420,000 for Newby and $693,000 for Memorial.
* Learned negotiation sessions between the district and the teachers' union are scheduled for this afternoon and June 20.
The sessions are open to the public. They will run 4 to 8 p.m. in the conference center adjacent to Sue Buel Elementary School.